Canelés, friands, baking cookbooks and things that bring me joy – Part I
March 29, 2020 by Jenny
As you can ascertain from the photo below, I had intended to do a post on canelés and all things baking before Valentine's Day. It was right about then that things went haywire and shortly thereafter the pandemic took over. Many people are baking and trying new things and I wanted to share a few things that bring me baking joy! As there are many things that bring me joy, this post will be in two parts. What can I say, I am a joyful person!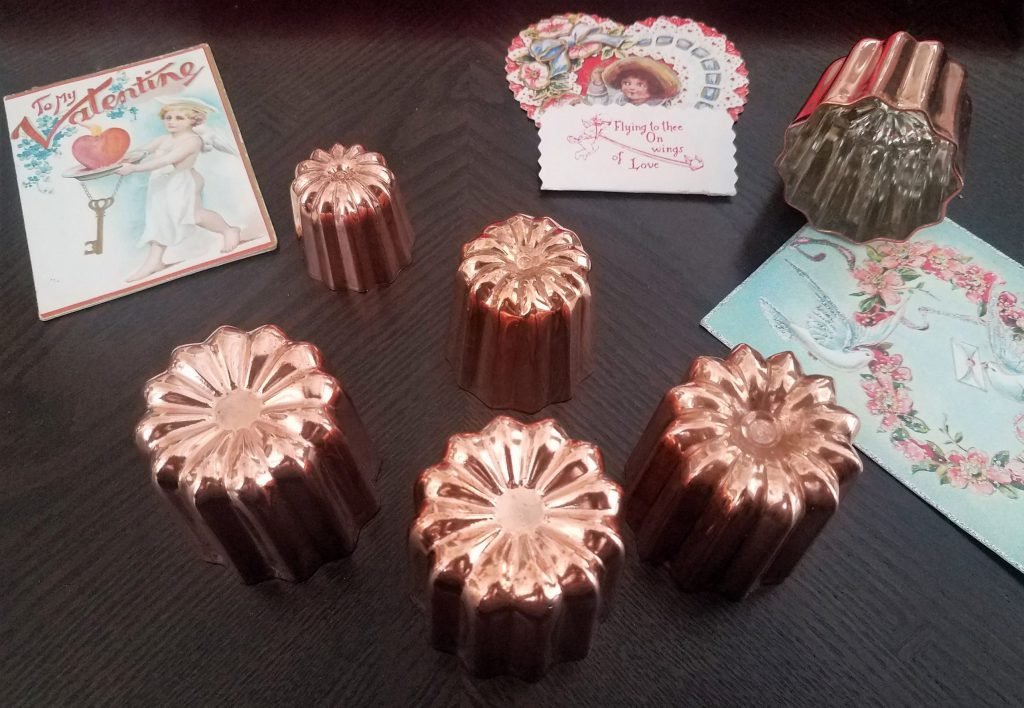 I have been fascinated by all things pastry for a long time. My collection of pastry, tart and pudding molds is an embarrassment of riches. The photo below is a speck of sand in the desert of my obsession.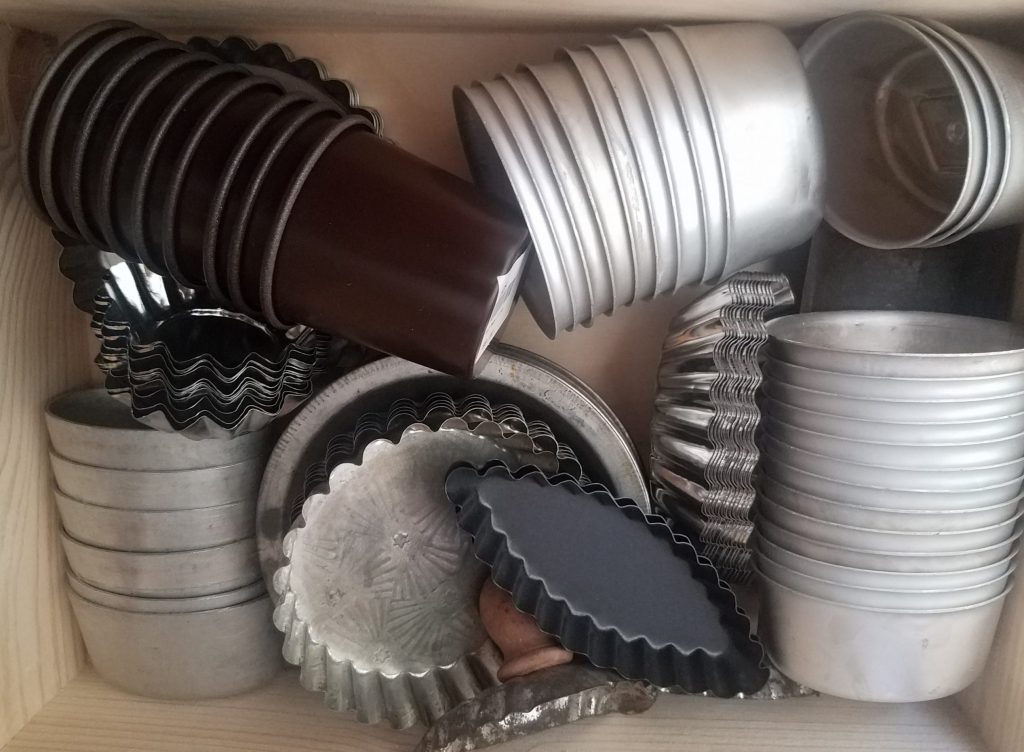 While any mold is a thing of beauty to me, canelé molds are a major weakness. A canelé is a small French pastry flavored with rum and vanilla with a soft and tender custard center and a dark, thick caramelized crust. It takes the shape of a small, striated cylinder with a depression at the top and it is a heavenly bite.
Any baker would love to own a set of copper canelés molds. They make the best canelés (that is until the carbon steel pan came into my life). Copper molds are quite expensive and if they aren't in your budget, good results can be had with a silicone mold. I have made these tasty bites with silicone, copper, and carbon steel. You cannot go wrong with any method but I have found that the carbon steel pan renders results on par with the copper.*
Buy a mold and couple it with Scott Davis' Cannelés de Bordeaux: Make them at Home for an unexpected gift for the baker in your life. We have several indexed canele recipes here at EYB and I have found this article on preparation using a silicone mold to be very helpful. I have batter resting in the fridge to make a batch tomorrow and will come back and add a few photos.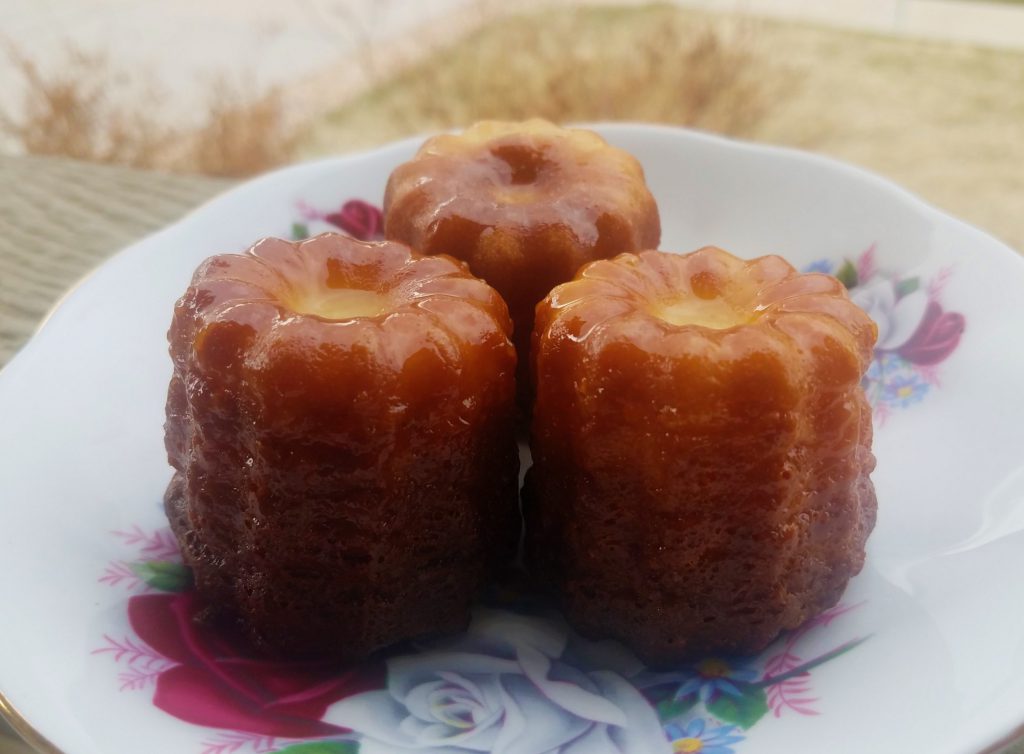 The photo above shows canelés that I baked in the carbon steel with no beeswax or butter application. I took the lazy way out and didn't strain the batter or let it rest for two days – just overnight – and they are pretty darn delicious. Yes, I could go to all the extra trouble to make them perfect but right now all I care about is the delicious factor! I could have left them in an additional 15 minutes but the tops were getting very dark so I took them out a bit early.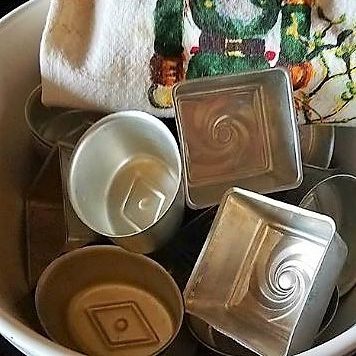 I have a serious collection of friand molds from around the world as well as owning a tin (or two) like the one pictured below (UK link). My tin has a floral design on the bottom of the pan that makes a cute impression on the top of the cake.
A friand is a small almond cake, popular in Australia and New Zealand, closely related to the French financier (yet another obsession – for Part 2). The principal ingredients are almond flour, egg whites, butter, and powdered sugar. There are many possibilities to add additional flavors including fruit, chocolate or nuts.
There is just something darling and impressive about small oval cakes (these sour lemon cakes I made from Dappled are amazing!) The little cakes below are Blackberry and star anise friands from Ottolenghi's Sweet. I made these in oval and square molds and subbed in cranberries instead of blackberries. We have a number of friand recipes (online recipes) in our library for you to sample.
Recent baking books that bring me joy:

*I do not notice a difference in my canelés using beeswax so I have given up that step. But if you wish to try making them with beeswax, I have used this product.