Order up: one recipe, hold the narrative
February 17, 2020 by Jenny
This was a busy weekend, one in which I worked very late on both Saturday and Sunday. This morning I eased into my day by scrolling through my Facebook feed.
The following post from one of our favorite book stores, Kitchen Arts & Letters caught my attention.
---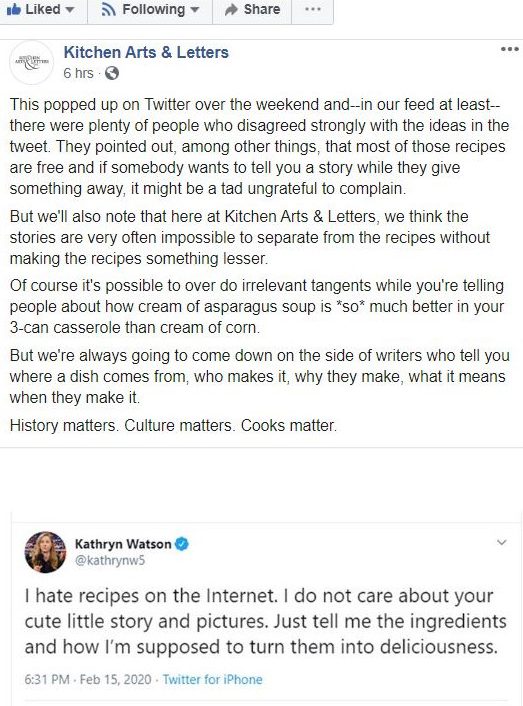 ---
My first thought was to question just which recipes Kathryn likes? Most recipes in cookbooks, magazines, blogs, or websites almost always begin with an introduction to the recipe. And, no matter the type of media there is usually a featured photograph or spread of the finished dish.
My second thought was to wonder when did we become so demanding? If a blogger shares a recipe without charging me for her time, ingredients and work, I am not going to criticize the way that content is delivered.
Yes, I will admit I am not a fan of dozens of photographs unless, of course, they illustrated a difficult technique. And while I understand the need for ads to fund websites and blogs, those moving pop-ups that race around the screen like the ghosts in a Pac-man game frustrate me. Then I take a second and I remember to suck it up buttercup: I am getting the recipe for free.
As writers, we feel the need to share details or stories in the hope that those who read what we offer, enjoy the ride. And if the amuse-bouche to a recipe isn't something a person enjoys, why doesn't that person just move along without having to declare their dislike?
When I write something I find particularly moving, I look at the comments to see if anyone has enjoyed my thoughts. I am sure Darcie does as well. (Darcie here: I do.) Comments take time and we all know time is a precious commodity, but to a writer hearing from a reader means a great deal. We often share negative thoughts but not so much the positive ones.
So which do you prefer – some background, history, and photographs or just the recipe and nothing but the recipe?