Salt & Time: Recipes from a Russian Kitchen – Cookbook Giveaway
February 16, 2020 by Jenny
Enter our US giveaway to win a copy of Salt & Time: Recipes from a Modern Russian Kitchen by Alissa Timoshkina.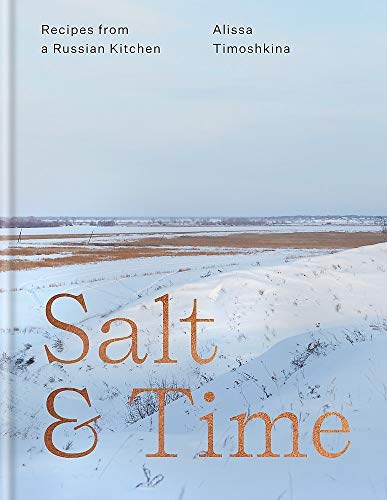 Siberia stretches from the Ural Mountains to the far east and south from the Arctic Ocean to the borders of Kazakhstan, Mongolia, and China. What do you think of when you hear Siberia? Frozen hinterlands, the Gulag, an undesirable region of the earth, and maybe a pot of simmering bear paws comes to mind?
Alissa Timoshkina will change your opinion of Siberia with her debut cookbook. Salt & Time is an exploration of Siberian food and people told through the universal language of food. Born in Siberia, the author creates an image of this region that is more pleasing than one might imagine.
This book covers recipes from Ashkenazi to Russain and Central Asian cuisine as well as those dishes authentic to Siberia. Family classics and new interpretations of traditional flavor combinations along with pre-Revolutionary and Soviet-era dishes are given a modern touch.
Filled with beautiful photographs and approachable recipes, you will find yourself inspired to embrace Siberian dishes such as Vegetable patties with dipping sauces, Chicken with prunes, and Honey tiramisu. Have no fear, no bear paws are found within the pages of this stunning book.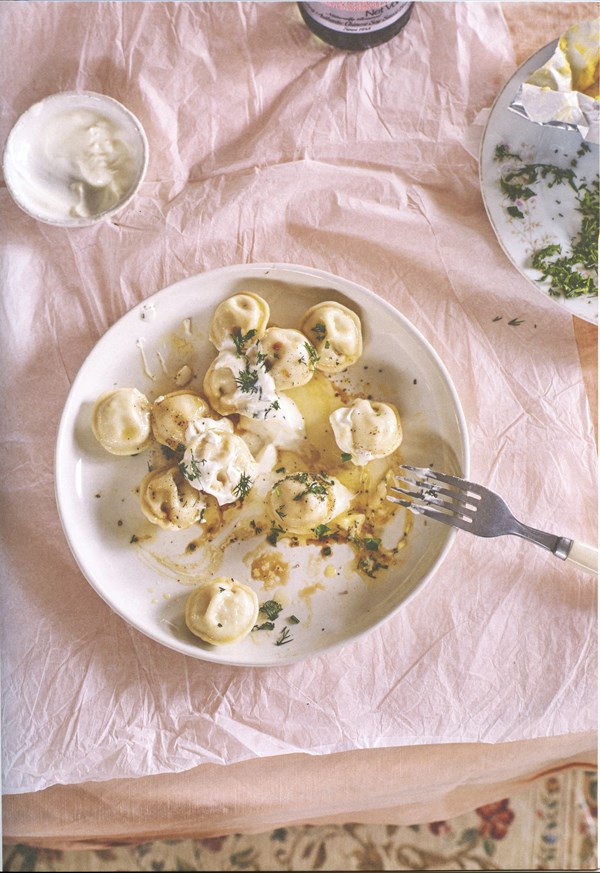 Siberian pelmeni dumplings from Salt & Time. Lizzie Mayson
Siberian pelmeni dumplings
Add this recipe to your Bookshelf (click the blue +Bookshelf button).

There is something universal about dumplings—we all connect over our shared love of boiled dough stuffed with a filling of sorts. While there are so many types of dumplings native to different parts of the former Soviet Union, Siberia's claim to fame is its own signature type called Siberian pelmeni. These tiny round dumplings stuffed with a blend of ground pork and beef are consumed with a generous chunk of butter, black pepper, and sour cream or—and this is my family's favorite—in their own richly flavored cooking broth, with plenty of black pepper, of course! My dad would often have these (as well as pretty much anything else) with soy sauce that his mother would send us from his home town of Khabarovsk way before it became widely available in shops all over Russia. Since pelmeni was usually eaten in winter when no fresh herbs were available, adding fresh dill was not common practice, but I would highly recommend this to you these days, as well as experimenting with other non-Russian herbs. Pelmeni in sage butter, anyone?
MAKES ABOUT 200 DUMPLINGS (SERVES 10)
For the dough
3 cups (1 lb 8 oz/700 g) Italian "00" flour, plus extra for dusting
1 teaspoon salt
2 eggs
generous ¾ cup (200 ml) water
For the meat filling
9 oz (250 g) ground pork
9 oz (250 g) ground beef
1 onion, very finely chopped 1 teaspoon salt
1 teaspoon freshly ground black pepper
For the fish filling
12 oz (340 g) skinless salmon fillet, cut into small pieces
12 oz (340 g) skinless trout fillet, cut into small pieces
12 oz (340 g) skinless cod fillet, cut into small pieces
1 onion, very finely chopped
2 garlic cloves, grated
bunch of chives, finely chopped
1 teaspoon salt
1 teaspoon freshly ground black pepper
For the mushroom filling
14 oz (400 g) mixed mushrooms (wild mushrooms or a mixture of white and cremini mushrooms)
1 onion, quartered
2 garlic cloves
small bunch of flat-leaf parsley, finely chopped
2 tablespoons sunflower oil dash of soy sauce
generous 1 cup (51/2 oz/150 g) pine nuts
1 teaspoon salt
1 teaspoon freshly ground black pepper
For the cooking broth (optional)
1 bay leaf
1 vegetable, fish, or meat bouillon cube, according to your filling
To serve:
unsalted butter (if serving without the cooking broth)
chopped fresh herbs
sour cream
freshly ground black pepper
To make the dough, sift the flour onto a clean, dry work surface. Make a well in the middle and add the salt, eggs, and measured water, gradually mixing the flour into it with your hands to form a firm dough. Knead well for 5–7 minutes. Cover with plastic wrap and let it rest in the refrigerator for 30 minutes. In the meantime, prepare your fillings.
To make the meat and fish fillings, thoroughly mix the respective ingredients together in separate large bowls.
To make the vegetable filling, finely chop the mushrooms, onion, garlic, and parsley in a food processor. Heat the oil in a large frying pan and fry the vegetable mixture with the soy sauce for 5 minutes. Turn off the heat and stir in the pine nuts, salt, and pepper. Let the mixture cool before handling.
The dough should be ready by this point. Take it out of the refrigerator and roll it out on a lightly floured work surface. For best results, use a pasta machine, since you need to make sheets that are about 1.5 mm thick, which you will get by using a number 7 setting on your pasta machine.
Using a shot glass or cookie cutter, cut out discs of dough about 11/2–21/2 inches (4–6 cm) in diameter. Place a teaspoon of filling in the middle of each disc and fold in half to make a half-moon shape, then fold again so that the edges of the half-moon are stuck together.
The dumplings can be cooked immediately or frozen to be cooked at a later date using the same method as below, increasing the cooking time as necessary.
To cook, bring a large saucepan of salted water to a boil, adding the bay leaf and bouillon cube. Add the pelmeni, in batches, to the boiling broth and cook for 5 minutes per batch. You know they are ready when they float up to the surface.
Ladle your pelmeni into soup bowls with the cooking broth, topping them with fresh herbs, sour cream, and black pepper. If you prefer to have them without the broth, transfer them to the bowls using a slotted spoon and add a generous dollop of butter as well as the rest of the serving ingredients. This makes around 10 servings of dumplings, but if that's more than the number of mouths that you have to feed, they freeze well kept in flat layers in a freezer bag.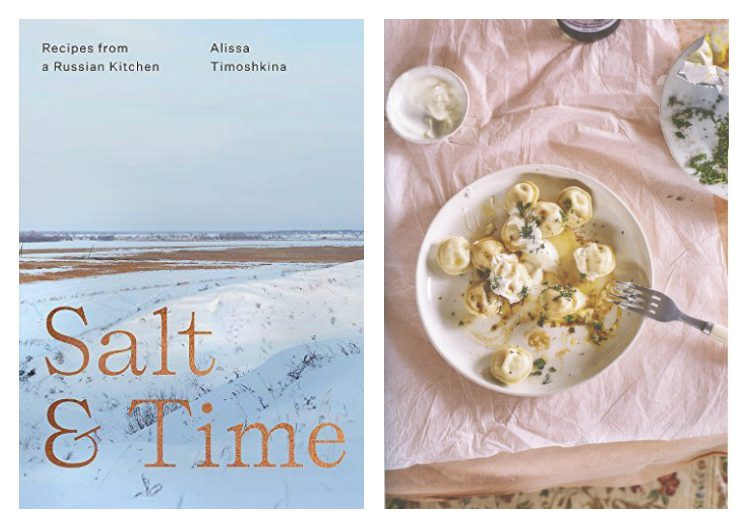 Thanks to the publisher for providing two copies of the above-referenced title in our giveaway open to EYB Members in the US. One of the entry options is to answer the following question in the comments section of this blog post.
Which recipe in the index would you try first?
Please note that you must be logged into the Rafflecopter contest before posting or your entry won't be counted. For more information on this process, please see our step-by-step help post and this forum post. Once you log in and enter your member name you will be directed to the next entry option – the blog comment. After that, there are additional options that you can complete for more entries. Be sure to check your spam filters to receive our email notifications. Prizes can take up to 6 weeks to arrive from the publishers. If you are not already a Member, you can join at no cost. The contest ends at midnight on September 5th, 2020.
a Rafflecopter giveaway