Valentine's Day treats
January 31, 2020 by Darcie
Every Valentine's Day, I get a box of chocolates from my sweetie, and I make him a special treat. It's nothing fancy, in fact, it is quite the opposite. Since I love to cook and bake, we eat a variety of foods from cuisines around the world. While my partner enjoys this bounty, there are some foods that he recalls with nostalgia that I generally won't make. One of those is a fried bologna sandwich, which is what he gets for Valentine's Day.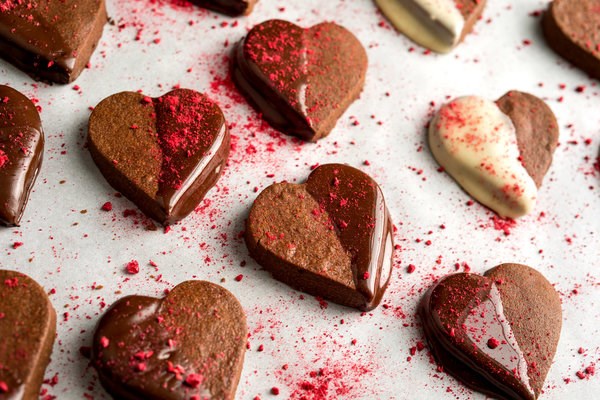 Of course many people prefer to pull out all the stops for this romantic holiday. Since restaurants are overbooked, noisy, and have been known to hike up the price on this particular dining day, it makes sense to make your own special meal, including dessert. Also, since the holiday isn't tied to a particular food tradition, anything is fair game. If you are looking to try something new, there are plenty of resources to browse for inspiration.
First up, Food52 offers 36 Valentine's Day treats, featuring a lot of chocolate and a fair amount of pink sweets as well. The strawberry sorbet listed in this collection is their first ever "genius" recipe, plus they have last-minute ideas for you procrastinators. BBC Good Food has a collection of 85 recipes for the holiday, and Taste of Home features categories of Valentine's Day recipes such as appetizers, side dishes, dinner recipes, and brunch food.
Over at Food Network you'll find 50 dessert recipes, romantic dinners for two, and an entire section on heart-shaped foods. Also getting in the spirit is Bon Appetit, which offers great date night recipes, and Saveur, which features 50 terrific Valentine's Day desserts. Finally, domestic doyenne Martha Stewart has everything from romantic appetizers and main dishes to sides and desserts, many of which have been scaled for two.
You can also browse the EYB Library. We have identified over 2,000 recipes that are perfect for Valentine's or any romantic meal. Don't forget about our Valentine's Day Pinterest board filled with fabulous ideas as well.
Photo of Chocolate shortbread hearts from A Good Appetite at The New York Times by Melissa Clark