Taste of Home feature on our own Jane
January 24, 2020 by Jenny
In the new Feb/Mar issue of Taste of Home magazine the "Why I Cook" feature is on our own co-founder, Jane. She explains how her cookbook collection started, why she loves to cook and bake, and what British foods she brings back from trips back to the UK. You can read the full article here.
We have been busy working on indexing Taste of Home magazines. The last 7 years of issues are indexed, which when added to their cookbooks we have indexed, gives you 12,000+ recipes to search through. Most of those have Online Recipe links back to their website for the full recipe.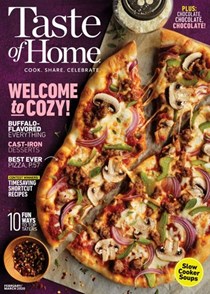 Taste of Home recipes are practical because they're from home cooks and feature familiar, everyday ingredients; clear, beautiful photos; and easy-to-follow, step-by-step instructions. And because each is individually tested by culinary experts in their Test Kitchen, you know that they are going to work first time.