The allure of celebrity mom cookbooks
January 15, 2020 by Darcie
Go to the cookbook section in almost any bookstore and you will see a slew of cookbooks written by a celebrity actor, singer, or perhaps both. These women are not professionally trained chefs or, in some cases, even accomplished cooks. Yet these cookbooks fly off of store shelves – Joanna Gaines' Magnolia Kitchen was one of the top selling books of 2018, not just of cookbooks but across all genres. Why is the appetite for these books seemingly limitless? Because they sell the image of idealized womanhood, says Carina Chocano.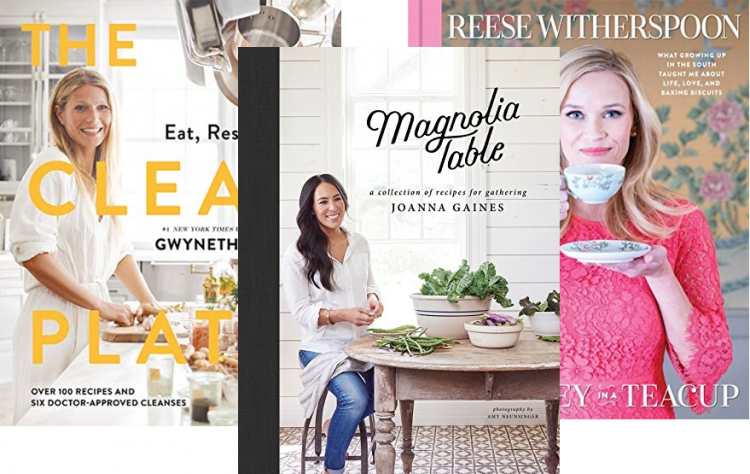 Chocano argues that the celebrity's lack of experience in the kitchen is often a selling point, as few people really feel that they need an expert's help due to the easy availability of internet recipes: "expertise, or what passes for it, has become cheap," she says. She also says that while once we were fascinated by celebrities doing everyday tasks (see the "they're just like us!" section of any tabloid for reference), today we see ourselves in the celebrities. We can be just like them – or so social media would tell us.
Yet the lifestyles, let alone recipes, depicted in the pages of these celebrity cookbooks, "seem impossible for anyone with a job to pull off," Chocano notes. Is Gwyneth Paltrow really cooking all of the meals in her complex cleanse? That's unlikely, but if she is it's only because she has the luxury of time that most of us do not possess.
I get the point that most of these cookbooks/lifestyle guides are unrealistic, but are people really being fooled by them? I do not think that most of the people who buy a book from their favorite celebrity are using it as a primary source for their weeknight meals. Sometimes we may just want to feel a connection with someone we admire, or hear more of their background story. There's nothing wrong with that, and all the better if they make a killer macaroni and cheese.
Lumping all of these celebrities into the same mold also misses the mark. Gwyneth Paltrow's latest title offers a guide to six 'doctor-approved' cleanses, along with recipes for them. Compare that to Chrissy Teigen's cookbooks and you come away with a distinctly different impression. Teigen likes to cook – and eat -real food, and isn't interested in selling you a candle that smells like one of her body parts.