Get the most out of your mortar and pestle
January 8, 2020 by Darcie
If there is one kitchen purchase that I put off for far too long, it is buying a proper mortar and pestle. For years I had one of those tiny marble ones that was too small to be practical and I wondered what all the fuss was about. I recently bought a larger, more versatile one and it was a game changer. The first chimichurri I made in it convinced me that I was fool to wait so long. Food and Wine's Jonah Reider agrees, and has a great article on how to get the most out of your mortar and pestle.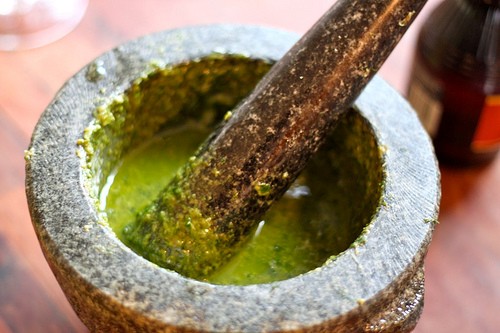 One of the world's oldest cooking gadgets, the mortar and pestle dates back about 37,000 years. They are virtually indestructible, most are relatively inexpensive, and unlike some cooking tools, they look great on display. As Reider says, you need one that is a decent size, and also one that is made from unpolished stone (he recommends granite). I have an inexpensive, fired clay version with a palm wood pestle that has served me well. Whatever type you get must not be smooth: rough edges are required to get enough friction to break down spices, herbs, garlic, and nuts.
Since pre-ground spices lose their potency much more quickly than whole ones, a mortar and pestle is invaluable for getting more flavor into your cooking. It doesn't take much time to grind a small amount of whole spice and the effort is worth it. You can create an endless variety of sauces, dips, and dressings in your mortar and pestle. Mine has definitely earned its space on my counter.
Photo of Salsa verde via mortar and pestle from Amateur Gourmet by Adam Roberts