The Joys of Baking – Cookbook Giveaway
January 5, 2020 by Jenny
Enter our giveaway open to US members for The Joys of Baking: Recipes and Stories for a Sweet Life by Samantha Seneviratne. This book made my Baker's gift guide this year.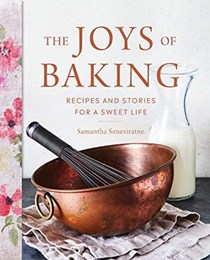 If I had to pick a specific subject matter that was my favorite in the cookbook arena, I would choose baking titles hands down. I love trying new savory recipes from my wonderful collection but I can always create a dinner using my own knowledge and instinct. When it comes to baking, I need a starting point to begin before I can put my own spin on a recipe.
Samantha's previous title The New Sugar and Spice: A Recipe for Bolder Baking is a favorite of mine as it shares recipes for flavor combinations that are exciting and fresh. For example: Salt and pepper caramel brownies and Pistachio and chocolate butter cake. (She is also the author of Gluten-Free for Good: Simple, Wholesome Recipes Made from Scratch).
The inventive baker continues her exploration of combining ingredients, spices, and flavors to create wonderful taste sensations in The Joys of Baking. She writes in the introduction, "Cooking is a necessity…..Baking is different. Baking is a choice." This is true. As cooks, we must feed our family each day. But when we choose to bake for them, we are not doing so to fulfill a nourishment obligation, we are baking to bring them joy. This book is filled with over 75 recipes to bring you and those you love joy.
The following recipes are available online for you to try now:
Special thanks to Running Press for offering three copies of this fantastic book in our giveaway below.
Thanks to the publisher for providing three copies of the above-referenced title in our giveaway open to EYB Members in the US. One of the entry options is to answer the following question in the comments section of this blog post.
Which recipe in the index would you try first?
Please note that you must be logged into the Rafflecopter contest before posting or your entry won't be counted. For more information on this process, please see our step-by-step help post and this forum post. Once you log in and enter your member name you will be directed to the next entry option – the blog comment. After that, there are additional options that you can complete for more entries. Be sure to check your spam filters to receive our email notifications. Prizes can take up to 6 weeks to arrive from the publishers. If you are not already a Member, you can join at no cost. The contest ends at midnight on July 5th, 2020.
a Rafflecopter giveaway