Red Hot Kitchen by Diana Kuan
March 23, 2019 by Jenny
It's no secret I love Asian cookbooks. I could cook and eat Asian food every day. Diana Kuan's The Chinese Takeout Cookbook has a spot in my kitchen bookcase. The kitchen bookcase consists of three shelves for those books I use frequently, and the space is limited. Space there is comparable to a New York rent controlled apartment in a nice building. Diana's second cookbook, Red Hot Kitchen: Classic Asian Chili Sauces from Scratch and Delicious Dishes to Make with Them will sadly evict some unsuspecting lesser used book from its spot on the coveted kitchen bookcase. It is that good.
Red Hot Kitchen devotes itself to from scratch chili sauces and dishes to highlight those sauces. Diana offers easy-to-follow recipes for nine sauces fundamental to Asian cuisine, along with a Know Your Chili Pepper chart so you can easily shop for the ingredients you need and customize the heat level of each sauce. Each chapter then offers recipes incorporating each spicy sauce, broadening the range of Asian dishes you can cook at home. The sauces covered here are Sambal oelek, Sriracha, Nam prik pao, Thai red curry paste, Sweet chili sauce, Sichuan chili oil, XO sauce, Gochujang and Yuzu Kosho. Also shared is a chapter on cooling drinks and another on supplemental recipes for rice sides and stocks. Diana beautifully ties up the book with recommended menus such as "Lunar New Year" or "Korean Feast" along with indicators for which dishes are vegetarian. I have made the Chongqing chicken which I could eat every week as it is incredibly tasty and relatively easy. Our Eat Your Books Cookbook Club is going to cover this flavor packed book in June. Order your copy now, you will not want to miss out!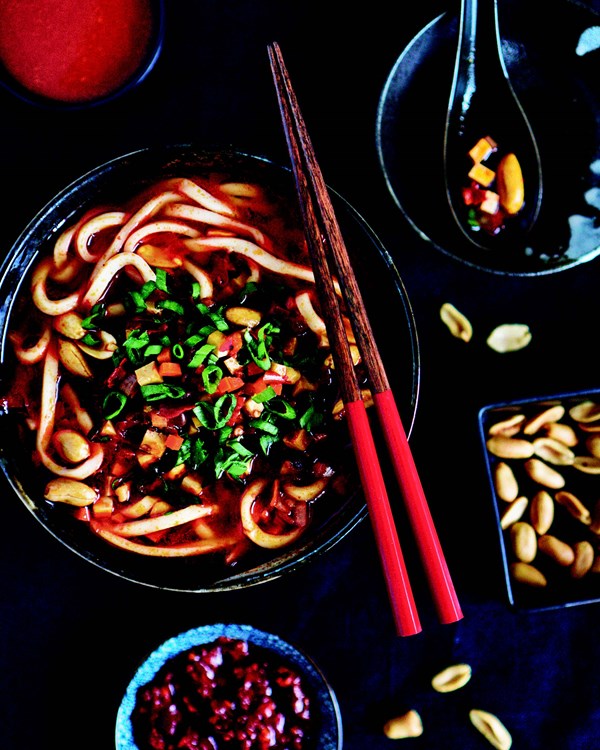 Shanghai hot sauce noodles Add this recipe to your Bookshelf (click the blue +Bookshelf button). Serves 2 When I lived in Shanghai, la jiang mian was found on almost every street corner, at quick eats restaurants that catered to bustling lunch crowds. A piping hot bowl of noodles and spicy broth with tofu, peanuts, and a generous helping of chili sauce was the ideal quick lunch, and I slurped countless bowls a week. In Shanghai, the restaurants usually only use doubanjiang (a Chinese fermented, salted chili bean paste) for the heat. At home, however, I like to pair doubanjiang with Sriracha to make a version that retains the same heat but is less salty than the restaurant versions.
5 tablespoons vegetable oil
½ cup raw peanuts
2 tablespoons store-bought doubanjiang (Chinese chili bean paste)
2 tablespoons store-bought Sriracha
1 small onion, finely diced
1 large carrot, finely diced
8 ounces smoked or baked tofu, cut into ½-inch cubes
1 teaspoon grated fresh ginger
2 teaspoons sugar
5 cups vegetable broth
1 pound fresh Chinese noodles, or 8 ounces dried noodles
2 scallions, finely chopped
1. Heat a wok or large pan over medium-high heat until a drop of water sizzles and evaporates on contact. Add 3 tablespoons of the vegetable oil. Add the peanuts and fry until they start to turn golden, about 2 minutes, being careful to not burn the peanuts. Reduce the heat to medium. Add the chili bean paste and Sriracha and stir-fry with the peanuts just until fragrant and the oil starts to redden, about 20 seconds. 2. Add the onion and cook until translucent, about 2 minutes. Add the carrot, tofu, ginger, and sugar and stir-fry for another 30 seconds. Add ½ cup of the vegetable broth and cook, stirring constantly, until the liquid has evaporated. Add another ½ cup of the broth and repeat the process. (This allows the peanuts, onions, carrots, and tofu to absorb more flavor.) Finally, add the remaining 4 cups broth and bring to a boil. Reduce the heat to medium-low and simmer for 20 minutes. 3. Meanwhile, bring a medium pot of water to a boil and cook the noodles according to package instructions. Drain and divide into individual bowls. 4. Pour the broth over the noodles. Garnish with the scallions and serve hot. Special thanks to Avery Books, the publisher, for sharing this recipe with our members today and for providing three copies in our giveaway below.
The publisher is offering three copies of this book to EYB Members in the US. One of the entry options is to answer the following question in the comments section of this blog post.
Which recipe in the index would you try first?
Please note that you must be logged into the Rafflecopter contest before posting or your entry won't be counted. For more information on this process, please see our step-by-step help post and this forum post. Once you log in and enter your member name you will be directed to the next entry option – the blog comment. After that, there are additional options that you can complete for more entries. Be sure to check your spam filters to receive our email notifications. Prizes can take up to 6 weeks to arrive from the publishers. If you are not already a Member, you can join at no cost. The contest ends at midnight on May 15th, 2019.
Recipe excerpt from Red Hot Kitchen by Diana Kuan, Copyright 2019 and used with permission from Avery Books.