The Little Island Bake Shop – EYBD Promotion
March 18, 2019 by Jenny
Now with EYBDigital, if you buy a print book within the promotional period, for the first time you will have access to the full EYBD cookbook wherever you can access EYB – on vacation, at work, in the grocery store, etc. In addition to the digital book, all the features of EYB will be included in the access, at no cost to the book purchaser. For more information see our EYBD Page.
• Recipe search
• Bookmarks
• Recipe ratings and reviews
• Photo upload (personal photos of dishes cooked)
• Shopping lists
We are pleased to share a promotion for our next EYBD Book, The Little Island Bake Shop by Jana Roerick which has launched today in Canada, and in the US tomorrow.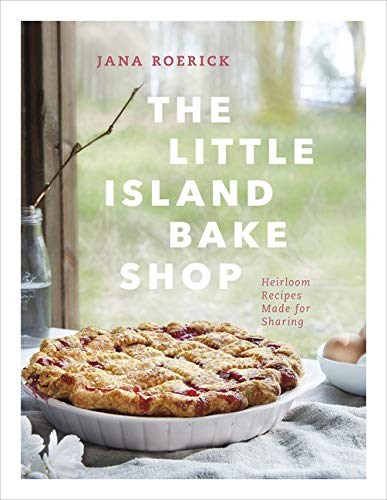 Baking is as much about feeding someone's heart and soul as it is about nourishing their body. It's also about kindness and generosity: whether it's a pie or a tray of cookies, baking is always meant to be shared.


In 2003, Jana opened her first bakery,
Jana's Bake Shop
, on Salt Spring Island, one of the Gulf Islands in the Strait of Georgia between mainland British Columbia, Canada and Vancouver Island. She has an approach to baking that is reminiscent of the type of quality our Grandmother's had – using fresh scratch ingredients that provide the best result possible – no shortcuts.
The Little Island Bake Shop
features a collection of 80 recipes for everyday bakes (muffins, pies and cakes) designed for bakers of varying skill levels. The cookbook also includes savoury dishes such as comforting pot pies, quiches, and even homemade pickles, relishes and chutneys. Lastly, there is a section devoted to the essentials – basic pastry doughs, frostings, glazes, crumbles, and custards – which will have us mastering the basics in no time.
There is a warm, charming feeling to this book that is magnified by the beautiful photographs. The Lavender honey cake, Mother's lemon pudding cake, and a bar dedicated to Jana's mother, Barbars, are examples of a few of the recipes I have bookmarked to make. Having had this book for a while now, I have made two recipes: the Walnut brownies which were a snap and delicious and the Pecan pie, equally tasty (recipe shared below).
Our
takes you inside this delectable title and features
If you order this title before our promotional period ends, register here (be sure you have a photo of your receipt or screenshot from your online order ready to upload). Once your purchase has been verified, this button
will appear on the book on your Bookshelf next to the title and will take you to the digital access for this gorgeous book.
Below are screen shots that demonstrate how the these features will appear:
Special thanks to the publisher, for working with us to bring this exclusive incentive to our members as well as for providing three copies of in our giveaway below.
The publisher is offering two copies of this book to EYB Members in the US and Canada. One of the entry options is to answer the following question in the comments section of this blog post.
Which recipe in the index would you try first?
Please note that you must be logged into the Rafflecopter contest before posting or your entry won't be counted. For more information on this process, please see our step-by-step help post. Be sure to check your spam filters to receive our email notifications. Prizes can take up to 6 weeks to arrive from the publishers. If you are not already a Member, you can join at no cost. The contest ends at midnight on May 14th, 2019.