Favorite holiday food memories
December 30, 2019 by Darcie
In this season of celebrations, parties, and massive amounts of food, memories are made. The best ones are fixed when you are a child – when the heaping platters and bowls seem gigantic, you are surrounded by family and friends, and no one admonishses you for eating two desserts.
One of my favorite food memories centers around the container of nuts that made an appearance once a year at my grandparents' house. Made from a small section of what appeared to be a hollowed out tree trunk (children of the 70s and 80s in the US know what I'm talking about), the container had a center section with four holes in it that housed a hinged, metal nutcracker and two picks for dislodging stubborn nuts. Walnuts, pecans, filberts, almonds, Brazil nuts were heaped in the ring that surrounded the nutcracker. Since nuts were expensive, this magical device was only brought out during the holidays, and once all of the nuts were cracked it went back into the cabinet until the next year.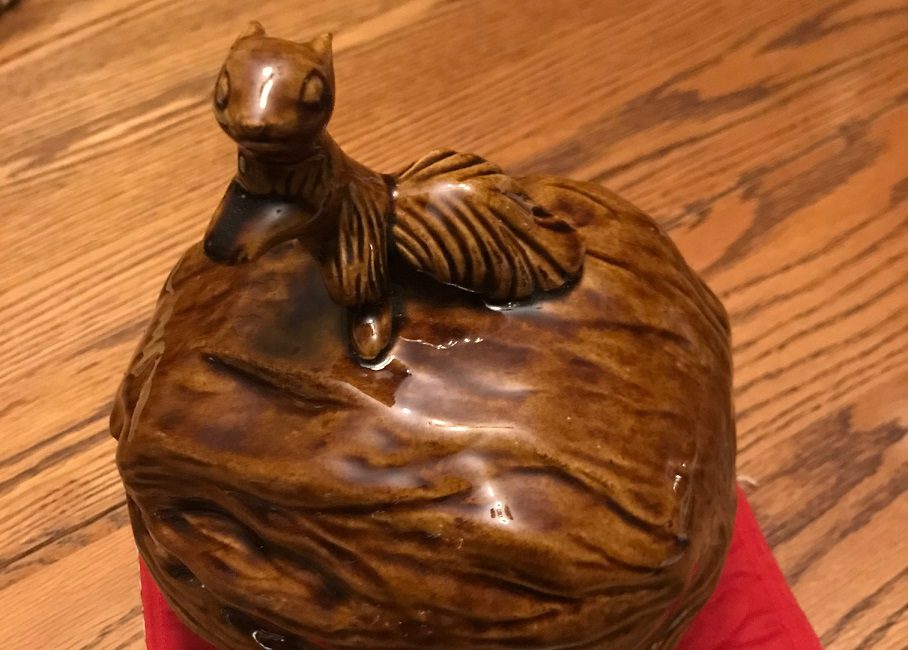 When I was small, I would always want to shell the nuts myself but my hands were not strong enough. My grandfather would swoop in to assist me, his wizened hands cupping mine, squeezing the nutcracker until the satisfying crack was heard. He let me fish out the nutmeats, and the process would repeat until I had my fill.
I'm not sure what happened to that bowl, but last year I started a new nut tradition. While digging through kitchen debris at the Goodwill Last Chance outlet, I spied Rocket J. Squirrel (pictured above). Somehow he managed to avoid being smashed to bits as bin after bin of glassware was dumped into the large troughs that fill the outlet. I picked through the bin until I found the bottom of his bowl and paid 29 cents to take him home.
For most of the year, Rocket J. lives on the shelf under our sideboard, but come November he is filled with nuts and takes pride of place on our dining room table. Come January, when the nut supply runs out, he goes back to his perch to wait until the next holiday. Putting this nut bowl on the table is a wonderful reminder of my grandfather and of the large family gatherings that centered around food.
What are your favorite holiday food memories?
Seen anything interesting?
Let us know
& we'll share it!