The seven stages of Christmas leftovers
December 26, 2019 by Darcie
Over the Christmas holiday, you don't need a calendar (or even a clock) to know what time it is. You can tell the time by the leftovers you are eating, and you can use The Guardian's reference for the seven stages of holiday leftovers as a gauge.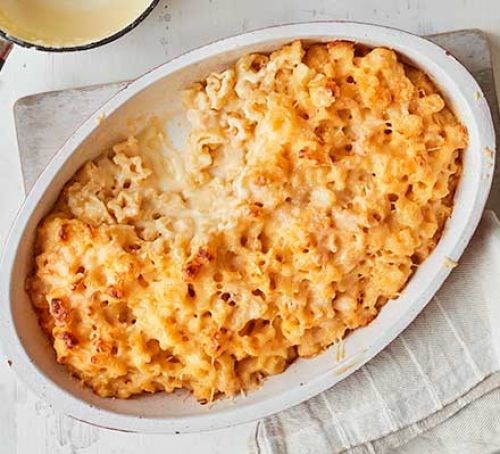 The guide starts off with Christmas Day, after the main meal: "Despite the fact that you stuffed yourself to the point of intestinal tearing just hours earlier, you are back in the kitchen. You are not hungry, no, but feel like you should have something, lest you wake up in the night with a gnawing hunger."
If you are faced with a pile of leftover food and are in need of inspiration for how to use it all, head over to BBC Good Food. They have a list of over seventy recipes for Christmas leftovers, using everything from your holiday feast including the turkey, side dishes like Brussels sprouts and red cabbage, and Christmas puddings or cakes. They even have a recipe to make use of the remainders from the cheese tray: Cheeseboard macaroni cheese (pictured above).
Australian Gourmet Traveller also has a lot of ideas for using the remnants of big meal. They are featuring 33 recipes that go well beyond the usual sandwiches, including Christmas fried rice, several prawn recipes, and uses for the holiday ham including ham tamales. With all of these great ideas you'll want to make Christmas dinner all over again.
Seen anything interesting?
Let us know
& we'll share it!