Signature Dishes That Matter – Cookbook Giveaway
December 11, 2019 by Jenny
Enter to win a copy of Signature Dishes That Matter by Pat Nourse, Susan Jung, Christine Muhlke, Howie Kahn and Andea Petrini in our giveaway below. Please note: Eat Your Book members receive 30% off Phaidon titles when using the link provided.
In September, Darcie reported on a piece written about this impressive title. A celebration of iconic restaurant dishes that defined the course of culinary history over the past 300 years is collected within the covers of Signature Dishes That Matter. Each dish shares a stunning illustration and narrative that details the creation, origin or other facts about the particular recipe (as seen in the image below). The full written recipe can be found in the rear of the book as indicated by the page number which can be found to the side of the illustration.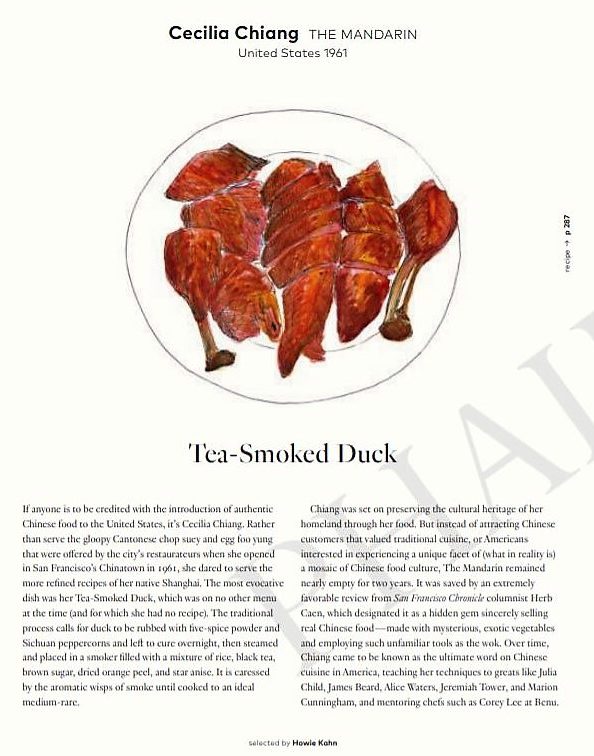 In the pages of this gorgeous book are the closely held secrets behind the world's signature recipes – dishes that put restaurants on the map, from 19th-century fine dining and popular classics to today's most innovative kitchens, both high-end and casual. Curated by experts and organized chronologically, it's both a landmark cookbook and a fascinating cultural history of dining out that every cook will want in their collection. The reader will spend hours lost in recipes from greats such as Yotam Ottolenghi, Pierre Hermé, Nobu Matsuhisa and hundreds of other global iconic chefs.
Our

takes you inside this fascinating book and shares five

set out below and other sample pages from this book.
Special thanks to Phaidon, the publisher, for providing two copies of the above-referenced title in our giveaway which is open to EYB Members in the US, UK, CA, and AU. One of the entry options is to answer the following question in the comments section of this blog post.
Which recipe in the index would you try first?
Please note that you must be logged into the Rafflecopter contest before posting or your entry won't be counted. For more information on this process, please see our step-by-step help post and this forum post. Once you log in and enter your member name you will be directed to the next entry option – the blog comment. After that, there are additional options that you can complete for more entries. Be sure to check your spam filters to receive our email notifications. Prizes can take up to 6 weeks to arrive from the publishers. If you are not already a Member, you can join at no cost. The contest ends at midnight on February 22nd, 2020.
a Rafflecopter giveaway