Wok On – Ching-He Huang Cookbook Giveaway
November 26, 2019 by Jenny
Enter to win a copy of Wok On: Deliciously Balanced Meals in 30 Minutes or Less by Ching-He Huang in our giveaway below.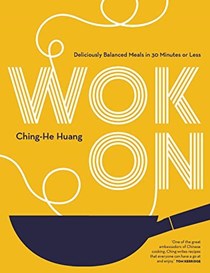 Ching-He Huang is a well-known television personality who has authored a library of cooking titles. Focusing on fresh, organic, ethically sourced ingredients, she creates modern dishes that fuse Chinese tradition with innovation.
In her latest book, the basics of using a wok are covered along with Ching's tips and tricks for fail-proof techniques. The recipes here are drawn from across Asia with almost each being able to be made in 30 minutes or less. The author provides designations as to which dishes are dairy-free, gluten-free, vegan and vegetarian, along with the time needed to complete the recipe as well as nutritional data.
I love Ching-He's books. Her recipes are approachable, work well and are family favorites.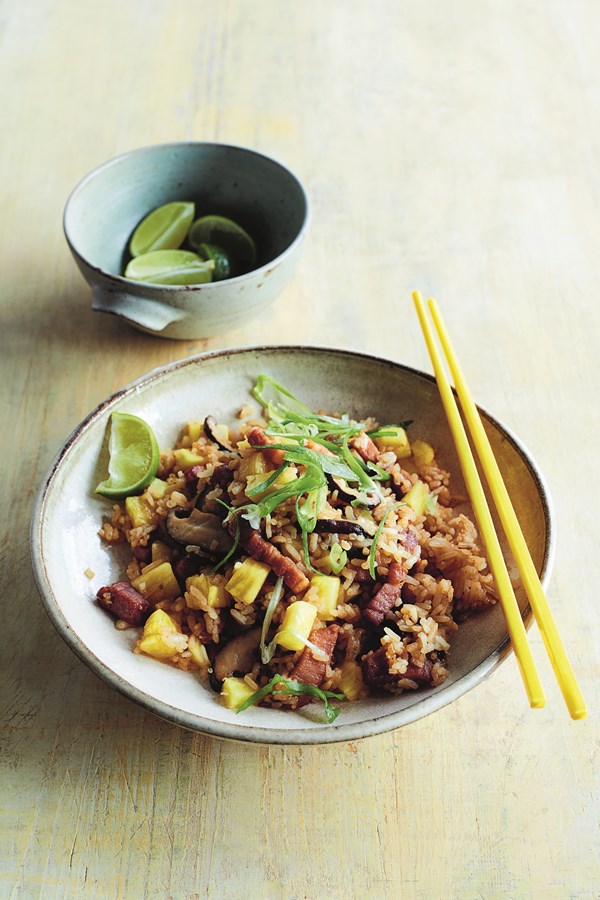 Black pepper bacon pineapple fried rice
Add this recipe to your Bookshelf (click the blue +Bookshelf button).
Prep 20 mins * Cooking 5 mins * Dairy Free * Serves 2 * kcal 466 * carbs 49g * protein 8.9g * fat 22.8g
1 tablespoon canola oil
1 inch piece of ginger, peeled and grated
5 oz smoked thick-cut bacon, diced
1 teaspoon dark soy sauce
pinch of ground black pepper
6 large fresh shiitake mushrooms, sliced into 3⁄8-inch strips
2 1⁄4 cups cooked jasmine rice
2 tablespoons tamari or low-sodium light soy sauce
3⁄4 cup finely diced fresh pineapple flesh
1—2 scallions, sliced on a deep diagonal, to garnish
To serve
sriracha chili sauce
a few lime wedges (optional)
Who doesn't love ham and pineapple pizza? Hawaiian is one of my favorite pizza flavors, and I can't get enough of it, so a bacon and pineapple fried rice is the next best thing. The black pepper helps to add a bit of heat and spice to complement the smokiness of the bacon, and the sweetness of the pineapple. For those who are skeptical about pineapple in fried rice, it's a staple dish and hails from the Yunnan region in China.
If you're vegan, you can lose the bacon and instead wok-fry some rehydrated cubed dried Chinese mushrooms, which are a great textured, earthy-smoky substitute.
Heat a wok over high heat until smoking, add the canola oil, and give it a swirl. Add the ginger, and stir-fry for 5 seconds, then add the diced bacon and stir-fry for 1 minute to caramelize it around the edges. Season with the dark soy sauce and black pepper, and toss well. Add the mushrooms and wok-fry together for 30 seconds.
Tip in the cooked rice, season with the tamari or light soy sauce, then add the pineapple and stir gently to mix well. Garnish with the scallions, and serve with some sriracha chili sauce. For an extra zing and a truly tropical taste, you can squeeze some lime juice over, if you like.
Recipe excerpt and photograph from: Wok On by Ching-He Huang ©2019 Kyle Books, and photographs ©Tamin Jones. Used with the permission of the publisher.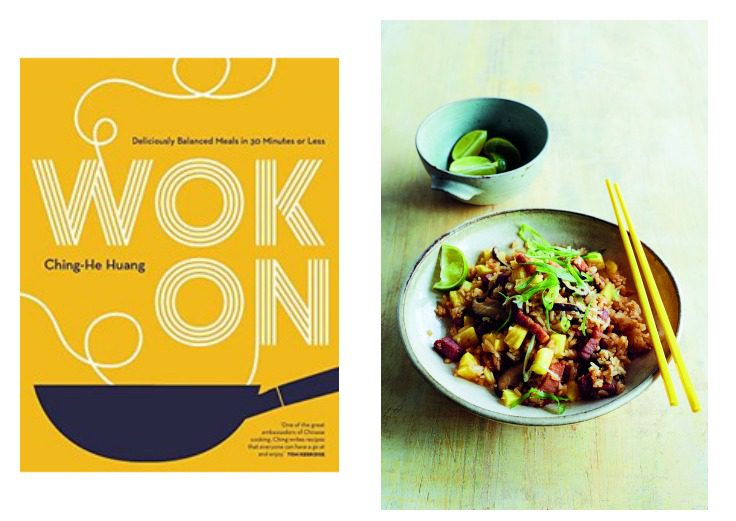 Thanks to the publisher for providing two copies of the above-referenced title in our giveaway open to EYB Members in the US. Eat Your Books is providing one copy worldwide. One of the entry options is to answer the following question in the comments section of this blog post.
Which recipe in the index would you try first?
Please note that you must be logged into the Rafflecopter contest before posting or your entry won't be counted. For more information on this process, please see our step-by-step help post and this forum post. Once you log in and enter your member name you will be directed to the next entry option – the blog comment. After that, there are additional options that you can complete for more entries. Be sure to check your spam filters to receive our email notifications. Prizes can take up to 6 weeks to arrive from the publishers. If you are not already a Member, you can join at no cost. The contest ends at midnight on January 30th, 2019.
a Rafflecopter giveaway