Relax, you've got this
November 26, 2019 by Darcie
My Twitter feed is nearly 24/7 Thanksgiving prep at this point. It's been building over the past couple of weeks in the lead-up to the biggest food holiday in the US. Usually on the Tuesday evening before Thanksgiving I would be elbow-deep in turkey (literally, to season it for dry brining), finishing the make-ahead gravy, making pie crusts, and performing a handful of other tasks to prepare for the holiday. For many years I did all of this as the host of a "Friendsgiving" for people like me and my husband who did not have a family gathering of their own to attend.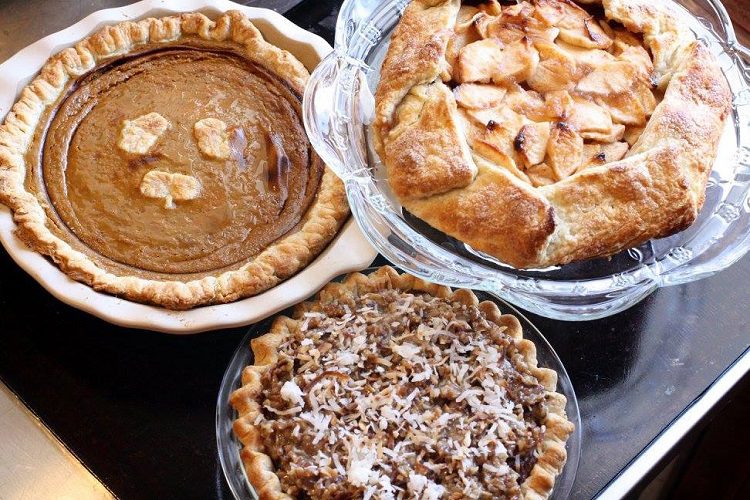 This year, for the first time in a decade, I am not hosting the big meal. It is a strange sensation to see all of the meal planning strategies, recipes, and 'turkey talk' flow across social media when I do not need any new preparation methods or recipes. My contribution to the Friendsgiving will be one dessert (this cranberry eggnog tart – you may recognize it from the EYB newsletter).
For most people, taking a year off and not having the pressure of a large meal riding on their shoulders would be a relaxing experience. I expect many of you will understand that I am disappointed, not relieved, that I won't have the stress of hosting. Even though my husband would frequently catch me cursing as I cooked and baked in the days leading up to Thanksgiving and I usually sported at least one angry burn by the time it was over, I thoroughly enjoyed putting the meal together. I loved everything about it, from roasting the turkey (spatchcocked) to making the mashed potatoes to baking the pies to ironing the tablecloth, even if at times I felt panicked and exhausted.
However, during the frantic evenings when I was checking things off my to-do list and worrying that I would not, in fact, be able to make three different kinds of pie, a cheesecake, and get the dough ready for the dinner rolls, I wish I had someone to grab me by the shoulders and say "It's okay if you don't make a pumpkin pie for Julie* and a pumpkin cheesecake for Steve" or even just "Relax, you've got this."
So this year, as I contemplate what I will do with all of my free time this Thanksgiving (stream the new season of The Crown, of course), I will say this for anyone who needs it this holiday season: it is okay if you don't get around to making that fifth side dish, your cousin Susan will not be psychologically damaged if you don't put marshmallows on the sweet potatoes, and you do not need to make a separate gravy without pepper for your picky nephew Billy. He won't starve.
Relax, you've got this.
*Names changed to protect the fussy.
PS: I am totally making another pie. Or a pumpkin roll. Maybe both.