Lamenting the loss of recipe cards
November 23, 2019 by Darcie
At one time, the recipe box was a standard fixture in almost every household. Women kept the boxes, filled with family recipes and perhaps clippings from a newspaper or magazine, close at hand and used them often to help create family meals. With the internet, there is virtually no need for such an item, and it appears as though the recipe card will be another item displaced by technology as Beth Teitell explains in The Boston Globe.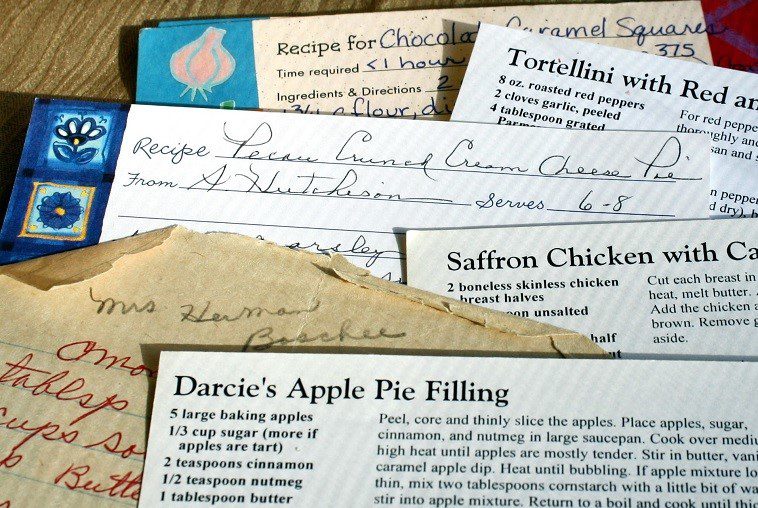 "For so long, we were a nation of recipe cards, handwritten or typed, splattered from family meals gone by, carrying instructions from long-gone grandmas and great aunts," Teitell notes, adding that the cards were like "voices from the grave telling you to double the cinnamon or that it's OK if the batter is a little lumpy."
Women interviewed for the article also bemoan the fact that recipe cards likely won't survive another generation except perhaps as displays by collectors, remnants of a bygone era. More than just the recipes will be lost as these cards are tossed into dumpsters after someone passes away. Barbara Rotger, assistant director of Boston University's gastronomy program, values the cards for the glimpses they provide into women's lives. She recalls that her grandmother had a recipe for a homemade denture soak in her recipe box.
I have several recipe cards from my grandmother, written in her distinctive hand, that provide a link to my family's past, as migrants who left Germany to farmstead in Ukraine, and whose descendants landed on the high plains of the U.S. Midwest. I have discovered that the recipes in my box reflect the Ukrainian influence on traditional Rheinland region dishes, providing a fascinating exploration of how migration affects the culture of immigrants.
When am no longer around to cherish these cards, I wonder what will happen to them. At best, a family member will want to keep the recipe cards as a reminder of our collective past. I don't want to think of what will happen in the worst scenario. For now, I will continue to pull out the recipe box, read the cards with their charming misspellings and vague directions, and connect with my grandmother and the scores of women who came before, each providing instructions and advice to the next generation.