Weeknight Baking – Cookbook Giveaway
November 19, 2019 by Jenny
Enter our giveaway to win a copy of Weeknight Baking: 75 Time-Saving Recipes to Make Any Night of the Week by Michelle Lopez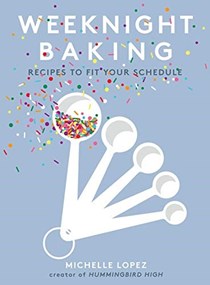 Weeknight Baking: 75 Time-Saving Recipes to Make Any Night of the Week by Michelle Lopez, author of the blog, Hummingbird High, makes baking more approachable and not something saved for weekend marathons in this her debut cookbook.
Recipes range from Boxed-mix brownies, from scratch and Single lady chocolate chip cookie (yes cookie) to a White wedding cake and beautiful pies and tarts. There are detailed instructions on how to apply a crumb coat and other decorating methods. There is a chapter on vegan and gluten-free recipes.
The variations on certain recipes are great for batch baking during the holidays. For instance, the Brown butter blondies shares instructions on how to turn the basic blondie into birthday cake blondies, halva blondies or chocolate hazelnut blondies. Imagine your cookie tray this season with an assortment of blondies nestled in those cookies.
Michelle covers dozens of tutorials including how to freeze cookie dough to bake later, weeknight layer cake decorating techniques and creating different pie crusts. Michelle covers it all in Weeknight Baking including how to grind your own spices with plenty of step-by-step photographs and details to guide us to successful baking any night of the week.
Special thanks to Simon & Schuster for providing the following recipe for our members to try now as well as offering copies of this book in our giveaway below.
Choose-your-own pumpkin spice bread
Add this recipe to your Bookshelf (click the blue +Bookshelf button).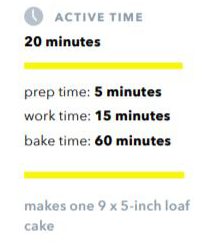 I first discovered this recipe when I was living a few blocks from the famous San Francisco bakery Tartine. In the fall, I'd brave the long line, ignore their famous croissants, and instead opt for a slice of their seasonal pumpkin loaf bread. It was light and fluffy, and tasted like pumpkin pie. When I moved away, I bought a copy of their cookbook just so I could make the loaf bread and get my fix in my new city. I was pleasantly surprised to find that the recipe came together quickly and was perfect for weeknight baking; unlike most loaf cakes, it used oil instead of butter, skipping the need to cream butter and sugar together. The oil also kept the loaf flavorful and moist for much longer, perfect for savoring a slice to get me through my weekday mornings. I've since customized their recipe with my own mix of pumpkin spice, and you can, too! If you choose to make your own spice blend, just be sure to add another 5 minutes or so to the Prep Time, since the recipe assumes you've already mixed your pumpkin spice.
1¾ cup plus 1 tablespoon (8.15 ounces) all-purpose flour
1 recipe Classic Pumpkin Spice, Vanilla Pumpkin Spice, Chai Pumpkin
Spice, or Actually Spicy Pumpkin Spice (page 67)
1½ teaspoons baking powder
½ teaspoon baking soda
1 teaspoon kosher salt
1 cup plus 2 tablespoons (9 ounces) canned pumpkin puree
1 cup (8 ounces) canola oil
2 teaspoons pure vanilla extract
1 ⅓ cups (9.35 ounces) plus 2 tablespoons granulated sugar
3 large eggs
1. Position a rack in the center of the oven and preheat the oven to 350°F. Spray a 9 x 5-inch loaf pan with cooking spray and line it with parchment paper, leaving a 2-inch overhang on the long sides. Spray the parchment, too.
2. In a medium bowl, whisk together the flour, pumpkin spice, baking powder, baking soda, and salt.
3. In the bowl of a stand mixer fitted with the whisk attachment, combine the pumpkin puree, oil, vanilla, and 1 1/3 cups (9.35 ounces) of the sugar. Whisk on medium-low until just combined, about 1 minute, using a rubber spatula to scrape down the bottom and sides of the bowl as necessary. Add the eggs one at a time, adding the next egg only after the previous one has been fully incorporated, scraping down the bottom and sides of the bowl after each addition. With the mixer on low, gradually add the dry ingredients and whisk until just combined. Scrape down the bottom and sides of the bowl once more, and whisk on medium for an additional 15 seconds.
4. Pour the batter into the prepared pan and use an offset spatula to smooth the top. Sprinkle with the remaining 2 tablespoons sugar. Set the loaf pan on a sheet pan and bake for 60 to 65 minutes, or until a skewer inserted into the center of the cake comes out with a few crumbs attached. There will still be patches of sugar on top, but that's totally okay, I promise! In fact, that's the look you want. Cool on a wire rack. Serve warm or at room temperature. The cake can be stored at room temperature, wrapped tightly in plastic wrap, for up to 3 days
variations
Pumpkin brûlée bread
Add this recipe to your Bookshelf (click the blue +Bookshelf button)
This is a really impressive variation that requires barely any extra work. When you pull your pumpkin bread out of the oven, there should still be patches of granulated sugar on top. Cool for 20 to 30 minutes on a wire rack, then use a chef's torch to brûlée the patches of sugar until melted and golden brown. Serve immediately. This variation does not significantly affect Prep, Work, or Bake Time.
Toasted coconut pumpkin bread
Add this recipe to your Bookshelf (click the blue +Bookshelf button)
Proceed with the recipe as directed, but use melted coconut oil instead of canola oil in the recipe. In the final step, substitute 2 tablespoons coconut sugar for the granulated sugar; combine the coconut sugar and ¼ cup (about 0.5 ounces) large raw coconut flakes in a small bowl. Sprinkle the mixture over the batter. Bake as directed. This variation does not significantly affect Prep, Work, or Bake Time.
Brown butter pumpkin bread
Add this recipe to your Bookshelf (click the blue +Bookshelf button)
Brown butter adds an extra nutty flavor to this bread, and its intensity will mute the flavor of the spices. If you want your bread to maintain the same level of spice, I suggest increasing the pumpkin spice in the recipe by a half. Before starting the recipe, you'll need to brown 1 cup (8 ounces) unsalted butter following the instructions on page 161 and let it cool. Proceed with the recipe as directed, but use the brown butter instead of the canola oil in the recipe. This variation adds about 10 minutes of Work Time.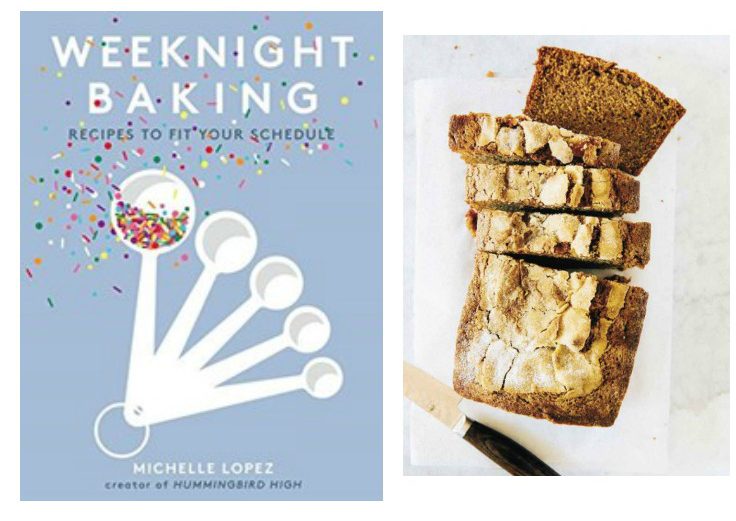 Thanks to the US publisher for providing three copies of the above-referenced title in our giveaway open to EYB Members in the US and to the Canadian publisher for offering one copy to our Canadian members. One of the entry options is to answer the following question in the comments section of this blog post.
Which recipe in the index would you try first?
Please note that you must be logged into the Rafflecopter contest before posting or your entry won't be counted. For more information on this process, please see our step-by-step help post and this forum post. Once you log in and enter your member name you will be directed to the next entry option – the blog comment. After that, there are additional options that you can complete for more entries. Be sure to check your spam filters to receive our email notifications. Prizes can take up to 6 weeks to arrive from the publishers. If you are not already a Member, you can join at no cost. The contest ends at midnight on January 18th, 2020.
a Rafflecopter giveaway