Home Made in the Oven & Cookware Giveaway
October 29, 2019 by Jenny
Enter our contest to win a copy of Home Made in the Oven: Truly Easy, Comforting Recipes for Baking, Broiling, and Roasting by Yvette van Boven with one grand prize winner in the US winning a 10-inch saute pan from M2B Art Metals.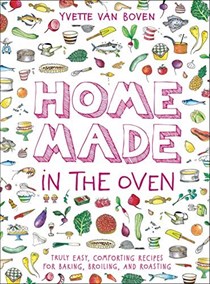 Yvette van Boven's books are magic. They are filled with her lovely illustrations as well as her husband's photographs and the recipes are new and exciting. She recently signed a new book contract for Home Made Basics to be released in 2020! The more Yvette, the better.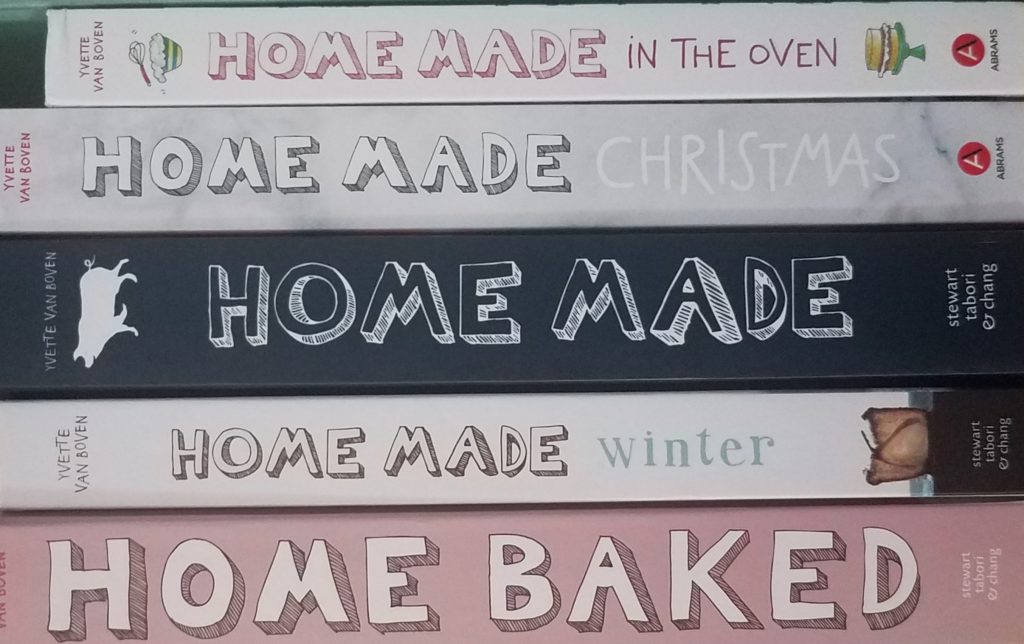 I admit to being a bit of a trainwreck with my cookbook collection. We have moved several times and the goal is always to organize the books when I unpack. That goal changes when panic sets in at the number of boxes and the look on my husband's face. So cookbooks are not organized by any system whatsoever. That being said, Yvette's books are always together on one shelf so I can go to them without setting out with a St. Bernard and a flask of rum.
The Home Made books bring a feeling of comfort and are the perfect titles for gathering around you while getting cozy on the couch to plan supper, dessert or to just garner inspiration from their pages. The index here at EYB demonstrates the range of Yvette's recipes with all being approachable. Measurements are given in weight and volume and the illustrations provide a guide map to creating the recipes.
I made the Dutch baby below and it was fantastic. So easy and delicious. I added a few blackberries to mine.
My kinda Dutch baby with stone fruit
Add this recipe to your Bookshelf (click the blue +Bookshelf button).
Serves 2 as breakfast or brunch dish
I am a big fan of the Dutch baby—a gigantic oven-baked puffed pancake brought to America by immigrants. The name is said to have derived from the Pennsylvania Dutch, who are German Americans, by the way, not Dutch at all. Anyway, there's only a slight difference between the sound of Deutsch and Dutch, and whoever mispronounced it coined a new term. Personally, I think these look suspiciously like Yorkshire puddings. Very Anglican/British, therefore, the big difference being that when you make Yorkshire pudding, the batter is poured into red-hot cast-iron ramekins or muffin pans greased with animal fat (drippings or gravy), whereas the Dutch baby is baked in a piping-hot cast-iron pan in which butter has melted. In the end, they are all popovers. Americans eat them with confectioners' sugar, the English with their Sunday roast. I whisk the egg whites separately, fold those in, and bake the stone fruit along with the batter. Call it whatever you want.
2 tablespoons granulated sugar
1 teaspoon vanilla extract
Grated zest of ½ lemon
3 eggs, separated
½ cup plus 2 tablespoons (150 ml) whole milk
½ cup plus 1 tablespoon (75 g) all-purpose flour
Pinch of freshly grated nutmeg
Pinch of sea salt
3½ tablespoons (50 g) butter
3 whole stone fruits, pitted and cut into wedges
Confectioners' sugar, for sprinkling
Ovenproof (cast-iron) skillet or tartine pan
Preheat the oven to 435°F (225°C) and place a cast-iron skillet in the middle.
Pulse the plain sugar, vanilla sugar, lemon zest, egg yolks, milk, our, and nutmeg in a blender until smooth. In a clean bowl, beat the egg whites with the salt until stiff. Fold the egg whites into the blended batter.
Open the oven door and slide a pat of butter into the hot pan. It will melt immediately, so gently sway the pan back and forth (use oven mitts!) to spread the butter all around. Immediately pour the batter into the scorching pan, arrange the slices of fruit on top, and shut the oven.
Bake the pancake until it is puffed and done; about 18 minutes.
Slide onto a large plate, sprinkle with confectioners' sugar, and serve.
Now onto that beautiful pan!
M2B Art Metal crafts beautiful cookware. Matt Gilbert, the sole proprietor of M2B Art Metals, has been a professional blacksmith, metalworker, and conservator since 2007. Previous to his involvement in the metal arts, Matt had been a professional cook and brewer everywhere from Cincinnati to Spain and has maintained an avid (and equally obsessive) relationship with both disciplines. At a certain point, he ended up with a pretty deep disdain for 90% of commercially available cookware. Luckily, having a professional metal shop has afforded him the ability to create custom implements for both kitchen and brewery alike – ones that meet his own rigorous standards of both utility and aesthetics. After several years of comments from friends and dinner guests, M2B Art Metals was born.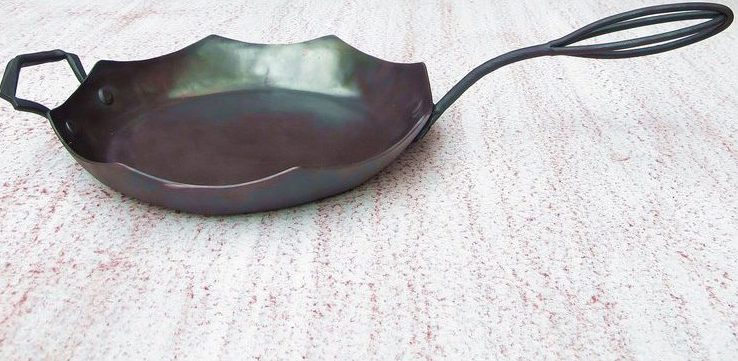 As soon as I came across M2B while looking for a pasta product on Fantes' site, I reached out to Matt. We had a conversation on the phone and I was struck by his passion for his craft. He generously sent me the 10-inch saute pan for review and surprised me with a beautiful miniature gratin pan (photo below). Currently, he offers a 10-inch gratin on his site because even though this 6-inch pan is smaller the cost to make this size is comparative.
I have used both of these gorgeous pans and cannot say sing their praises enough. They were easy to clean and absolutely look spectacular. I have both hanging on my pot rack in the kitchen and looking at them makes me happy.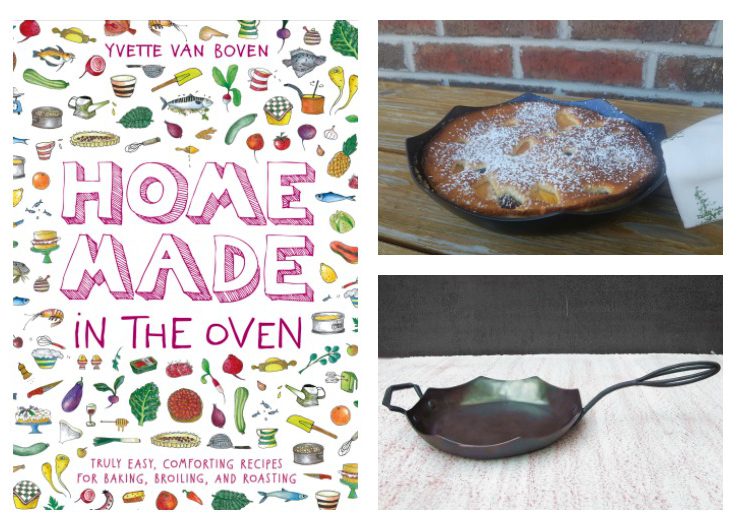 Thanks to the publisher for providing three copies of the above-referenced title in our giveaway open to EYB Members in the US and Canada with one member in the US winning the book and the 10-inch saute pan from M2B Art Metals. Two of the entry options are to answer the following questions in the comments section of this blog post.
Which recipe in the index would you try first?
Which piece of cookware at M2B Art Metals would you like to try?
Please note that you must be logged into the Rafflecopter contest before posting or your entry won't be counted. For more information on this process, please see our step-by-step help post and this forum post. Once you log in and enter your member name you will be directed to the next entry option – the blog comment. After that, there are additional options that you can complete for more entries. Be sure to check your spam filters to receive our email notifications. Prizes can take up to 6 weeks to arrive from the publishers. If you are not already a Member, you can join at no cost. The contest ends at midnight on January 6th, 2020.
a Rafflecopter giveaway