How authors got their cookbook deals
September 26, 2019 by Darcie
The publishing world is a murky and Byzantine industry to outsiders (and frankly, to insiders as well). Learning the ins and outs of the business can take years, which is why it is so difficult for aspiring authors to get published. Recently Eater talked to three different cookbook authors – Molly Yeh, Von Diaz, and Priya Krishna – to ask them how they got their first publishing deals. Our own Jenny Hartin has also shared her story with Author Voices.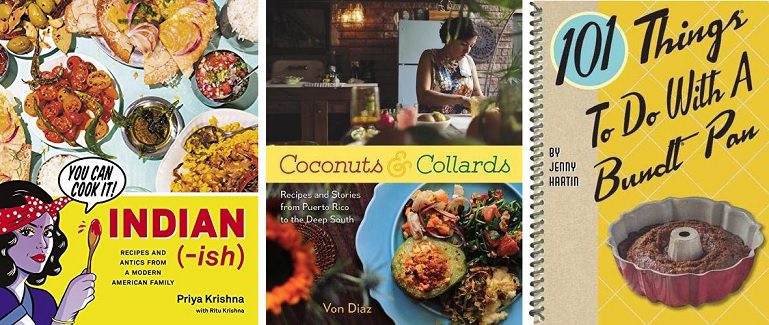 For her 2014 debut book, Ultimate Dining Hall Hacks, Priya used a gumshoe method to find a publisher. She came up with the concept, used a proposal template she found on the internet, and mailed off copies of it to 50 different publishers. She figured that not all of them could say 'no' – and she was right. Priya followed a different path for her most recent book, Indian-ish.
Von Diaz's story follows a different path. She was a recent journalism grad who was blogging about the foods of her childhood as she cooked her way through her grandmother's cookbook. In 2013, food writer and cookbook author Kathy Gunst, who was writing for Newsweek at the time, asked Von if she would be open to Kathy writing an article about her project. Says Von, "I made a meal for her, she wrote this lovely story, and the very next day, my now-former agent called me on the phone and asked me if I wanted to write a cookbook." The result, Coconuts & Collards, has received a lot of positive press.
Jenny took yet another approach. She had written about a Bundt cookbook and posted many tantalizing cake creations on Instagram when the publisher Gibbs Smith reached out to her. We all know that exchange ended in the delightful 101 Things to Do with a Bundt® Pan. As we can see from these stories, there is more than one way to get a publishing deal.