Great British Bake Off/Baking Show – Recap: Dairy Week 4
September 21, 2019 by Jenny
The ten bakers arrived at the tent for the first-ever dairy week. Cake week saw the demise of Dan, biscuit week crumbled Jamie's dreams of baking royalty and bread week sent Amelia packing. (Weeks 1 and 2 and Week 3). How will the bakers tolerate a weekend of lactose bakes? Let's find out.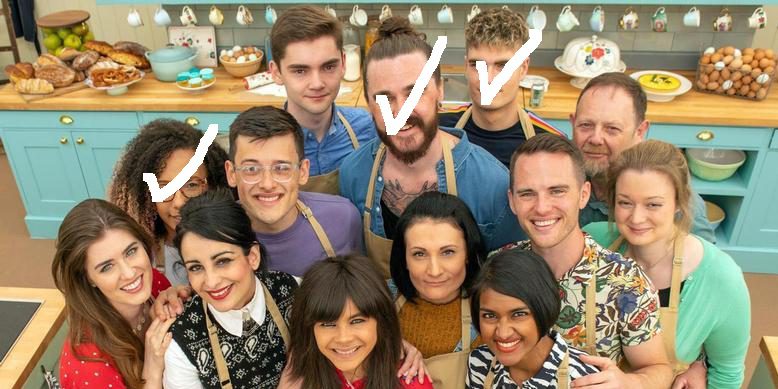 Signature bake: Cake containing a cultured dairy product
Sandy, in describing what the judges expected from the bakers uttered the most cringe-worthy word of all – moist – as in a moist sponge. I enjoy a moist sponge myself when doing the dishes. I have never used the word in describing a baked good and I have high hopes for the future.
Overall, the bakers presented delicious cakes with a few mishaps. Michael experienced cake breakage when releasing his cheesecake filled cake from its pan. He confessed that the cake only worked once out of the ten times he tried it at home. Michael, there's a city in the desert waiting for you with those odds. Michael's cake wasn't the only thing that broke. Michelle lobed off a piece of her cake stand while freeing her rhubarb buttermilk cake. Breaks aside, the most alarming statement was made by Henry as he was surprised at the number of other animals that produced dairy products besides the cow. He listed them off "buffalo, goat, sheep…..horse?" Henry needs to spend a little more time with Rosie, the vet.
A breakdown of the bakes and judgment:
Steph: Answer to Everything – chocolate raspberry buttermilk which was moist (there's that word again) and light as well as "so rich".
Rosie: Lemon buttermilk cake with limoncello and decorated with meringue kisses. The cake was light, airy and beautiful.
David: Lemon poppy seed cake with yogurt with a nice structure and lovely flavor.
Phil: Rosewater cake made with sour cream which was deemed messy but with a good texture.
Priya: Chocolate banana with yogurt which Paul said had good banana flavor.
Michael: A sour cream cake with a raspberry cheesecake filling which was a mess but tasted delicious.
Alice: Cardamom and pistachio cake made with yogurt decorated with cookies. The cake was very pretty but was bland although the texture was good.
Michelle: The cake stand wrecker: rhubarb buttermilk creation with pecan crumble – meringue decorations were beautiful but the cake was claggy.
Henry: German breakfast cake with apple, yogurt, and a cinnamon streusel. The cake had good definition and very delicious. Henry, stick to baking and don't try to milk a horse.
Helena: An almond and buttermilk ghostly decorated cake. Judged lovely, scary and sweet. Note: Noel is leaving Birdy and Helena her husband so that they may marry at Halloween.
Between the signature bake and the technical challenge, we caught footage of a squirrel running away from the camera outside the tent. There was not a full-frontal shot so I wondered if it was the well-endowed squirrel and if the pheasant received marching orders.
Technical challenge: 12 Maids of Honor
Prue set the challenge asking the bakers to create a dozen maids of honor pastries consisting of a rough puff, lemon curd, curd cheese and adorned with a stenciled Tudor rose.
The pastry challenge was a difficult one with both judges slamming everyone's results. The worst: Priya, Helena, and Alice. The best: Henry in 3rd, David took 2nd, and Steph took first which was a shallow victory.
Showstopper challenge: Three types of Indian mishti
Mishti is a general term used to describe Indian desserts that are made up by a combination of dairy, sugar, and flavoring. Priya Krishna wrote a wonderful guide to Indian desserts for Saveur that I found interesting.
Steph won the day with her beautiful selection and with her response to Paul's comment about her pink dessert (photo below with transcript).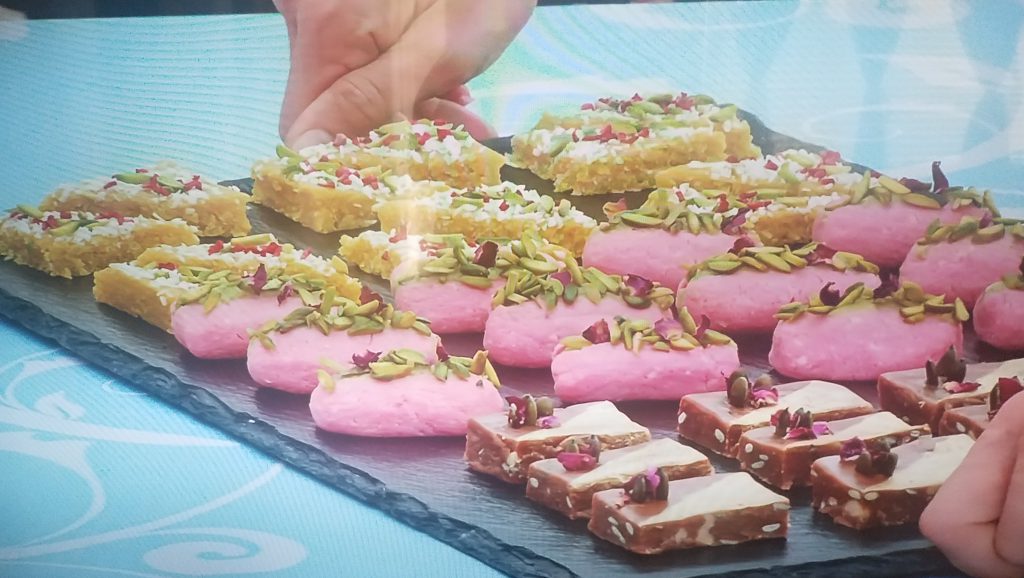 The results were a mix. David was neat and precise with really good flavor. Alice's take on an afternoon tea resulted in pleasant comments. Rosie delivered beautiful colors and delicious taste. Michelle's flowerpot rice pudding offering wasn't favored by Paul. Henry didn't finish as one of his desserts didn't set up. Paul commented perhaps that the baker would eat them if offered to which Henry replied: "only if I were a prisoner". Michael's Indian flag tray was stylish and delicious. Priya's flavors of her childhood didn't have enough color but her saffron use and fried dessert were great. Phil's corner garden received the harshest comments – as they tasted slightly fake and appeared to be all the same. His lucky gnome failed him.
While in deliberation – Prue said that Phil's mishti were akin to "kindergarten play-doh" and Henry presented three round balls to which Paul replied, "like a mutant".
Overall, this episode was filled with sexual innuendo in spades with Noel and Helena planning to take over the goth world with lots of goth babies, hot dog-shaped pastries and Henry's mutant balls.
Who was star baker? Steph took the title this week and "dairy isn't my thing" Phil was sent home.
For some of the recipes from this season, I found this link that looks like a great resource: recipes from The Great British Bake Off