Marcella Hazan's lasting legacy
August 31, 2019 by Darcie
There are a handful of people whose pioneering work in codifying the cooking of a region has created a body of work that is used generation after generation. Paula Wolfert, Julia Child, and Marcella Hazan are three women who fit this description. Recently food writer Melissa Clark talked with Francis Lam on The Splendid Table about how Hazan's work has had a lasting influence on her own cooking.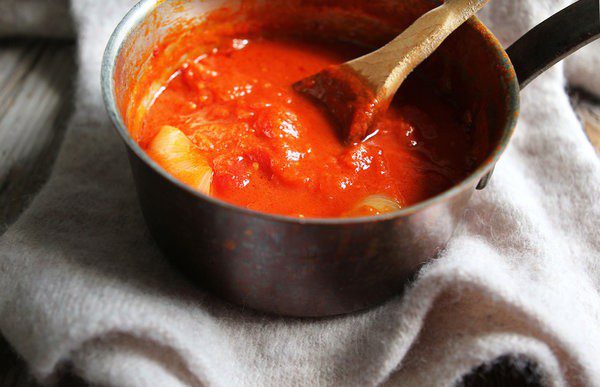 Clark says that before she started cooking from Hazan's cookbooks, she did not know much about Italian food other than what she experienced at "red sauce with garlic" restaurants in Brooklyn. Once she began to read Hazan's cookbooks, says Clark, she realized "there's a whole northern part of that country and I know nothing about the food there." Hazan's writing opened her eyes to an entire new world of Italian food.
When Lam asked Clark if there was any specific recipe or technique of Hazan's that she still used, Clark said the iconic tomato sauce with onion and butter is still her go-to red pasta sauce. She says there is "alchemy" in the sauce, and it changed the way she thought about Italian cooking. Listen to the entire interview (it's not too long) on The Splendid Table's website.
Photo of Marcella Hazan's tomato sauce from The New York Times Cooking by Marcella Hazan and Kim Severson