Food news antipasto
August 25, 2019 by Darcie
Time again for the food news that piqued my interest but did not warrant a lengthy post. This week we begin with a tip to prevent sogginess when baking with tomatoes. Since it's peak tomato season in much of the northern latitudes, this is timely. Tiffany Hopkins of Epicurious tells us the secret is to properly salt the tomatoes to draw out extra moisture.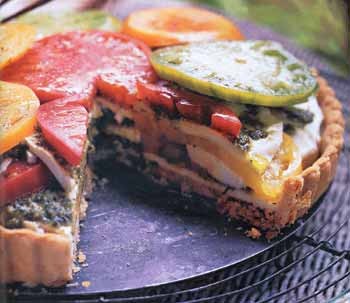 Sourdough bread is becoming popular once again, thanks in part to the fermentation trend and because it's just plain delicious. If you have created your own sourdough starter, you might feel a pang of guilt when you discard part of it in order to feed. If that describes you, head over to Taste to learn about baked goods other than bread that can be enhanced with sourdough starter.
Remember how foams took the culinary world by storm in the mid-1990s? Pioneering chefs like Ferran Adria made the technique synonymous with fine dining, but mediocre copy-cat versions of the ethereal substance soon permeated the lower realms of the culinary world. The trend lasted about a decade before falling out of favor. Now foams are back, says Ligaya Mischan of The New York Times. But is it a good thing?
The James Beard Foundation holds an annual contest for the best blended burger – that is, a burger that has not only meat but also mushrooms. The contest is a way to showcase how adding the umami-packed fungus to burgers can elevate the flavor while also reducing its environmental footprint. This year's five winners were announced earlier this week.
Seen anything interesting?
Let us know
& we'll share it!