August 2019 EYB Cookbook Club
August 25, 2019 by Jenny
Check out what's been cooking in our clubs and what our October through January options are!
We have an incredible community here at Eat Your Books that has flowed into our Eat Your Books Cookbook Club and Sweet Eat Your Books Cookbook Club, places where we share our successes and fails in cooking and baking from specific cookbook titles.
This month we've been cooking from the following titles:
See the bottom of this post for September options as well as the options for October through January.
And, desserts are still being churned out in our second group that is working through Ottolenghi's Sweet.
The photos below are just a few of the beautiful shots our members have been sharing; visit each group for more inspiration. Do not forget to also upload your photos and add your notes to your bookshelf at Eat Your Books. Instructions on uploading your photos and links to other helpful articles can be found here.
Now to this month's highlights:
Kimberly K made the Strawberry pistachio crumble pie from Sister Pie
Kimberly P made the Buckwheat Chocolate Chip Cookies from Sister Pie
Alejandrina P made Tomato and roast pepper bruschetta ( from Nigel Slater) * the lamb was an Ottolenghi recipe


Jane K made the Courgette rösti with burrata and tomatoes by Nigel Slater (online at The Guardian)


I made a version of the Phat Thai from Pok Pok Noodles.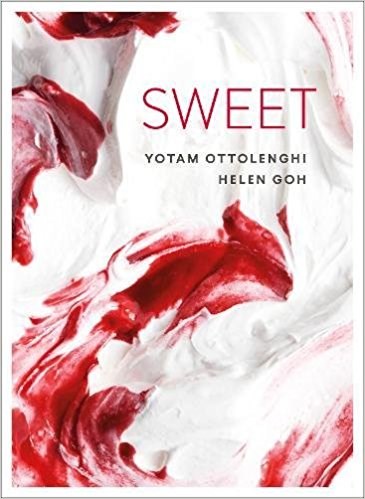 Eat Your Books Sweet Cookbook Club
Sweet – Ottolenghi (see the group for more photographs).
Mona W made the Chocolate peanut butter s'mores.
September selections:
October selections:
November Selections:
December
January 2020