Andaluz by Fiona Dunlop & John Boos Artisan Board
August 20, 2019 by Jenny
Title:
Andaluz: A Food Journey Through Southern Spain
by Fiona Dunlop, has written a
library of books on cuisines
 from around the world. A seasoned traveler and food-writer, she digs deep beneath the surface of the places she visits. Food has increasingly become her focus, without overlooking art, architecture and design of the regions.
Andalucia is the anti-fad foodie region of Spain with cuisine that is earthy and unpretentious according to the author. In 
Andaluz
, Fiona paints a true portrait of this charming region with photographs of the glorious landscape, profiles of the people, and dishes that will be at home in anyone's kitchen. A dish that seems as basic as chicken salad is refined and becomes elegant with the addition of pomegranate, almonds, and orange along with chicken pieces that are coated in sesame seeds and fried. When these crunchy morsels are combined with the other ingredients and plated, a very simple recipe delivers an incredible punch. The recipes here are approachable and rustic while impressive such as the Chilled almond soup dish we are sharing below.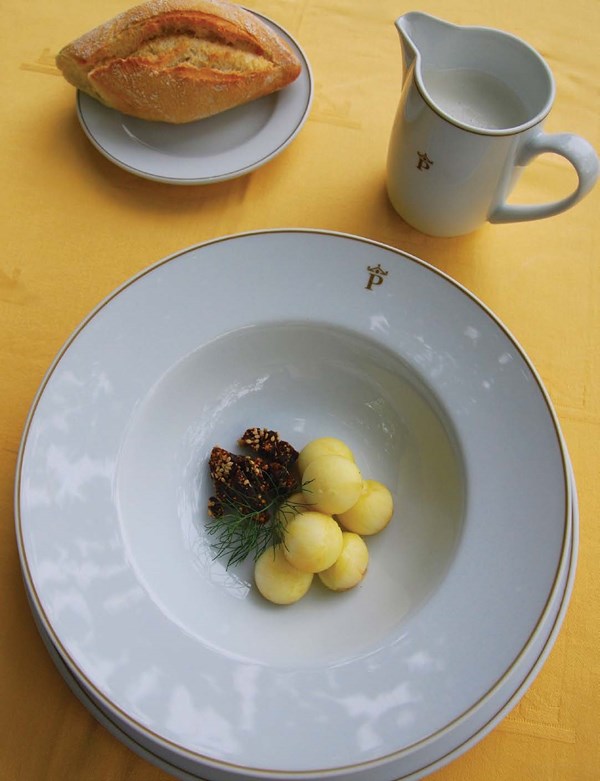 Chilled almond soup with apple and fig (Ajoblanco con pan de higo y manzanas)
Add this recipe to your Bookshelf (click the blue +Bookshelf button).
This chilled soup is an absolute Andalusian classic, the precursor of gazpacho and son of mazamorra (made without almonds). Cities quarrel over who invented it, with Málaga usually winning, but Granada is a close second. The classic version floats white grapes with a slick of olive oil on top, but Juan Francisco brings an original twist. Use the best almonds you can get hold of (or afford), if possible, the Spanish Marcona variety, which is rounder and more flavorful than the bland, mass-produced (GM) ones. If you cannot make or obtain the fig roll (see p. 132), use a few finely chopped dried figs instead. Serves 4 to 6
1 lb (500 g) blanched almonds
6 cloves garlic, peeled
4¼ cups (1 liter) water
2 cups (500 ml) extra virgin olive oil
Salt
1 tablespoon white wine vinegar, plus more if needed
1 lb (500 g) mild flavored apples like Golden Delicious, peeled and cored
9 oz (250 g) fig roll (see recipe p. 132), finely diced
Handful of arugula or dill, to garnish
To make the ajoblanco, tip the almonds into a blender, along with the garlic cloves. Add the water and mix slowly on low speed until you have a smooth, homogenous paste. With the machine running, gradually add the olive oil in a steady stream, as if you were making mayonnaise. Add the salt, vinegar and, if necessary, enough water to obtain a thick but pourable sauce. Strain the mixture into a serving jug, then chill in the refrigerator. Using a melon baller or round teaspoon, make the apple balls (or dice them). Divide the apple balls and chopped fig roll among serving bowls. Add an arugula leaf or sprig of dill to each bowl. Serve the ajoblanco mixture in a jug on the side to be poured at the table.
The number one name in cutting and carving boards is John Boos. To celebrate our tenth year here at EYB, John Boos is joining the party by offering one of our members their latest Artisan board, pictured above. This is my third piece by Boos that has taken residency in my kitchen and is so incredibly handy. I use it far more than the larger boards for chopping vegetables with the bonus is that it makes a great serving board for cheese, jams, honeys.
Special thanks to Interlink books for providing two copies of Andaluz and John Boos for offering one of their Artisan boards in our giveaway below to one grand prize winner.
The publisher is offering 2 copies of Andaluz and John Boos' is providing one of those winners their artisan board shown above. This contest is open to EYB Members in the US. Two of the entry options are to answer the following questions in the comments section of this blog post.
Which recipe in the index would you try first?
Visit John Boos' and leave a second comment here about which board is your favorite.
Please note that you must be logged into the Rafflecopter contest before posting or your entry won't be counted. For more information on this process, please see our step-by-step help post and this forum post. Once you log in and enter your member name you will be directed to the next entry option – the blog comment. After that, there are additional options that you can complete for more entries.
Be sure to check your spam filters to receive our email notifications. Prizes can take up to 6 weeks to arrive from the publishers. If you are not already a Member,
you can join at no cost
. The contest ends at midnight on
October 25th, 2019.
Recipe excerpt from Andaluz: A Food Journey through Southern Spain, by Fiona Dunlop, published by Interlink Books, recipe copyright © Fiona Dunlop, 2019, p. 99.
a Rafflecopter giveaway