Food news antipasto
June 23, 2019 by Darcie
This week's sampling of interesting or offbeat food news begins with a tribute to the late Anthony Bourdain. Earlier this week, the Culinary Institute of America in Hyde Park, Bourdain's alma mater, announced that it would be offering a scholarship in his name. It will be awarded to one or two students per year, and will help to pay for their studies abroad, allowing them to expand their culinary and cultural horizons. Bourdain's close friend, Chef Eric Ripert, brought the concept to the C.I.A. as a way to celebrate the late chef's legacy.
Of course, not all of this week's news was as worthy as a scholarship honoring a culinary giant. The next story brings us to what must be the zenith of the craft cocktail trend. Having good, clear ice is important to drink enthusiasts, but the Forge Clear Ice System takes it to the level of absurdity. The crowd-funded device promises to deliver "glass-like" ice spheres for your bourbon or rye. While most countertop ice makers set you back a couple of hundred dollars at most, the Forge's clarity comes at a much steeper price-a whopping $1,400 for an ice maker that makes "large blocks of gem-shaped ice" in about four hours. If you hurry you can preorder the device for the bargain price of $1,199.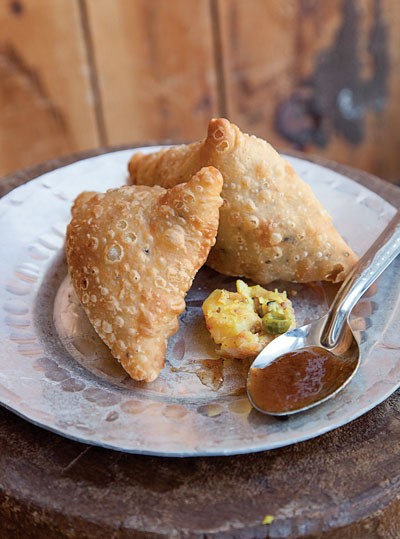 If you have an InstantPot that is more than a couple of years old, you might be surprised to learn that it has a hidden feature. In older models, there is a small black plastic tab or loop on the back of the cooker. While most people don't notice it, the loop has a purpose: it was designed to be an integral spoon holder. The makers of InstantPot nixed the loop in recent years following customer feedback.
Would you boil 47 eggs in an attempt to find the best method of making a hard-boiled egg? Ella Quittner at Food52 did, so you don't have to. Find out which method she says makes the ultimate hard-boiled egg.
Another technique that floated across my social media feed this week comes from British chef Romy Gill via Saveur. Gill teaches us the technique to make perfect samosas, like the Potato dumplings with tamarind chutney (Samosas) pictured above.