Joy of Cooking is getting an upgrade
May 11, 2019 by Darcie
First published in 1931 and created as a way to overcome a tragic event, the classic and authoritative Joy of Cooking has been in print for nearly ninety years. This fall, the book that taught generations of people how to cook is getting a facelift for the first time in over a decade. The new edition honors Joy's extraordinary history, while updating all the recipes and essential information for today's audience.
John Becker and Megan Scott have devoted the past nine years to this revision, developing new recipes, testing thousands of recipes from previous editions, and thoroughly researching and updating all the information within Joy's pages. The new edition, which comes out in mid-November, will include a special section on fermentation and an expanded offering of international food.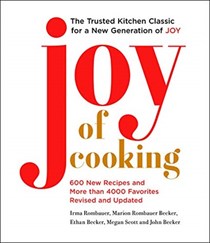 I have a couple of editions of Joy of Cooking in my cookbook library. I received one as a college graduation present, and the other, much older copy I snagged from a second-hand store for a pittance. Although I do not use the books as often as others in my library, I sometimes turn to Joy to research older or more obscure recipes and to see how closely a modern dish resembles its original incantation. I am already making room for the newest version of Joy.