Heirloom Kitchen Promotion
May 2, 2019 by Jenny
For most of my life, I have felt like an orphan in search of a past. I was out of my parents' home right after my father died. I was 17. I longed for a heritage that included grandmothers teaching me how to make homemade pasta, bake cookies or to leave me her weathered rolling pin to remember our times together. I made my own culinary heritage by teaching myself to cook and buying vintage rolling pins, yet I still long for a connection to a past.
It is books like Anna Francese Gass' Heirloom Kitchen: Heritage Recipes and Family Stories from the Tables of Immigrant Women that bring me comfort. Experienced hands cutting noodles adorn the cover of this title, stories fill its pages and recipes from the women behind those stories reached out to me like a beacon guiding me home.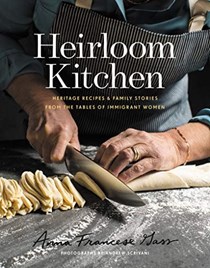 Heirloom Kitchen begins in Europe and travels the globe with stops in Africa, Asia, Central & South America, and ends in the Middle East. The birth of this brilliant book began when Anna realized she didn't know how to make her family's meatballs – the recipe lived in her mother's memory. Thus began the journey whose first step was her mother and ends after sharing 45 strong immigrant women's recipes as well as a small glance at their remarkable lives.
I can tell you that this book has touched me like no other. I am better for having read it and I will be further healed after cooking these women's recipes. I will begin with those dishes I have tagged: Gina's bocconotti Calabrese, Tina's Chinese new year dumplings, Shekaiba's Bolani, and Fethie's Maqluba. Take the journey with me, you will be all the better for it.
We have one recipe – Lucy's hummus – online as well as the recipe below for members to try.
The publisher has posted a sample from the book that you may read now.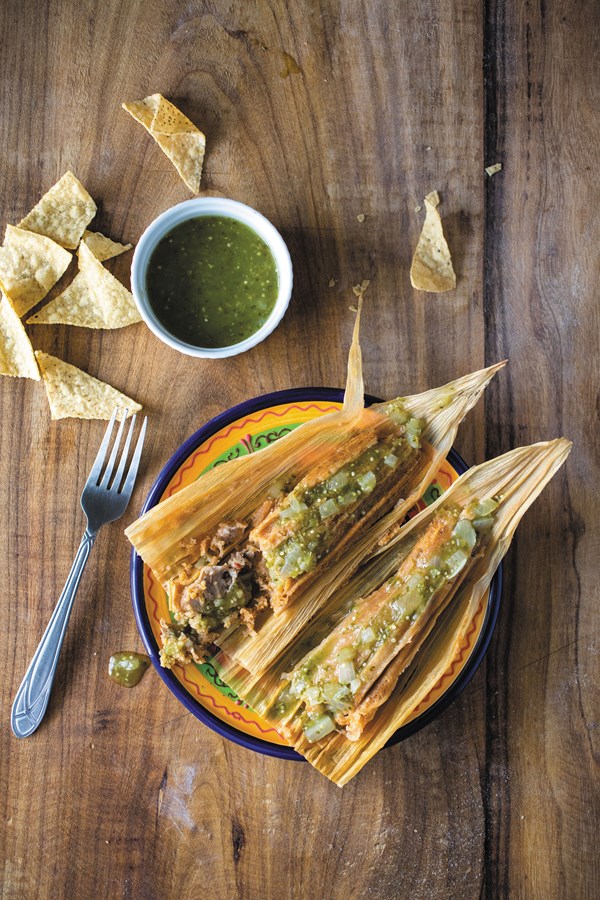 Janet's Pork Tamales
Add this recipe to your Bookshelf (click the blue +Bookshelf button).
Serves: 12 TO 15 (makes 40 to 50 tamales | Prep: 4 hours |
Total: 6 hours
THIS RECIPE IS a true labor of love. To lighten the load, Janet will make the filling a few days earlier than she needs it so when it's time to fill the masa, she simply has to heat the pork up in a pan before stuffing the tamales. Janet's Refried Beans (page 185) can be used as an optional filling.
For the pork filling
3 pounds (1.4 kg) pork butt, cut into 2-inch (5-cm) pieces
½ large white onion, peeled
1 tablespoon plus 2 teaspoons kosher salt
tablespoon freshly ground black pepper
large ancho chiles (dried poblano chiles, about 3 ounces/85g)
40 to 50 corn husks
For the masa
1 1/3 cups (275 g) refined pork lard
4 cups (520 g) instant masa
2 teaspoons baking powder
2 teaspoons kosher salt
1. Make the pork filling. Combine the pork with the onion, 1 tablespoon of the salt, the pepper, and 6 cups (1.4 L) water. Bring to a boil, then reduce to a simmer and cook, partially covered, for 3 hours.
2. While the pork simmers, combine the ancho chiles and 1 cup (240 ml) water in a pot, bring to a boil, and cook for 30 minutes. Remove the chiles from the water, reserving the cooking liquid, then remove their stems and seeds. Puree the chiles in a blender with ¼ cup (60 ml) of the cooking liquid. Set aside.
3. When the pork is done (it will be fork-tender), remove it from the water and shred with two forks. Reserve 4 cups (960 ml) of the pork broth.
4. Combine one-third of the pureed ancho chiles, the remaining 2 teaspoons salt, ¼ cup (60 ml) of the reserved broth, and the shredded pork in a large pot over medium heat and cook to meld the flavors, 4 to 5 minutes. Remove from the heat and set aside.
5. Soak the corn husks in hot water until soft, 15 to 20 minutes, while you make the masa.
6. Make the masa. Beat the lard in a large stand mixer with the paddle attachment or with an electric hand mixer on high until it becomes very fluffy, at least 10 minutes. Set aside.
7. Combine the rest of the ancho chile puree with the masa, baking powder, salt, and approximately 3½ cups (840 ml) of the reserved broth in a large bowl. Mix by hand until a sticky dough forms, adding more broth, a few tablespoons at a time, if too dry.
8. Turn the stand mixer back on low speed and slowly add small amounts of the hand-mixed dough to the lard. Mix until the dough has a paste-like consistency, 2 to 3 minutes.
9. Remove the corn husks from the water and wring them dry. Lay them on a towel and arrange similar-sized husks together for consistent tamales.
10. Place one husk upright in the palm of your hand. Spoon and spread the masa paste on the bottom half of the husk in a very thin layer. Add 3 to 4 tablespoons of pork filling, depending on the size of the husk, and fold the husk into a tamale (see right). Tie a strip of extra husk around it to hold it closed. Repeat for the rest of the masa and filling.
11. Place 4 cups (960 ml) water in a large steamer pot. Line the bottom of the steamer insert with small and broken pieces of corn husk. Layer the tamales on top, arranging them side by side in one direction, then in a different direction for the next layer, to promote the flow of steam.
12. Place a small dish atop the tamales, then cover with a tea towel. Cover with the lid and steam for 1 hour. Turn off the heat and let sit, covered, in the steamer for 1 hour.
13. Serve with Refried Beans (page 185) and Salsa Verde (page 184).
Recipe excerpt from Heirloom Kitchen with permission of Harper Design, an imprint of HarperCollins.
The publisher is offering 3 copies of this book to EYB Members in the US. One of the entry options is to answer the following question in the comments section of this blog post.
Which recipe in the index would you try first?
Please note that you must be logged into the Rafflecopter contest before posting or your entry won't be counted. For more information on this process, please see our step-by-step help post and this forum post.
Once you log in and enter your member name you will be directed to
the next entry option – the blog comment. After that, there are
additional options that you can complete for more entries.
Be sure to check your spam filters to receive our email notifications. Prizes can take up to 6 weeks to arrive from the publishers. If you are not already a Member, you can join at no cost. The contest ends at midnight on July 5th, 2019.