Family by Hetty McKinnon & John Boos Fusion Board Promotion
April 28, 2019 by Jenny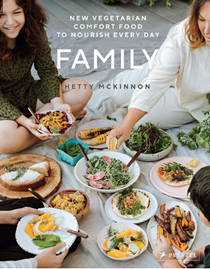 The most amazing feature of this book is the "Family Story" essays shared along with recipes from individuals that range from a comedy television writer to a fashion designer. It's a brilliant aspect of this already stellar title. Recipes here are tempting to carnivores and vegetarians alike and while I love all of Hetty's books –
Family
may be my favorite! The author was generous enough to spend some time answering a few questions for our members.
EYB
: Hetty, congratulations on your latest, Family. Can you tell our members a little about yourself?
Hetty
: Hi EYB! I'm Hetty, a cook, food writer and cookbook author from Sydney, Australia. In 2015, my family and I relocated to Brooklyn, New York. For many years, I ran a salad delivery business in my neighborhood of Surry Hills, in inner city Sydney. It was called Arthur Street Kitchen and twice a week, I would load up my white bicycle (a push bike too!) and pedal vegetarian salads to hungry locals! I was a one woman show – I conceived the salad recipes, I sourced the produce, I cooked, I delivered and washed up too. It started out as just a way for me to connect with my community. It was never meant to turn into a 'business'. The idea took off. It was the neighborhood's best kept secret. The more I cooked, the more I loved feeding people. The joy and gratification that came from knowing that you were nurturing someone with tasty, home-cooked food was inspiring. In 2013, due to ongoing requests for recipes by my local salad eaters, I self-published a book called '
Community'
which featured 60 salads from my delivery business, and also featured the people who I fed! I never expected this book to take off anywhere other than Surry Hills. I thought I would have boxes of unsold books in my living room for the rest of my life. But somehow, my 1000 self-published copies sold out in 3 weeks (which I single handedly mailed out myself!) and I was then approached by a major publisher Pan Macmillan who published Community nationally in 2014. The book has gone on to phenomenal success and has remained on bestseller lists for 5 years (mostly in my absence!).
EYB:
Does the cookbook writing process get easier by the third title?
Hetty
: Absolutely yes! Six years ago, when I started writing Community, I had to teach myself how to write a recipe, how to structure it and make it flow. I also had to develop my style, both as a recipe developer and as a writer. Now, with three books under my belt, a food magazine, and a couple of regular recipe columns, I have literally written hundreds (maybe thousands) of recipes, and writing cookbooks feels like second nature. I have developed a 'personality' in my recipes and, through cooking and writing about food, my personal narrative has gotten stronger, which translates much more fluently into my books. I treat every recipe I write with utmost care, as I see recipes as story-telling. For me, there is great responsibility in putting recipes out into the world – you are asking home cooks to cook one of your recipes, to invite you into their kitchen, and to invest time and money in you. Perhaps one of your recipes will become their family favourite? Perhaps that recipe will be shared over a memorable meal or celebration? I am always hoping that my recipes and my books touch readers on this deeper, more evocative level.
EYB
: Your books are centered around community and family. Food is the great conduit for bringing people together. Do you have any tips for gathering and entertaining?
Hetty:
Growing up in a Chinese household, food in my house was always served 'family style' so that act of sharing food, and not having one dish to yourself, has always resonated strongly with me. Now, 'family style' is still my favourite way of serving food; in fact, when I cook for events at my
studio
, this is still how I choose to serve my food. Having food in the middle of the table, having to share, pass plates, help serve one another, really promotes conversation, interaction and connection. At home, even if I'm serving something simple like pasta, I will still stick the pot in the middle of the table and encourage my kids to serve themselves and also others. We eat, we talk and connect after our days. It's my favourite time of the day!
EYB
: In Family (as in all your titles), I love how you pack a punch into your dishes with citrus, flavored oils. What is your number one go to for adding a wow to a dish? Which recipe is your favorite and your standby for a delicious, easy weeknight dinner?
Hetty:
I'm always chasing flavour! When writing a recipe, or when cooking for my family, if there is one more opportunity to add an element of flavour or texture, I'll take it! I have several go-tos when I want to elevate a dish. Lemon is one of them. In fact, you will often hear my kids utter at the table "mum, I think you need to add a squeeze of lemon to this!". The others are herbs (more for me, not for kids!), a final swig of olive oil, and adding a textural element such as a nut, seed or a mix like dukkah (I always have a range of different home-made dukkah in my pantry). And lately, I have developed a new obsession – chilli oil! I make my own with a bunch of spices and I always have it sitting on my kitchen table to add to everything! Even my kids love it. My favorite standby, easy weeknight dinner is a salad! For the whole family. I can simply roast a vegetable, team it with a legume or grain or pasta, and stitch it together with a flavoured oil. The 'gnocchi with asparagus, edamame and parmesan' is a dish I have been cooking for years, and the roast potatoes with lentils and lemon-parsley pistou (or a variation of) will always go down well around our family table.
EYB
: What are your top three tips for someone that wants to incorporate more vegetables into their menu planning?
Hetty:
Make vegetables the star of your dish – don't think of it as your side! Often, both in restaurants and at home, vegetables are treated as second class citizens. When you make veggies your heroes, you start to think more creatively about them.
Each week, just buy one or two vegetables that look good to you, or are seasonal – don't be tempted to buy all the veg you see, as it will most likely go to waste. For example, if I'm making roasted broccoli one night, I will buy an extra bunch and roast 2 bunches. I pop the extra in the fridge to use for kid's lunches, to go into an easy salad for my lunch the next day.
Take a classic flavor that you love, and adapt it to vegetables. I actually do this a lot. For example, 'cacio e pepe' is hands down my most beloved pasta dish, so I adapted this flavor combination in one of my favorite salads in Family -cacio e pepe broccolini with smashed white beans. Just as satisfying, but a little healthier than eating a huge bowl of cheesy pasta every night.
EYB
: What chefs/cook inspire you?
Hetty
: Number one is my Mum, the most phenomenal, instinctive cook in my world. The way she puts out tasty, creative, diverse dishes on our table every day blows my mind – she is the single biggest influence on my cooking, and my life. To be honest, the cooks that inspire me most are in the home – not chefs! I don't really follow the famous people. I am really inspired by what happens in home kitchens and the stories and legacies that are happening every night in everyday kitchens!
EYB
: As cookbook lovers here at EYB, we need to know, do you have a cookbook collection? If so, how many? Which are your favorites?
Hetty:
So I have a lot! I have one shelf dedicated to cookbooks and there are 125 on that (I actually counted!). And then I have about another 10 lying next to me on my desk, and probably another 5 or 6 upstairs next to my bed! My favorite cookbooks are almost always the ones that are most stained! Ottolenghi's
Plenty
is pretty dirty! I would have to say that I've cooked about 75% of that book. My other faves –
Tartine Bread
because it's my sourdough baking bible,
The Flavour Thesaurus
by Niki Segnit sits permanently on my desk, Diana Henry's
How to Eat a Peach
for her beautiful prose, Jessica Koslow's
Everything I Want to Eat
for its cool LA charm, and Anna Jones's
Modern Cook's Year
because it's a veggie bible. And my favorite cookbook of all time is
Breakfast, Lunch, Tea
by Rose Carrarini (of Rose Bakery) because it's an absolute classic – the art-direction and photography is incredible, and it is still the book I turn to when I need some inspiration.
EYB
: What's next for you?
Hetty:
I have a huge year coming up. I am currently working on the 5
th
anniversary edition of Community which will be released in Australia in December, and also a major new project (which I can't quite announce yet) which I'll be working on most of the year. And I also have lots happening with my food magazine
Peddler
. We are launching our 4
th
issue (themed Grandma!) in May and will be releasing a Peddler podcast at the same time. We extend our appreciation to Hetty for taking the time to share a bit about herself with our members and to Prestel for providing two copies of this title in our giveaway below.
To celebrate
Family
and all it represents we are coupling our giveaway of this title with a John Boos'
fusion board
that is beautiful and functional. A loaf of crusty bread and a pot of Hetty's
Roasted garlic and potato soup with fried almonds
atop this statement piece is perfection! John Boos' has been making quality products since 1887 and the same thoughtfulness and pride that were given to those first pieces continues today. Special thanks to John Boos for providing a
fusion board
in our giveaway below.
The publisher is offering two copies of this book to EYB Members in the US and John Boos is providing one fusion board to one of those winners. Two of the entry options are to answer the following questions in the comments section of this blog post.
Which recipe in the index would you try first?
Which product at John Boos would you like in your kitchen?
Please note that you must be logged into the Rafflecopter contest before posting or your entry won't be counted. For more information on this process, please see our step-by-step help post and this forum post. Once you log in and enter your member name you will be directed to the next entry option – the blog comment. After that, there are additional options that you can complete for more entries. Be sure to check your spam filters to receive our email notifications. Prizes can take up to 6 weeks to arrive from the publishers. If you are not already a Member, you can join at no cost. The contest ends at midnight on June 20th, 2019.