The Curated Table
April 27, 2019 by Jenny
"You eat with your eyes first." No one knows who uttered those words first, but we can all agree this well-known adage is true. Vibrant plates filled with a rainbow of colors and beautiful tablescapes enhance the appeal of a meal. We are living in the age of Instagramable food. Everyday cooks are shooting photographs of what's on their plate with as much passion as professional stylists and food bloggers.

To provide inspiration, Gingko Press has amassed the expertise of 16 international food photographers, authors, and culinary masterminds in The Curated Table: Recipes and Styling for the Perfect Meal. Each of these experts shares their stories, advice, recipes and tips for creating beautiful food.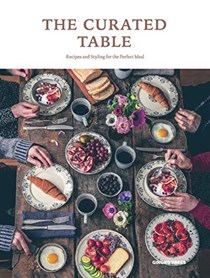 This stunning book is a feast for the eyes and the palate that will tease the reader with craveable recipes as well as perfect settings for the host/hostess in all of us. Filled with inspiration, The Curated Table, is a must have for any food lover. Thirty recipes, countless photographs and brilliant writing guarantees that this title will be turned to time and again.
Our
takes you inside this title and features the following
The publisher is offering one copy of this book to EYB Members worldwide. One of the entry options is to answer the following question in the comments section of this blog post.
Which recipe in the index would you try first?
Please note that you must be logged into the Rafflecopter contest before posting or your entry won't be counted. For more information on this process, please see our step-by-step help post and this forum post. Once you log in and enter your member name you will be directed to the next entry option – the blog comment. After that, there are additional options that you can complete for more entries.

Be sure to check your spam filters to receive our email notifications. Prizes can take up to 6 weeks to arrive from the publishers. If you are not already a Member, you can join at no cost. The contest ends at midnight on July 3rd, 2019.