From the Land of Nightingales & Roses
March 14, 2019 by Jenny
Obviously, I am in a Persian state of mind today, earlier I published a promotion for Bottom of the Pot and this afternoon I have From the Land of Nightingales and Roses: Recipes from the Persian Kitchen by Maryam Sinaiee to share with you. Perhaps my escaping to Persian cuisine has to do with the bomb cycle blizzard we experienced in Colorado yesterday. But, more likely it is that I am drawn to books that bring the other side of the world to my kitchen.
In From the Land of Nightingales and Roses, Iranian food blogger and home cook, Maryam Sinaiee, takes us through a full year in the Persian kitchen. Each seasonal chapter offers up delicious recipes alongside insights into the festivals, traditions and rituals that color day-to-day life in this region. From spring through to winter, Maryam offers the reader a true taste of real Persian cooking.
Do we need another Persian cookbook? Yes, we do. Each book in my library that pertains to this area of the world is uniquely special as it delivers that author's voice and recipes. Some of those recipes have been handed down through the generations. Often, the authors write that they learned to cook at an early age with a group of women that consists of both family and friends. I love that aspect of their story. And often times, there are plenty of dishes that are new to me. For instance, Ghōttāb, almond turnovers, is included in this title and not in another Persian cookbook on my bookshelf.
The photography in From the Land of Nightingales and Roses is stunning, the recipes interesting and approachable, and we have the bonus of measurements being given in both weight and volume. Special thanks to Interlink Books for sharing the recipe below with our members and for providing two copies of this title in our giveaway found at the end of this article.
Eshkaneh-ye Keshteh
Apricot and Poached Egg Soup
Add this recipe to your Bookshelf (click the blue +Bookshelf button).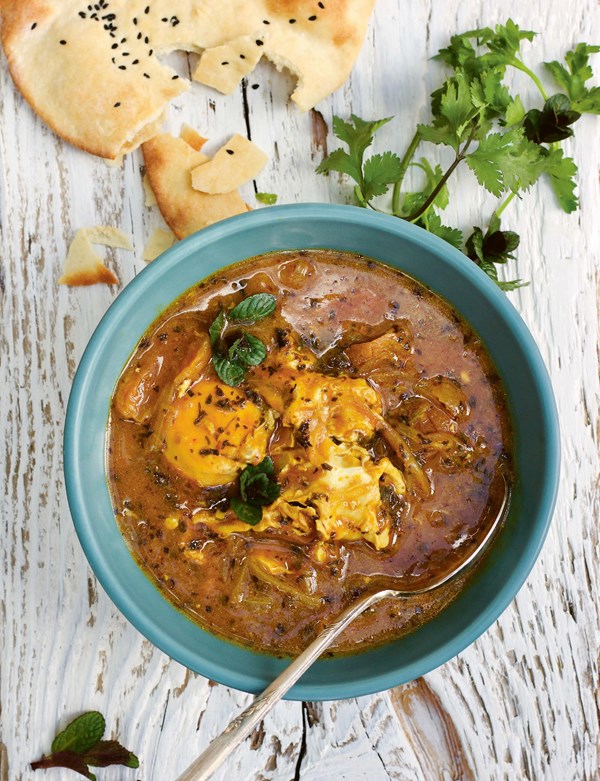 You will find variations of this quick, rustic soup being made all over Iran. In the old days in winter there was very little fresh produce available, so nuts and dried fruits such as apricots, peaches, plums, raisins, and dates featured heavily in soups and stews.
This soup is generally either thickened or finished with eggs, but feel free to make yours without; it will still be delicious. It's best to use lavāsh for the "croutons" in this soup, but broken matzo or even Sicilian carta di musica make excellent substitutes. Add the torn or broken bread to the soup in small amounts so it doesn't get too soggy.
SERVES 4
12 dried apricots
3½ tablespoons (1¾ oz/50 g) butter
2 onions, thinly sliced
1 teaspoon ground turmeric
3 tablespoons all-purpose flour
2 tablespoons dried mint
1 tablespoon tomato paste
6 cups (1½ liters) water
Salt and pepper, to taste
4 small eggs
Pinch of sugar, to taste (optional)
A few mint leaves, to garnish
Flatbread, to serve
Put the apricots in a bowl, cover with hot water, and leave to soak for about an hour until soft. If your apricots are already quite soft you can skip this stage.
Melt the butter over medium heat and sauté the onions until lightly browned. Add the turmeric, flour, and dried mint and cook, stirring, for a couple of minutes. Stir in the tomato paste and cook for a minute. Add the water and the drained apricots and bring to a boil. Lower the heat, then cover and simmer for 20 minutes or until the onions and apricots are very soft and the soup has thickened a little. Season well with salt and pepper.
Lower the heat as much as you can so the soup is no longer bubbling. Break one egg into a cup and gently slide it into the soup. Repeat with the rest of the eggs. Simmer without stirring until the eggs are almost set, then cover the saucepan and cook gently for 10-15 minutes until the eggs are cooked through.
Place an egg in each serving bowl and cover with the broth. Garnish with a few mint leaves and serve with some torn flatbread on top and plenty of sabzī khordan (page 98 – greens and herbs).
Recipe from From the Land of Nightingales & Roses, published by Interlink Books, recipe copyright © Maryam Sinaiee, 2018
The publisher is offering two copies of this book to EYB Members in the US. One of the entry options is to answer the following question in the comments section of this blog post.
Which recipe in the index would you try first?
Please note that you must be logged into the Rafflecopter contest before posting or your entry won't be counted. For more information on this process, please see our step-by-step help post and this forum post. Once you log in and enter your member name you will be directed to the next entry option – the blog comment. After that, there are additional options that you can complete for more entries.

Be sure to check your spam filters to receive our email notifications. Prizes can take up to 6 weeks to arrive from the publishers. If you are not already a Member, you can join at no cost. The contest ends at midnight on May 3rd, 2019.