The Beer Kitchen
January 30, 2019 by Jenny
Confession time. I do not like beer or wine. I know I am in the minority here, but they just aren't my beverages of choice. I've tried. My husband always tells me "you can work to acquire a taste for it" to which I reply, "I could work to acquire a taste for cauliflower, but I don't think beer and wine are a priority for me." That being said, I love to cook with both. Sounds crazy right? I love the flavor of beer in soups, roasts and even bread so I was super excited to dive into Melissa Cole's The Beer Kitchen: The Art and Science of Cooking, & Pairing, with Beer.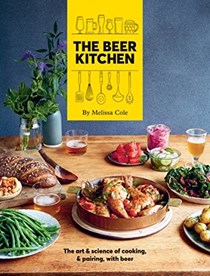 Melissa is a beer goddess. She has authored two previous titles The Little Book of Craft Beer and Let Me Tell You About Beer. She is an award-winning writer and is considered the UK's foremost expert on beer and food. The Beer Kitchen shares over 70 recipes from fondue to fried chicken. Right now, I am in a huge vinegar phase (that has lasted for years) and I am going to make the Beer vinegar soon to be followed by the Fabulous fried chicken. The Beer cheese soup is begging to be made for Super Bowl this weekend. That's it fried chicken and beer cheese soup, menu planned.

The photography throughout this book is spectacular and Melissa's knowledge from choosing the right beer for the job to dos and don'ts while cooking with the beverage is immensely valuable. I love everything about this title – the range of recipes, the beer education and the photography – it is an incredible book!
Our
takes you inside this title and features the following
Special thanks to Hardie Grant for providing us with the materials for our EYBD preview as well as offering three books in our giveaway below.
The publisher is offering three copies of this book to EYB Members in the US, UK, AU and NZ. One of the entry options is to answer the following question in the comments section of this blog post.
Which recipe in the index would you try first?
Please note that you must be logged into the Rafflecopter contest before posting or your entry won't be counted. For more information on this process, please see our step-by-step help post and this forum post. Once you log in and enter your member name you will be directed to the next entry option – the blog comment. After that, there are additional options that you can complete for more entries.

Be sure to check your spam filters to receive our email notifications. Prizes can take up to 6 weeks to arrive from the publishers. If you are not already a Member, you can join at no cost. The contest ends at midnight on March 31st, 2019.
Seen anything interesting?
Let us know
& we'll share it!