Chinese New Year Promotion
January 28, 2019 by Jenny
According to the Chinese 12-year animal zodiac cycle, the Chinese year beginning on February 5th, 2019 is the year of the Pig. To celebrate this special day, we are providing a promotion and another look inside one of my favorite books from 2018 – Chinese Soul Food: A Friendly Guide for Homemade Dumplings, Stir-Fries, Soups, and More by Hsiao-Ching Chou along with a giveaway from The Wok Shop as well as a special bonus for any EYB members who place an order there.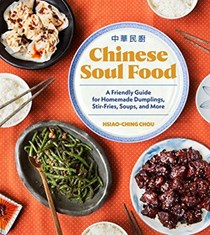 Hsiao-Ching has allowed me to share a passage from her Celebrations chapter in the book which reflects the importance of the Chinese New Year.

"Celebrating Chinese New Year is what centers me. In so many ways, the contours of what used to separate my Chinese upbringing and American influences have become less distinct and more amorphous. I often catch myself skipping the formality and deference that my father would have insisted on. So preparing for the customs and feasting related to Chinese New Year snaps into focus what it means to me to be Chinese. Since my brothers and I all have mixed families, it's this holiday that gives us the opportunity to bridge the valley between our culture and the one that my children and their cousins inhabit. After my father died, my mother moved in with us. Because she is our matriarch, my home is now the gathering place for our annual reunion feast. Chinese New Year is so ingrained in our lives that everything from how our dining room is arranged to the size of our dinner table is determined, in part, by how they facilitate hosting family for New Year's. The kids get excited because they know they'll be receiving red envelopes filled with money to wish them longevity. I plan, shop, and prep for the meal over several days. The refrigerator starts to groan from being stuffed with ingredients. My commercial-size steamer comes out of the basement storage. Pots and pans that normally sit in the back of the cabinet are enlisted into service. I have to design the menu to reflect foods that have auspicious qualities conferred upon them by virtue of their shape or symbolic names. Whole fish, with head and tail intact, represents family unity. They also represent prosperity, because one of the phrases you say to wish others good luck and good fortune includes a word that is a homophone for "fish." Tangerines are significant because the color and shape are reminiscent of the gold ingots that used to be used for money, so you will see bowls of tangerines as decoration and as an offering to the ancestors. Extra-long noodles are served to wish people longevity. I have hosted Chinese New Year as a single young professional, a newlywed, a new mom, and now as the eldest sibling who bears some responsibility to carry on family traditions and mark the milestones of our growing extended family. My mother has seven grandchildren, from an infant to a fourteen-year-old. For her to be able to preside over her legacy is a privilege. Chinese New Year ultimately is about reuniting the family around the table, honoring the elders and the departed, and celebrating our collective good fortune to be in this world.

Lunar New Year is my favorite holiday, because it's like Thanksgiving, Christmas and New Year's rolled into one. The feast is sumptuous and imbued with much symbolism to wish everyone longevity, prosperity, and the good fortune of being surrounded by family and friends."
I first covered Chinese Soul Food in February of 2018 and was so impressed I made sure we cooked from the title in our Eat Your Books Cookbook Club. At first some members were hesitant, I believe they felt that they either couldn't produce the recipes or that it was just another book on takeaway. But, as we shared photos of our creations, members ordered the book and found joy in the recipes. In February we are covering other titles in the Cookbook Club, but I am going to suggest that members cook something from Hsiao-Ching's book in celebration of the Chinese Year.
To make Chinese New Year even brighter, our friends at The Wok Shop are offering a special bonus for any orders placed by EYB members. If you place an order, be sure to type "EYB Order" in the comment section on the order page and you will receive a useful gadget or tool in your package at no additional cost!
Additionally, The Wok Shop, the go-to place for serious cooks such as Grace Young and others, is providing one winner in our contest below – a wok set as shown in the photograph below! This set includes a 14″ hand hammered wok with wooden handle or metal handle, round or flat bottom, wok ring (comes with round bottom), lid, spatula, stainless steel perforated steam rack and wok cleaning whisk.
I have ordered numerous times from The Wok Shop (including placing an order today!). Besides offering competitive prices and reasonable shipping costs – their service is wonderful and they offer only quality products. Today, I ordered a moon cake mold, vegetable cutter, sesame toaster and grinder and an onion cutter (I think I have three of these now). I wholeheartedly recommend this shop to all and have received nothing in compensation.
We are pleased to offer an
inside Chinese Soul Food which provides a taste of the author's style with her introduction and a look at several
:
Special thanks to Sasquatch Books and The Wok Shop for making this promotion possible. Happy Chinese New Year!
The publisher is offering three copies of this book to EYB Members in the US in this giveaway and The Wok Shop is providing one grand prize winner a Wok sets. Two of the entry options is to answer the following question in the comments section of this blog post.
Which recipe in the index would you try first?
Visit The Wok Shop and leave a comment about which product you would most like to try?
Please note that you must be logged into the Rafflecopter contest before posting or your entry won't be counted. For more information on this process, please see our step-by-step help post and this forum post. Once you log in and enter your member name you will be directed to the next entry option – the blog comment. After that, there are additional options that you can complete for more entries.

Be sure to check your spam filters to receive our email notifications. Prizes can take up to 6 weeks to arrive from the publishers. If you are not already a Member, you can join at no cost. The contest ends at midnight on March 20th, 2019.