Bourke Street Bakery: All Things Sweet – EYBD Book
November 6, 2018 by Jenny
Now with EYBDigital, if you buy a print book within the promotional period, for the first time you will have access to the full EYBD cookbook wherever you can access EYB – on vacation, at work, in the grocery store, etc. In addition to the digital book, all the features of EYB will be included in the access, at no cost to the book purchaser. For more information see our EYBD Page.
• Recipe search
• Bookmarks
• Recipe ratings and reviews
• Photo upload (personal photos of dishes cooked)
• Shopping lists
We are pleased to share a promotion for our next EYBD Book, Bourke Street Bakery: All Things Sweet: Unbeatable Recipes from the Iconic Bakery by Paul Allam and David McGuinness, two chefs turned bakers, who share a love of good food and an appreciation of all things handmade. They also dreamt of opening a little cafe bakery where everything would be made by hand with dedication and love. In the winter of 2004, they realized that dream when they opened their bakery in Sydney and the rest, as they say, is history. I love history that involves cakes, tarts and good work (read about The Bread & Butter Project).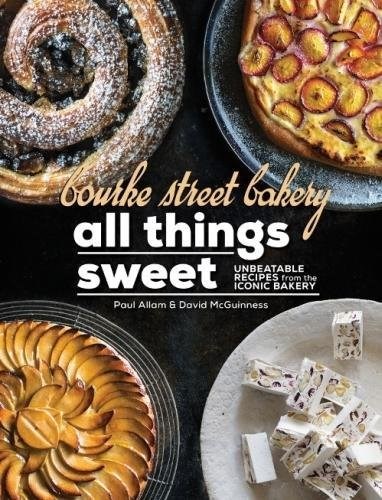 The Bourke Street Bakery titles are nothing short of perfection. How to Bake Perfect Bread, Bourke Street Bakery: The Ultimate Baking Companion and The Bread and Butter Project (Bourke Street Bakery), I've had in my collection since they were published. Right now there are about twenty more bins in the garage to be unpacked from our move and I cannot wait to find these two titles and reacquaint myself with their brilliance.
Bourke Street Bakery: All Things Sweet: Unbeatable Recipes from the Iconic Bakery is a comprehensive guide to baking all things sweet. Step-by-step photography accompanies the triple-tested recipes for the pastries, cakes, tarts, cookies and confectionary that made this bakery famous. This collection represents years of testing, adapting and refining of the recipes, so now readers at home can be sure that they have everything they require to bake the perfect treat every time.
Our
will take you inside this title and features the following
If you order before February 4th, 2019, register here (be sure you have a photo of your receipt or screenshot from your online order ready to upload). Once your purchase has been verified, this button
will appear on the book on your Bookshelf next to the title and will take you to the digital access for this gorgeous book.

Below are screenshots showing how these features will appear.
Special thanks to the publisher, for working with us to bring this exclusive incentive to our members as well as for providing three copies of in our giveaway below.
The publisher is offering three copies of this book to EYB Members in the US, UK, AU and Canada. One of the entry options is to answer the following question in the comments section of this blog post.
Which recipe in the index would you try first?
Please note that you must be logged into the Rafflecopter contest before posting or your entry won't be counted. For more information on this process, please see our step-by-step help post. Be sure to check your spam filters to receive our email notifications. Prizes can take up to 6 weeks to arrive from the publishers. If you are not already a Member, you can join at no cost. The contest ends at midnight on January 8th, 2019.