Modern Baking – Donna Hay
October 29, 2018 by Jenny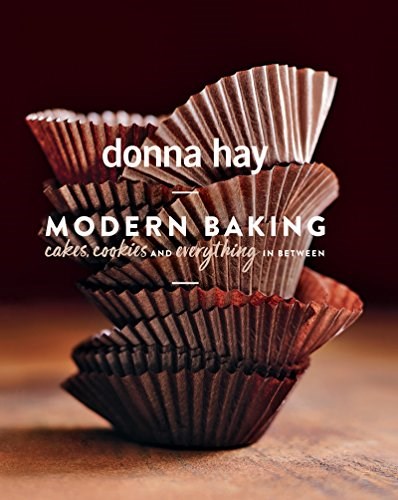 I am a fiend for baking cookbooks and most of us here at EYB suffer from the same affliction. The latest offering from Donna Hay shares page after page of stunning photography and drool worthy recipes that are so decadent and tempting one's heart rate might increase. (Does that count as cardio?)

While the book shares a full variety of desserts, the chocolate section did me in. Full page photos of almost every dessert including a Salted dark chocolate layer cake with milk chocolate ganache, Cocoa panna cottas, and a Crunchy chocolate caramel layer cake that is so perfectly stacked with eight layers of enjoyment that the mere photograph will send a chocolate addict into a full blown convulsion.

Nearly 300 recipes fill this gorgeous book and you will find something (and multiple somethings at that) for everyone here. The recipes are so varied that bakers of all levels from novice to pastry chef will be pleased.
Warning our
can cause cravings that cannot be denied. The following
are shared:
The publisher is offering three copies of this book to EYB Members in the US, UK and AU. One of the entry options is to answer the following question in the comments section of this blog post.
Which recipe in the index would you try first?
Please note that you must be logged into the Rafflecopter contest before posting or your entry won't be counted. For more information on this process, please see our step-by-step help post. Be sure to check your spam filters to receive our email notifications. Prizes can take up to 6 weeks to arrive from the publishers. If you are not already a Member, you can join at no cost. The contest ends at midnight on December 19th, 2018.