Ina Garten's role in Prince Harry and Meghan Markle's engagement
October 28, 2018 by Darcie
Ina Garten has a nickname for her favorite roast chicken recipe, calling it "engagement chicken". She says it earned that appellation "because whenever you make it somebody asks you to marry them." To be sure, there isn't a proposal every time someone makes the recipe, but it did play a part in at least one famous engagement. After Prince Harry popped the question to Meghan Markle, Meghan talked about how the proposal happened.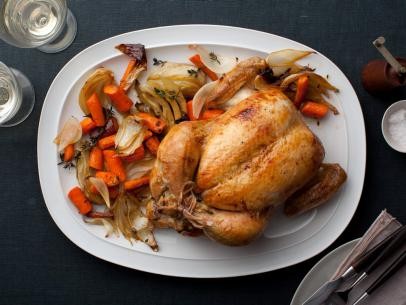 She told People Magazine that the engagement happened at their cottage, after the couple had made roast chicken for dinner. Meghan had talked about her love of Ina's recipe before, telling Good Housekeeping Magazine, "There is nothing as delicious (or as impressive) as a perfectly roasted chicken. If you have an Ina Garten-level roasted-chicken recipe, it's a game changer."
After she found out that her roast chicken recipe was involved in the royal engagement, Ina responded with a tweet congratulating the couple. Later, she told People Magazine "I thought it was so great because it shows that everyone is happy to have something simple, and really good." Apparently good enough for royalty.
Photo of Perfect roast chicken from The Barefoot Contessa Cookbook by Ina Garten