Spice Support: paprika
October 27, 2018 by Darcie
It's been a little while, but I'm back with another edition of Spice Support. Today we are exploring paprika, which according to the in-house spice expert at Pereg Gourmet Spices, is the fourth most consumed spice in the world. It is a key ingredient in a number of cuisines, from Mexican rices to classic Hungarian goulash to Italian sausages.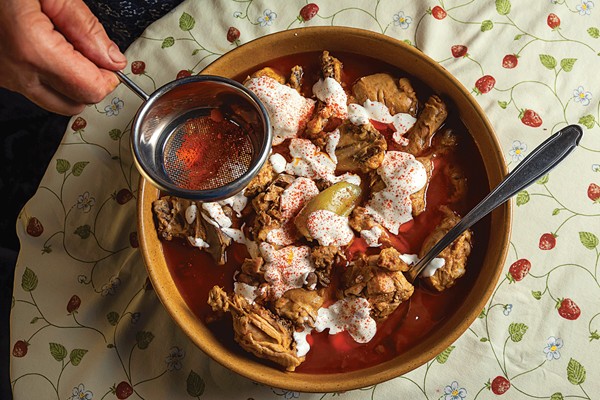 Paprika comes from the red bell pepper family (Caspicum annum). According to The Encyclopedia of Spices and Herbs, although paprika (also known as pimenton) is most frequently associated with Hungarian foods, the Spanish were actually the first Westerners to produce the spice, after Columbus and other explorers brought the peppers to Spain from Mexico.
Three main types of paprika are used in cooking: smoked, sweet, and hot. The heat level depends on the variety of pepper plant. If a recipe just calls for "paprika" without specifying the type, it most likely means sweet paprika. The spice adds fruity, warm, cardamom-like notes that are suitable for many different meats, vegetables, and grains.
Hot paprika is usually designated as such in recipes, and as the name suggests, is spicier and sharper. It can be used as a substitute for cayenne pepper in most applications. You can purchase blends that mix sweet and hot paprika, or you can create your own custom blend to adjust the heat level to your liking. Paprika is a key component in a number of spice blends including chili powders and dry rubs for grilled meats and chicken.
The third major type of paprika is smoked paprika, popular in many Spanish dishes. Its earthy essence comes from drying the peppers over wood fires for several days. Most often smoked paprika is made from sweeter varieties of peppers, although you might find some that is labeled as hot smoked paprika. You can use smoked paprika to add smoky notes to dishes without breaking out the grill.
Dishes that rely on paprika for their defining flavor include chicken paprikash, Hungarian goulash, and patatas bravas. You'll find paprika used as a garnish on many foods such as deviled eggs and hummus. It's one of the most versatile spices in any cook's arsenal.
Photo of Chicken paprikash (Paprikás csirke) from Saveur Magazine