My Indian Kitchen – EYBD
October 22, 2018 by Jenny
Now with EYBDigital, if you buy a print book within the promotional period, for the first time you will have access to the full EYBD cookbook wherever you can access EYB – on vacation, at work, in the grocery store, etc. In addition to the digital book, all the features of EYB will be included in the access, at no cost to the book purchaser. For more information see our EYBD Page.
• Recipe search
• Bookmarks
• Recipe ratings and reviews
• Photo upload (personal photos of dishes cooked)
• Shopping lists
We are pleased to share a promotion for our next EYBD Book, My Indian Kitchen: Delicious Recipes for New Zealand Cooks by Ashia Ismail-Singer, today on its publication day.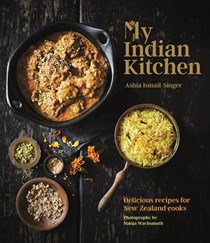 My Indian Kitchen features well-known traditional Indian dishes alongside a range of exciting, new Indian tastes and textures, all of which are easily made by the home cook. This title is beautifully photographed with vibrant dishes from Indian bread rolls to Sticky date pudding with caramel sauce.
Ashia Ismail-Singer's recipes aren't just a list of ingredients and measurements, though. For her, they are memories of childhood, food experiences that have been passed down through generations, and which connect her back to her family overseas. With chutneys and bites for grazing, light lunches, mains, desserts, home baking and more, this book brings you a collection of recipes inspired by Indian food culture.
If you have pre-ordered or order My Indian Kitchen before December 31st, 2018, register here (be sure you have a photo of your receipt or screenshot from your online order ready to upload). Once your purchase has been verified, this button
will appear on the book on your Bookshelf next to the title and will take you to the digital access for this gorgeous book.
The Buy Book link goes to the publisher's website since the book is not yet available through our regular vendors. As a courtesy to our members, the book's publisher Potton and Burton, will apply a $15 credit on freight charges to addresses outside of New Zealand for all orders. No code is necessary.

Below are screenshots showing how these features will appear.


Special thanks to the publisher, Potton & Burton for working with us to bring this exclusive incentive to our members as well as for providing three copies of My Indian Kitchen in our giveaway below.
The publisher is offering three copies of this book to EYB Members in New Zealand. One of the entry options is to answer the following question in the comments section of this blog post.
Which recipe in the index would you try first?
Please note that you must be logged into the Rafflecopter contest before posting or your entry won't be counted. For more information on this process, please see our step-by-step help post. Be sure to check your spam filters to receive our email notifications. Prizes can take up to 6 weeks to arrive from the publishers. If you are not already a Member, you can join at no cost. The contest ends at midnight on December 1st, 2018.