In the French Kitchen with Kids by Mardi Michels
August 1, 2018 by Jenny
Mardi Michels is the voice behind the website eat. live. travel. write. Her debut cookbook, In the French Kitchen with Kids: Easy, Everyday Dishes for the Whole Family to Make and Enjoy was released yesterday, July 31st. Do not let the title deter you – this is a book that cooks of any age will appreciate.

Mardi teaches French language at an elementary school for boys in Toronto in addition to cooking classes twice a week at Les Petits Chefs. Her natural ability as a teacher and gift as a writer shines through brilliantly in the pages of this beautifully photographed book.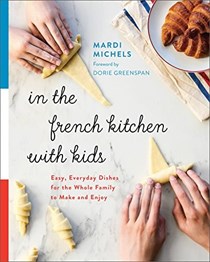 The recipes include detailed instructions for all the French classics including Cream puffs, Eclairs, Cheese puffs (Gougères), Madeleines, Traditional macarons (Macarons à l'ancienne) and Financiers. There are plenty of savory dishes as well but as I write this I haven't eaten lunch or dinner and the French pastries are taunting me. This is a "cookbook for parents, children, and Francophiles of all ages" and I am happy that it is on my bookshelf. It is the perfect gift for teachers, students, and everyone who loves to cook.
Our
takes you inside the pages of this lovely book and shares
for the following dishes:
My thanks goes to Mardi and her publisher, Appetite, for sending me a copy of this book to review, use and love. Also a special thanks to Appetite for sharing the materials for our preview above and for providing three copies in our giveaway below.
The publisher is offering three copies of this book to EYB Members in the US and Canada. One of the entry options is to answer the following question in the comments section of this blog post.
Which recipe in the index would you try first?
Please note that you must be logged into the Rafflecopter contest before posting or your entry won't be counted. For more information on this process, please see our step-by-step help post. Be sure to check your spam filters to receive our email notifications. Prizes can take up to 6 weeks to arrive from the publishers. If you are not already a Member, you can join at no cost. The contest ends at midnight on September 17th, 2018.