Hong Kong Diner by Jeremy Pang
April 17, 2018 by Jenny
Jeremy Pang descends from a long line of Chinese chefs. He developed his passion for food early on and understood the importance of, and correlation between, basic cooking skills and eating well. Pang credits his father for his love of food as he was the one who encouraged him to try exciting flavours and exotic foods as a boy.
After graduating as a biochemical engineer and working for various companies, Pang realized his true passion was food and enrolled at Le Cordon Bleu. After working in several restaurants and spending time as a travel journalist in South East Asia, Jeremy decided that he wanted to teach his craft to others.
In the Fall of 2009 Jeremy started the
School of Wok
in London, then a mobile cookery school specializing in teaching Eastern cuisine to students in the comfort of their own homes. That business has grown into a brick and mortar school in Covent Gardens near London's Chinatown.
His passion for teaching is reflected in his first cookbook,
Essential Chinese Cooking: Authentic Chinese Recipes, Broken Down into Easy Techniques
(published under the title
Chinese Unchopped
in the UK). It is a beautiful primer on creating Chinese dishes at home with stunning photography and helpful illustrations. We are indexing this title soon and I hope to provide a full review at that time.
Now the talented chef and author has written book two:
Hong Kong Diner: Recipes for Baos, Hotpots, Street Snacks and More
. This title explores the east-meets-west diner-food of Hong Kong, a fast-moving city with countless styles of dining and diverse ingredients. Its cuisine draws on everything from classic Chinese to America's west coast to French Vietnamese.
Chef Jeremy Pang grew up in Hong Kong and for him,
Hong Kong Diner
represents comfort food at its finest: Beef brisket noodle soup sits alongside Peanut butter French toast, Claypot rice beside Savoury doughnuts, Pineapple buns next to Milk tea, and he expertly brings together in this book the very best dishes that the city has to offer.
Featuring over 70 recipes including irresistible street food like dumplings, buns and baos, tofu rolls and BBQ, through hotpots, rice pots, fried noodles, as well as desserts and drinks, the secrets of Hong Kong's cafes and food stalls are brought to life in this unique book.
Hong Kong Diner
is inspired by an exciting, unconventional place, where western sensibilities and food tastes overlap with an ancient cuisine, and whose influence is being seen in restaurants and dining scenes the world over. Vibrant photography and cutting-edge design also add to the cool factor of this must have book.
The Black pepper beef and potatoes, Hong Kong style were so good and a refreshing twist on meat and potatoes. The photo in the book shows it served with rice but I served the dish on its own. The Cantonese pork chops is the next recipe from this book that I plan to make as well as the Bao buns. I've had making homemade bao buns on my list of things for a year now – time to scratch that off.
Update 4/23: see our
for a closer look at this title.
Special thanks to Quadrille for sharing the Bao dough and Black pepper glazed short rib Bao recipes with our members today. Be sure to scroll to the bottom of this post to enter our multi-region giveaway.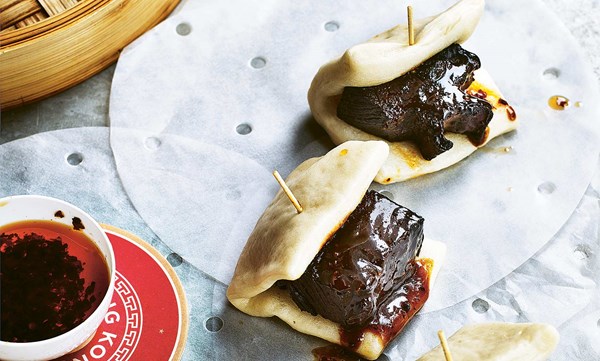 Black pepper glazed short rib bao
Add this recipe to your Bookshelf (click the blue +Bookshelf button).
Baos, burgers and sliders have been setting food trends around the world for years now. We tried a version of this slider in a new organic restaurant called Sohofama in Hong Kong, which seems to be leading the way in urban farming and healthier cooking styles, while still managing to maintain the best part of traditional Chinese cooking techniques to create delicious dishes like this. When cooking this short rib bao, feel free to try out the different folds – the hirata bun fold or burger bao fold will both work well with the slow-cooked short rib. Make sure you leave yourself plenty of time to make your bao dough and preferred bao shapes, steaming them just before you finish off the tender meat to make your luxurious buns.
Serves 4
4 beef short ribs, separated
1/2 a portion of bao dough, ready to make 8-10 steamed hirata buns or burger baos
The poaching liquid
1 star anise
1 small cinnamon stick
2 cloves
2 bay leaves
1 teaspoon black peppercorns
1/2 teaspoon salt
1 litre (1 3/4 pints / 4 cups) water
The glaze
3 tablespoons jarred Chinese black pepper sauce (available in Chinese supermarkets)
2 tablespoons light soy sauce
4 teaspoons sugar
Place the short ribs in a large saucepan and add all the poaching liquid ingredients. Bring to the boil on a high heat, then lower to a gentle simmer. Poach the beef ribs on a low heat for 3 hours, until the meat starts to fall off the bone but still keeps its shape.
While the meat is cooking, make your bao buns if you haven't made them beforehand.
Mix the glaze ingredients together in a large mixing bowl. Once the ribs have been poached, remove them from the poaching liquid and carefully remove the bones, leaving the meat itself whole and intact as much as possible.
Cut each long piece of meat in half vertically, in order to make more reasonably sized portions that will fit well into the steamed buns. Put the pieces of meat into the bowl of glaze and gently coat the pieces of meat, using a spoon to baste on all surfaces and sides.
Just before you finish glazing the meat, start steaming your bao buns. Char each side of the meat under a hot grill (minimum 230°C / 450°F) on a lined baking tray or unlined rack, or finish directly on the barbecue. Serve one piece of short rib to one steamed bun for ease of eating (with only moderate gluttony), along with some pickles or salad and condiments on the side.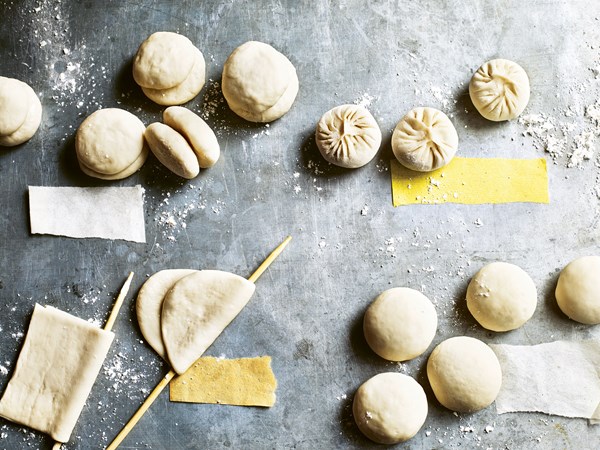 Bao dough
Add this recipe to your Bookshelf (click the blue +Bookshelf button).
Fluffy, pillowy white baos hit China, Hong Kong and Japan many years ago, but it wasn't until recently that they became a mainstream street snack in the West. With our clear love of burgers and all things bread, it's no wonder these softer, slightly sweeter breads are so moreish, no matter where in the world we are. The airy texture is great for mopping up sauces, while their firmness makes them the perfect bun to keep a sandwich together. This simple bao dough recipe will get you going, but be warned, trying out new shapes is addictive!
Makes 10 large or 16-20 mini bao
The dry mix
530g (1lb 3oz / 4 cups) middle-gluten wheat flour (swapsies: plain flour / all-purpose flour), plus extra for dusting
1/2 teaspoon salt
7g (just under 1/4 oz or 1 sachet) fast-action dried yeast
40g (1 1/2 oz) caster sugar (superfine sugar)
15g (1/2 oz) baking powder
The liquid
50ml (2fl oz) milk
200-250ml (7-8fl oz / about 1 cup) warm water (depending on how humid your room feels – if the air feels very dry you'll want to add a little more water, but if it is very humid, less is required)
25ml (1fl oz) vegetable or sunflower oil
Put the dry mix ingredients into the bowl of a free-standing mixer fitted with a dough hook attachment.
Mix the liquid ingredients in a measuring jug. Then slowly pour the liquid into the mixer while kneading on a low speed for around 2 minutes, until all the water is mixed into the flour. Once combined, turn the speed up to high for a further 2 minutes, until the dough has a smooth yet tacky feel to it.
Once the dough has been well kneaded, dust it with 2 tablespoons of flour. Shape the dough into a rough ball, scraping off any additional dough on the sides of the bowl, then coat it lightly with 1 tablespoon of vegetable oil, put it back into the bowl, cover with a damp cloth and leave aside in a warm, preferably moist, draught-free location (such as inside a room-temperature oven) for 1-1 1/2 hours.
Once the dough has doubled in size, you can make it into whatever shapes you wish before steaming. Steaming time will vary between 8 and 15 minutes, depending on the shape and size of your finished buns (the thinner the bun, the shorter the steaming time).
Making bao shapes
This bao dough is classically a type of steamed bread dough that originated from northern China for making breads such as mantou (a pure steamed bread for mopping up sauces) or baozi (a filled steamed bread). It is a simple yeast dough that rises over time when proved at the right temperature, making it much easier to make than most people think. After the first 1 1/2 hours of proving, the dough can be shaped into burgers, hirata buns, or even more classic dumpling shapes, to hold whatever filling suits you best. Here are some simple shapes to start with, followed by some delicious fillings you can use to mix and match your baos.
Hirata bao: the sandwich
Roll the proved bao dough out until completely flat and roughly 4mm (1/4 inch) in thickness, then cut into either rectangles or circles. If cutting circles, roll them out again once cut, to make elongated oval shapes. Once all the shapes have been cut, lightly brush the top of each one with a dab of vegetable oil. Place an oiled chopstick across the centre of each piece of dough and fold one side over the top to form a 'lip', then remove the chopstick. Once you have made the sandwich shapes, cover with a damp cloth and set aside to rest for 15-20 minutes.
Burger bao: the slider
To make a burger-shaped bao, roll the proved bao dough into a long cylinder, roughly 3-4cm then cut the cylinder into 3-4cm (1 1/4 -1 1/2 inch) thick pieces. Roll each piece of dough in your hands to form a smooth ball. Take a ball of dough and press down firmly with the palm of your hand to form a flattened circle. Brush with a little dab of vegetable oil, then place another piece of dough on top. Slightly dome or cup your hand and press down once more to form the 2 halves of your burger bun shape, the bottom bun being completely flat and the top being domed. Repeat until all the dough has been used. Once you have made your burger bao shapes, cover with a damp cloth and set aside to rest for 15-20 minutes.
Cooking method
The same cooking method is used for all of the bao shapes.
Place bao on squares of greaseproof paper and then steam for 8-15 minutes (depending on the size of your bao) in a covered steam basket, inside a wok half-filled with boiling water, without opening the lid, until cooked through and risen well.
Excerpted with permission from Hong Kong Diner by Jeremy Pang and Adrienne Katz Kennedy, published by Quadrille October 2017, RRP $22.99 hardcover.
The publisher is offering three copies of this book to EYB Members in the US, UK, NZ and AU. One of the entry options is to answer the following question in the comments section of this blog post.
Which recipe in the index would you try first?
Please note that you must be logged into the Rafflecopter contest before posting or your entry won't be counted. For more information on this process, please see our step-by-step help post. Be sure to check your spam filters to receive our email notifications. Prizes can take up to 6 weeks to arrive from the publishers. If you are not already a Member, you can join at no cost. The contest ends at midnight on May 31st, 2018.