Simply Citrus – Marie Asselin
March 31, 2018 by Jenny
Simply Citrus by Marie Asselin delivers a beautifully photographed book with 60 vibrant recipes using a variety of fresh citrus fruits, including lemons, pomelos, oranges, limes, mandarins, kumquats, grapefruit, and citrus products such as yuzu juice, orange blossom honey, and preserved lemons.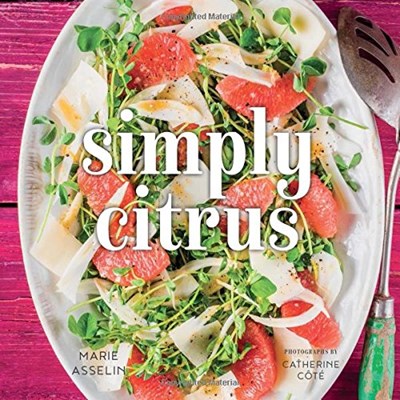 Marie's blog, Food Nouveau, won the 2017 International Association of Culinary Professionals (IACP) award for best recipe-based blog. She describes herself as a cook that "mostly bakes" and the baked goods shared on her blog and in this book are stunning (as are her savoury options).

Living in Canada, where the winters are cold and snowy and "very long", she often relies on the arrival of seasonal citrus fruits to brighten her days and her meals. This reliance has resulted in her prolific ability to create citrus-centric recipes that are fresh and vibrant for any season.
Savory lemon and olive oil cakes, Sticky ginger and mandarin pork loin with herb noodle salad, and a gorgeous Grapefruit and pomegranate pavlova are just a few of the delightful dishes included in this cookbook that utilizes citrus in appetizers, soups, salads, main dishes, desserts, and drinks. The book also offers Marie's tips throughout such as explaining the differences in fruit varities as well as how they are best used.

Use EYB Book Preview for a closer look at this book. You may also use EYB Recipe Preview to try a few recipes now. Add them to your bookshelf using the links below:

Many thanks to the publisher Gibbs-Smith for providing three copies of Simply Citrus in our worldwide giveaway below and for utilizing EYB Book Preview to give us a taste of Marie's book.
The publisher is offering three copies of this book to EYB Members worldwide. One of the entry options is to answer the following question in the comments section of this blog post.
Which recipe in the index would you try first?
Please note that you must be logged into the Rafflecopter contest before posting or your entry won't be counted. For more information on this process, please see our step-by-step help post. Be sure to check your spam filters to receive our email notifications. Prizes can take up to 6 weeks to arrive from the publishers. If you are not already a Member, you can join at no cost. The contest ends at midnight on May 10th, 2018.