Prawn on the Lawn
March 27, 2018 by Jenny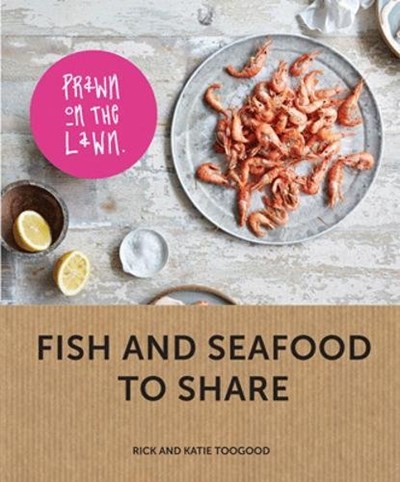 Prawn on the Lawn: Fish and Seafood to Share by Rick and Katie Toogood is a collection of quick, fresh, healthy, and delicious fish and seafood recipes for today's modern cook.

The recipes are split into an enticing selection of cold and hot tapas, larger plates, sides, desserts, and cocktails. From their signature Prawn on the lawn dish to succulent Scallop ceviche, Beetroot-cured salmon, or Razor clams with nam jim, to Crab ratatouille it's all guaranteed to be a hit.

Menu ideas, wine and beer pairings, and tips for adapting recipes to party size, budget, fish preference, and seasonality, will help you host a successful gathering of any size or type easy. A buyer's guide, and focus on provenance and sustainability, mean that this book offers everything you need to know to become a stand-out fish cook and surprise and impress your friends and family. Special how-to videos linked to the book will also be available online, designed to make any potentially tricky techniques super clear to the novice cook.

Prawn on the Lawn shares both volume and weight measurements so whichever one you utilize you're set to go. With pretty pictures and a wide range of dishes, this will be your go to seafood cookbook for entertaining. My seafood-aversed husband was at a work function a week ago and I made the cod dish we are sharing with our members today. It was fantastic.
Special thanks to Pavilion Books for providing two copies of this title in our contest below open to members in the UK.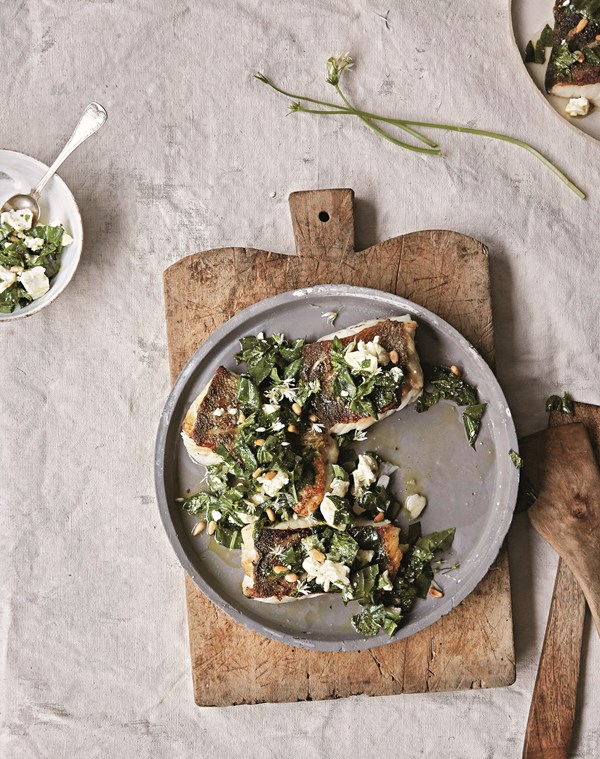 Cod with feta, wild garlic and pine nuts
Add this recipe to your Bookshelf (click the blue +Bookshelf button).
Cheese and fish are ingredients that you wouldn't immediately associate with each other. However, feta, with its salty-sour flavour, works fantastically well when combined with the fresh herbs and wild garlic.
We pick our wild garlic from a shaded walled area close to the beach in Padstow, and near to my grandparents' house in London.
It's only in season for a couple of months from March onwards.
Serves 4
1 tsp unsalted butter
4 x 200 g/7 oz cod fillets, skin on
100 ml/3½ fl oz/7 tbsp good-quality extra-virgin olive oil
sea salt and freshly ground black pepper
100 g/3½ oz feta cheese, crumbled
a small bunch of wild garlic, leaves roughly chopped (keep some of the flowers if you can, for garnish)
a small bunch of basil, roughly chopped
a small bunch of mint, roughly chopped
a small bunch of dill, roughly chopped
juice of ½ lemon
2 tsp pine nuts, toasted
a splash of white wine vinegar
Preheat the oven to 160°C fan/ 180°C/350°F/gas mark 4.
Heat an ovenproof frying pan (skillet) over a medium-high heat. Add the butter. Score the skin of the cod fillets, drizzle with a little of the olive oil and season. Place the fillets in the pan, skin-side down, and fry for 2-3 minutes to crisp up the skin. Turn the fillets over and fry for another minute.
Transfer the frying pan to the hot oven and roast the fish for 8 minutes.
Meanwhile, combine the remaining olive oil, feta, wild garlic, basil, mint, dill, lemon juice, pine nuts and white wine vinegar in a bowl. Season well and mix thoroughly.
Remove the frying pan from the oven, transfer the fish to a serving dish, and pour the cheese dressing over the fish to serve.
Pairs well with Sancerre Pouilly-Fumé
Excerpt from Prawn on the Lawn: Fish and seafood to share by Katie & Rick Toogood, published by Pavilion Books. Image credit to Steven Joyce.
The publisher is offering 2 copies of this book to EYB Members in the UK. One of the entry options is to answer the following question in the comments section of this blog post.
Which recipe in the index would you try first?
Please note that you must be logged into the Rafflecopter contest before posting or your entry won't be counted. For more information on this process, please see our step-by-step help post. Be sure to check your spam filters to receive our email notifications. Prizes can take up to 6 weeks to arrive from the publishers. If you are not already a Member, you can join at no cost. The contest ends at midnight on May 7th, 2018.