Tasting Georgia by Carla Capalbo
March 20, 2018 by Jenny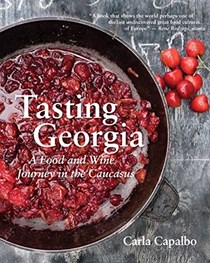 Award-winning food writer and photographer Capalbo has traveled Georgia collecting recipes and gathering stories from food and winemakers. She brings this stunning but little-known country to life in Tasting Georgia: A Food and Wine Journey in the Caucasus. This title won the prestigious André Simon Award as well as a nomination for an IACP cookbook award.
The beautifully illustrated book is both a cookbook and a cultural guide to the personal, artisan-made foods and wines that make Georgia such a special place on the world's gastronomic map. Georgian cuisine is unique, but also carries some influences from other European and nearby Middle Eastern culinary traditions. Each historical province of Georgia is distinct but with variations from Megrelian, Kakhetian, and Imeretian cuisines.
Nestled between the Caucasus Mountains and the Black Sea, and with a climate similar to the Mediterranean's, Georgia has colorful, delicious food. Vegetables blended with walnuts and vibrant herbs, subtly spiced meat stews and home-baked pies like the irresistible cheese-filled khachapuri are served at generous tables all over the country which is known for its supra. A supra is a traditional Georgian feast and an important part of their social culture where food, wine and music come together. There are two types of supra: a festive supra, called a keipi, and a somber supra, called a kelekhi, that is always held after burials.
Georgia is also one of the world's oldest winemaking areas, with wines traditionally made in qvevri: large clay jars buried in the ground.

When I met Carla at the IACP awards, she shared a photograph of the qvevri (image to the right) that is also featured in the book. We spoke briefly and she mentioned that it was through her love of wine (and food) that she became fascinated by Georgia's cuisine and wine making.
Tasting Georgia digs deep into the history, cuisine, wine and people of this beautiful country. I started reading these stories and find myself lost in the experience.


There are 65 recipes here that are simple and approachable. Spicy ribs from the Diaroni restaurant that can be made with veal or pork ribs, Chicken and walnut stew that has a creamy appearance which comes from the walnuts, and Cheesy cornbread which is a great addition to the supra table are examples of the variety of dishes. While the recipes are compelling, the history and photographic journey through Georgia is enough to curb my wanderlust.
Special thanks to Interlink and Pallas Athene Publishers for sharing a recipe with our members and for offering copies of this book in our contest below.
Chicken with pomegranate juice / katami brotseulit
Add this recipe to your Bookshelf (click the blue +Bookshelf button).
"My mother used to make this without browning the chicken first, but I prefer the rich flavour you get from the chicken's browning juices," says Meriko. "Georgian pomegranates are both sweet and sour, and have good tannic structure and acidity, so if yours taste too sweet, add a firm squeeze of lemon to the dish to bring back its zest. The origins of this dish are Jewish, and it's very easy to make."
Serves 6
Preparation 15 minutes
Cook 45 minutes
1 kg / 2 lb chicken pieces, with some skin left on
flour for dredging
3 tbsp sunflower oil
200 g / 7 oz / 1½ cups chopped onion 1 tsp coriander seeds, crushed
½ tsp dried summer savory or mild thyme, or 1 tsp fresh
2 bay leaves
240 ml / 8 fl oz / 1 cup water
360 ml / 12 fl oz / 1½ cups fresh pomegranate juice
the seeds of 1 pomegranate
salt and freshly ground black pepper
Dredge the chicken pieces lightly in flour, shaking off any excess. Heat the oil in a sauté pan large enough to fit all the chicken in one layer. Brown the chicken on all sides over medium heat, turning once or twice, about 12-15 minutes.
Stir in the onion and cook with the chicken for 5 minutes or until the onion starts to soften. Add the coriander seeds, herbs, water and half of the pomegranate juice, stirring well. Season with salt and pepper. Bring to the boil, lower heat and simmer for 30 minutes, turning the chicken occasionally, until the juice runs clear when a knife is inserted in the thickest part of the chicken.
Remove from the heat and stir in the remaining pomegranate juice. Check the seasoning. Sprinkle with the pomegranate seeds and a few leaves of fresh thyme before serving.
Recipe from Tasting Georgia© Carla Capalbo 2017 Interlink Publishing
The publishers are offering four copies of this book to EYB Members in the US and UK (two for each region). One of the entry options is to answer the following question in the comments section of this blog post.
Which recipe in the index would you try first?
Please note that you must be logged into the Rafflecopter contest before posting or your entry won't be counted. For more information on this process, please see our step-by-step help post. Be sure to check your spam filters to receive our email notifications. Prizes can take up to 6 weeks to arrive from the publishers. If you are not already a Member, you can join at no cost. The contest ends at midnight on April 30th, 2018.