Guerrilla Tacos by Wesley Avila
March 19, 2018 by Jenny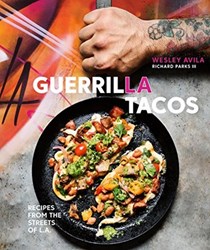 Guerrilla Tacos: Recipes from the Streets of L.A. by Wes Avila draws on his Mexican heritage as well as his time in the kitchens of some of the world's best restaurants to create taco perfection in this his debut book.
Los Angeles is known for its wealth of taco trucks and somehow Avila's Guerrilla Tacos has managed to win almost every accolade there is, from being crowned Best Taco Truck by LA Weekly to being called one of the best things to eat in Los Angeles by LA Times food critic Jonathan Gold.

The native Angeleno's approach stands out in a crowded field because it's unique; the 50 base recipes in this book are grounded in authenticity but never tied down to tradition. He uses ingredients like kurobata sausage and sea urchin, but his bestselling taco is made from the humble sweet potato. From basic building blocks to how to balance flavor and texture, with comic-inspired illustrations and stories throughout, Guerrilla Tacos is the final word on tacos from the streets of L.A.

Special thanks to Ten Speed Press for sharing the Fried potato taquito with our members today and for providing one copy of this book in our contest below (US only). Eat Your Books is providing an additional copy to members worldwide.
Fried potato taquito
Add this recipe to your Bookshelf (click the blue +Bookshelf button).
I can eat, like, six of these. You can make these and leave them in the fridge and eat them the next day. Just like a party snack-my version of the Cielito Lindo fried beef taquito. Probably my oldest memory of eating taquitos in my life is from Cielito Lindo. It's an L.A. institution, on the corner of Cesar Chavez and Alameda at the entrance to Olvera Street. I love that place. They still make my favorite taquito. If somebody asked me what my favorite taco in L.A. is, I'd say that.
Avocado-tomatillo salsa
1 pound tomatillos (preferably tomatillos milperos, the small purple-colored ones about the size of a quarter), husked and rinsed
2 avocados, pitted and peeled
4 serrano chiles, stemmed
6 garlic cloves, peeled
1 bunch of cilantro (reserve a few sprigs for garnishing the tacos), ends torn off (grab the bunch about 3 inches above the end of the stem and twist like you're ringing a towel, and discard the ends)
Kosher salt
4 to 6 limes
4 pounds any starchy potato, such as Yukon golds or russets
11⁄2 pounds unsalted butter, at room temperature
Kosher salt
Freshly ground black pepper
12 large (6-inch) corn tortillas, warmed (see page 29)
1⁄4 cup lard
Sea salt
2 cups rough-cut or grated aged cheddar cheese
To make the avocado-tomatillo salsa: In a food processor, combine the tomatillos, avocados, serranos, garlic, and cilantro and season with salt. Juice the limes on top. Cover the processor and hit it three or four times-pop, pop, pop-then let it blend a while. You'll start to see the seeds but keep it chunky. Taste it and season with more salt. Set aside.
Bring a big pot of salty water to a simmer. Throw in the potatoes and cook them thoroughly, about 17 minutes. Actually, you kind of want to overcook them. When they're super-soft, drain the potatoes in a colander. When the potatoes are cool, use a paring knife to peel them. Place the peeled potatoes in a big bowl and mash them roughly-you want to keep some of that texture and chunkiness. Add the butter and season with kosher salt and pepper.
Add 3 tablespoons potatoes to each of the tortillas and roll them into taquitos about 11⁄2 inches in diameter.
In a 12-inch cast-iron skillet over medium-high heat, melt the lard. Add the taquitos and cook until golden brown, 4 to 6 minutes. Place the taquitos on a wire rack to cool and immediately season with sea salt. When the taquitos are cool enough to eat, garnish them with a good portion of salsa and cheddar on top. Serve immediately.
Reprinted with permission from Guerrilla Tacos, copyright © 2017 by Wes Avila, with Richard Parks III. Published by Ten Speed Press, an imprint of Penguin Random House LLC. Photographs copyright © 2017 by Dylan James Ho and Jeni Afuso Illustrations copyright © 2017 by Michael Hirshon
The publisher is offering one copy of this book to EYB Members in the US and EYB is providing one copy worldwide. One of the entry options is to answer the following question in the comments section of this blog post.
Which recipe in the index would you try first?
Please note that you must be logged into the Rafflecopter contest before posting or your entry won't be counted. For more information on this process, please see our step-by-step help post. Be sure to check your spam filters to receive our email notifications. Prizes can take up to 6 weeks to arrive from the publishers. If you are not already a Member, you can join at no cost. The contest ends at midnight on April 25th, 2018.