Prince inspired cookbook being published
February 26, 2018 by Darcie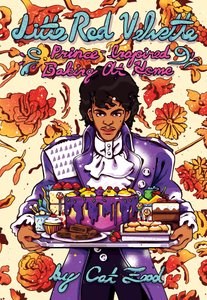 The late musician Prince is still mourned by millions of fans worldwide. His untimely death in 2016 sent shock waves through the music community, followed by an outpouring of musical tributes from his collaborators and other artists who he inspired. Now a new tribute to his Purple Highness is in the works: a cookbook titled Little Red Velvette.
The collection of recipes comes from Catrin Owen, founder and owner of London bakery Cat Food Cakes. Owen is a huge Prince fan, and when she was unable to attend his London shows in 2014, she instead created an "extra-funky bake sale" with items inspired by Prince in the hopes that he might show up at the bakery (he didn't). The initial event led to similar-themed occasions and eventually to this tribute cookbook.
Little Red Velvette: Prince Inspired Baking at Home is due to be released around the two-year anniversary of the singer's death in April of this year. The book relies on clever takes on song titles, featuring items like Starfish and Coffee cake (featuring maple icing and jam filling, naturally) and The Most Beautiful Swirl in the World iced cupcakes.
If the idea of Purple Rain ombre cakes, Raspberry Beret tarts, and Darling Stikki toffee puddings appeals to you, Little Red Velvette is available for pre-order now for £9.00 ($12.55 USD). It's a must for any diehard Prince fan who also likes to bake.