The Comfort Food Diaries by Emily Nunn
February 15, 2018 by Jenny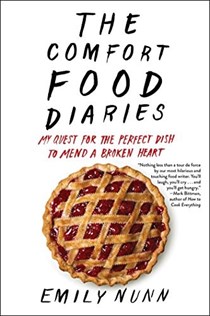 At some point over the last four years, I feel as if I have lost myself as a person but found myself as a writer. I do not have delusions of grandeur, or even mediocracy, and this play on words is my motto "me write pretty one day".

Since moving to Colorado, I have stopped engaging in activities that bring me joy: reading for pleasure, making time for friends, traveling and connecting. I have just not had the heart for anything that wasn't a necessity or work involved.
It is no secret that my, now 13 year old, son has bipolar and high-functioning autism and we have been struggling since we've moved from New York (and long before that but not to this degree). With that stress which included hospitalizations and feelings of hopelessness, I stopped reading for enjoyment. It is as if my brain is overloaded and I just wanted to fill up on "stupid" telelvision in the evening.
Yes, I read cookbooks, but I do not read them like a novel. I can put down a cookbook and pick it up weeks later. But when I am presented with a great novel, I cannot put it down. Defying sleep, I will stay up speeding through the pages seeking a resolution. Why am I telling you all of this? I am oversharing to justify why I have not read The Comfort Food Diaries: My Quest for the Perfect Dish to Mend a Broken Heart by Emily Nunn yet.
This morning I picked up Emily's book. It has been near my desk since I received it taunting me as I have heard incredible things. As I wanted to put up this promotion today, I thought I should glance through the book, read the first few pages to be able to speak personally about its style. Immediately, I was drawn in and an hour later, I had to force myself to stop. I want to spend my entire day finishing this book, but I cannot. Work needs to be completed before I leave for New York next Thursday. My reward for not indulging myself now will be finishing The Comfort Food Diaries on the plane (who am I kidding this book will keep me up all night, thanks Emily.) The first few chapters are riveting, sad, funny, hopeless, hopeful and powerful. The book needs to be devoured in one sitting and the fifty recipes that are nestled throughout her journey of healing may help to mend my broken heart.
The publisher, Atria, has provided me with an extra copy of this title for one of you and I will ship it worldwide. The author is also providing two copies so we have a total of three copies to giveaway. Please enter below but do yourself a favor, buy the book now.
The publisher provided me one copy of this book which I will ship worldwide and the author is generously providing one additional copy. One of the entry options is to answer the following question in the comments section of this blog post.
Which recipe in the index would you try first?
Please note that you must be logged into the Rafflecopter contest before posting or your entry won't be counted. For more information on this process, please see our step-by-step help post. Be sure to check your spam filters to receive our email notifications. Prizes can take up to 6 weeks to arrive from the publishers. If you are not already a Member, you can join at no cost. The contest ends at midnight on March 24th, 2018.