Patricia Heaton's Food for Family and Friends
January 18, 2018 by Jenny
Most of us know Patricia Heaton, the actress, from her hit shows, Everybody Loves Raymond and The Middle, as well as other tv and movie roles. It was in October 2015 when Patricia Heaton Parties aired on the Food Network that we learned the busy mother of four also has a passion for cooking and entertaining.
On February 6th, Patricia Heaton's Food for Family and Friends: 100 Favorite Recipes for a Busy, Happy Life hits the bookstores. Jennifer Perillo, author of Homemade with Love, helped to develop the recipes here and her presence is felt within its pages.
The actress's humor sets the tone in the opening pages and I totally respect that she doesn't take herself too seriously – these are recipes for a "busy happy life" after all. That statement doesn't mean these dishes are in any way lacking. Quite the opposite, the dishes in this book are impressive, for example Winter corn chowder and Rosemary oyster crackers, Lemon-glazed blueberry doughnuts, and Lemon and olive baked halibut are just a few standouts. With Apple pie muffins for breakfast to DIY Cracker Jack, to take out favorites that include General Tso's Shrimp and Cold sesame noodles with cucumber, there is something here for everyone. And if you watched the cooking show, you know Patricia loves a cocktail and we have a whole chapter devoted to liquid libation.

This collection of dishes is fun and approachable and the variety and scope impress me. This book is a keeper. Special thanks to the publisher William Morrow for sharing this quick and easy, yet beautiful, icebox cake with us today and for providing ten copies of this title in our contest below.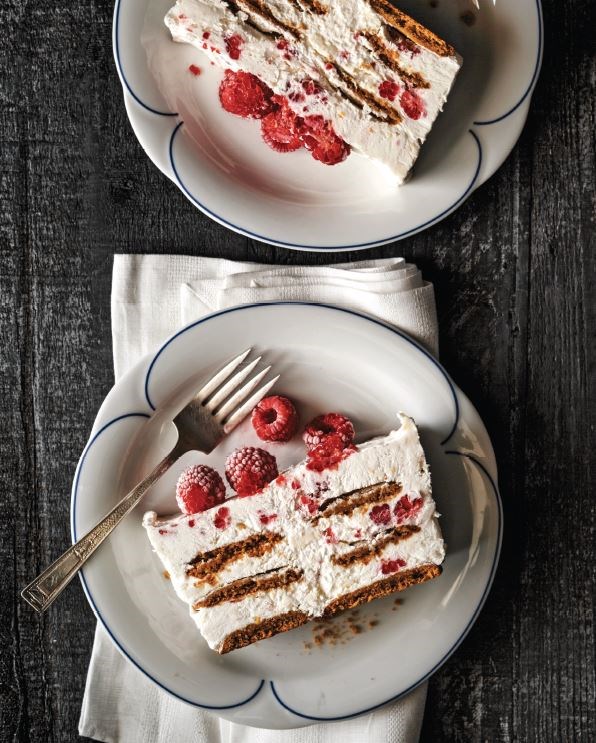 Raspberry-Lemon Icebox Cake
Add this recipe to your Bookshelf (click the blue +Bookshelf button).
I love gingersnaps. We happily ate them growing up, but Mom never thought to use them in a recipe! This is a pretty, light, and fun dessert, perfect for a summer brunch or ladies' lunch. Makes 8 servings
2½ cups heavy cream
6 ounces cream cheese, softened
1 cup confectioners' sugar
Zest and juice of 1 lemon
½ pint fresh raspberries
24 packaged gingersnaps
1. In a medium bowl, beat the cream with a hand mixer until soft peaks form. Set aside.
2. In a large bowl, combine the cream cheese and confectioners' sugar with the lemon juice and zest. Beat until creamy and well blended. Add the raspberries and use a rubber spatula to smash and stir them into the cream cheese mixture. Gently fold in the whipped cream.
3. Line a 9 × 3-inch loaf pan with a sheet of parchment paper long enough to hang over the sides (this will act as a sling to lift out the cake when it's ready to serve).
4. Arrange 8 gingersnaps in a single layer in the bottom of the pan. Spread one third of the filling over the cookies. Repeat this process twice with the remaining cookies and cream, making three layers in all.
5. Chill in the fridge for at least 6 hours, and preferably overnight. When ready to serve, lift the cake out of the pan and cut into slices.
Excerpted from Patricia Heaton's Food for Family and Friends ©2018 William Morrow Books. Photography by Ed Anderson.
The publisher is offering TEN copies of this book to EYB Members in the US. One of the entry options is to answer the following question in the comments section of this blog post.
Which recipe in the index would you try first?
Please note that you must be logged into the Rafflecopter contest before posting or your entry won't be counted. For more information on this process, please see our step-by-step help post. Be sure to check your spam filters to receive our email notifications. Prizes can take up to 6 weeks to arrive from the publishers. If you are not already a Member, you can join at no cost. The contest ends at midnight on February 21st, 2018.