Baco by Josef Centeno
January 9, 2018 by Jenny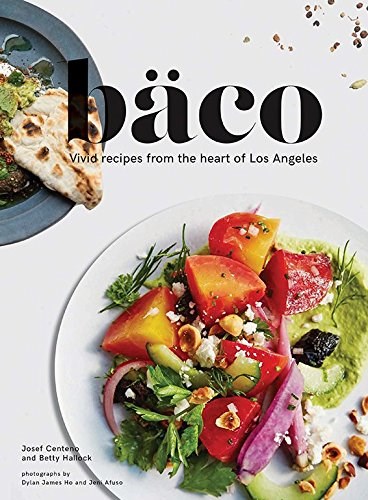 Josef Centeno is the chef credited with capturing the myriad tastes of Los Angeles on one plate. In his debut cookbook written with food writer, Betty Hallock, Bäco: Vivid Recipes from the Heart of Los Angeles, he delivers his food – vibrant and fresh with influences taken from the melting pot of cuisines that make up this fascinating food paradise.

Recipes span from simple to show stopping, exploring sauces, soups, mains, salads, and desserts, too. Vibrant, perfectly presented dishes fill this book which is broken down by flavors starting with spicy, salty, pickled, preserved as the first chapter and ending with bubbly, sweet, sour and vivid with a world of flavors and textures sandwiched between.

Bäco is both approachable and elegant. Something as simple as his recipe for Salty caramel where he adds an essence of citrus is mind blowingly delicious – I will never go back to regular caramel. A recipe for Lengua "schnitzel" with brown butter, capers, and cherry tomatos (beef tongue) follows a Tomato-dill papparedelle with caraway bread crumbs which shows the range of dishes you will find here. I may not have time to test dozens of recipes for every book Eat Your Books does a promotion on (I don't feed the Navy or have the budget to do so) but I have learned so many new and interesting tidbits to bring a punch of flavor to a dish (citrus in caramel or the caraway bread crumbs on pasta are just a few examples). Taking inspiration from a cookbook makes it a keeper for me – not only workable, interesting and complex recipes but also little twists to make recipes that I have to whip up on the fly more special.
Special thanks to Chronicle Books for sharing the following recipe with our members today and for providing three copies of this beautiful book in our contest below open to US and Canada members.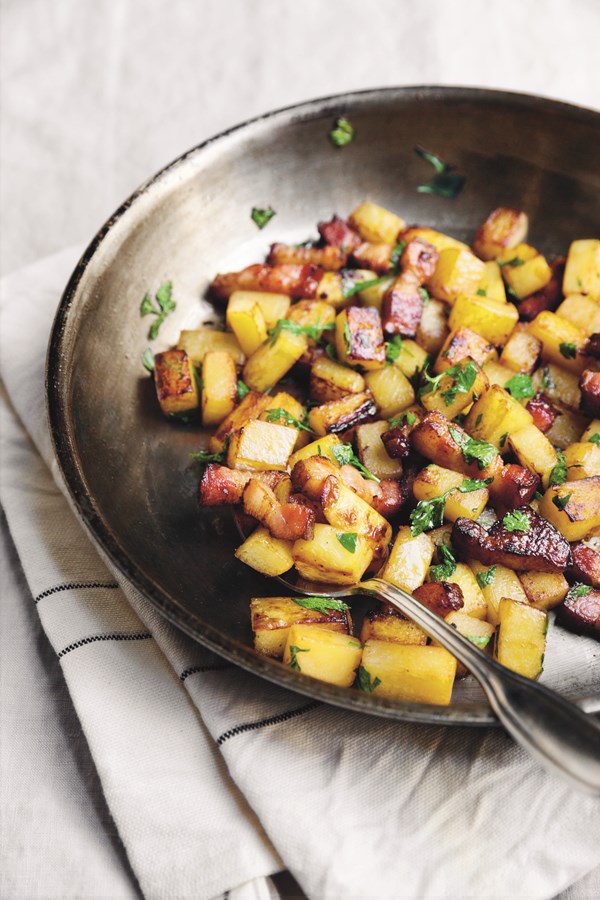 Rutabaga and pancetta with lemon, anchovy, and capers
Add this recipe to your Bookshelf(click the blue +Bookshelf button).
Serves 4 to 6
Rutabagas are one of my favorite winter vegetables. A cross between a cabbage and a turnip, they taste like a rich, less starchy potato when cooked. I like their like-a-carrot-but-less-sweet earthiness with meaty pancetta (Italian cured but not smoked pork belly) or bacon and all the flavors of a bright-sharp salsa verde, including tangy Dijon mustard, briny-rich anchovies, tart lemon, and aromatic garlic. The pancetta is just crisped but still tender, and the rutabaga has a lush quality. Use an extra just-picked herb or sliced scallions as garnish for an element of freshness. This might be considered a side dish, but I eat it with a salad of greens and call it dinner.
NOTE: White anchovies, also known as boquerones, are anchovies cured in vinegar (or vinegar and olive oil), causing the fillets to turn white. They're available at select supermarkets and online.
Dressing
1/2 cup [7 g] fresh parsley leaves, chopped
2 white anchovy fillets, rinsed and finely chopped
1/4 cup [60 ml] olive oil
Grated zest of 1 lemon
Juice of 1/2 lemon
1 Tbsp capers, chopped
1/4 tsp chopped garlic
1 tsp Dijon mustard
Pinch of red pepper flakes
Pinch of salt
3 rutabaga, about 3 lb [1.4 kg], trimmed and peeled
4 oz [115 g] pancetta or slab bacon (1/2 in [12 mm] thick, if sliced)
2 Tbsp avocado or olive oil
1 Tbsp chopped garlic
1/4 tsp salt
Juice of 1/2 lemon
2 scallions, green part only, cut into very thin slices on the bias
MAKE THE DRESSING: Whisk together the parsley, anchovies, olive oil, lemon zest, lemon juice, capers, garlic, mustard, red pepper flakes, and salt in a bowl. Set aside.
Bring a large pot of salted water to a boil over high heat.
Cut each rutabaga in half and cut each half into 3/4-in [2-cm] slices. Lay each slice flat and cut into large 3/4-in- [2-cm-] wide batons. Add the rutabaga to the boiling water and cook until al dente, about 3 minutes. Drain and set aside.
Cut the pancetta into lardons that are 1/2 in by 1/2 in by 11/2 in [12 mm by 12 mm by 4 cm]. Line a plate with paper towels. Heat a small frying pan over medium heat, add the pancetta, and sauté until the fat renders, 2 to 3 minutes. Remove from the heat. Transfer to the paper towel-lined plate to drain. Set aside.
Heat the oil in a large sauté pan over medium-high heat until hot and shimmering. Add the rutabaga and sauté until tender and the edges are well browned, about 5 minutes. Add the pancetta, garlic, and salt and cook for 1 minute longer. Remove from the heat. Add the lemon juice and toss with all but a couple of tablespoons of the dressing.
Transfer to a platter. Drizzle the remaining dressing and scatter the scallions over the top. Serve immediately.
From Bäco by Josef Centeno and Betty Hallock, photographs by Dylan James Ho and Jeni Afuso (Chronicle Books, 2017).
The publisher is offering three copies of this book to EYB Members in the US and Canada and UPDATE – EYB is offering one copy worldwide excluding CA and US. One of the entry options is to answer the following question in the comments section of this blog post.
Which recipe in the index would you try first?
Please note that you must be logged into the Rafflecopter contest before posting or your entry won't be counted. For more information on this process, please see our step-by-step help post. Be sure to check your spam filters to receive our email notifications. Prizes can take up to 6 weeks to arrive from the publishers. If you are not already a Member, you can join at no cost. The contest ends at midnight on February 17th, 2018.