Turkish Delights – John Gregory-Smith
February 21, 2017 by Jenny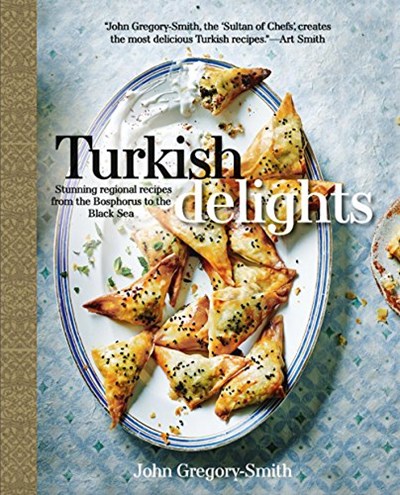 Turkish Delights: Stunning Regional Recipes from the Bosphorus to the Black Sea by John Gregory-Smith captures the glorious food of Turkey and the culinary influences brought by its neighboring countries. From the turquoise-hued waters to the markets ablazed with the scents of spices, tempting street food and the vibrant colors of the gorgeous pottery, Turkey is becoming a must-visit spot for those of us who love food, culture and beauty.

Turkish Delights is not only a visual feast for our eyes but also will inspire us to create these dishes in our own kitchens. This book has motivated next weekend's menu – Phyllo Twirls with Walnuts and Cinnamon, Lemon and Apricot Cinnamon Chicken or Cheesy Beef Köfte (still deciding), and perhaps the Alaçati Borek from the cover will be on our menu this weekend.
John Gregory-Smith has created an incredibly gorgeous book that will appeal to every level of cook. His instructions are clear, the information and background helpful and the photographs are breathtaking. If this title is any indication, I'm sure his other titles including Mighty Spice are winners.
Special thanks to Kyle Books and the author for sharing the cover recipe – Alaçati Borek – for our members. Be sure to head over to our contest page to enter the giveaway for this title. You want Turkish Delights, trust me.
Alaçati Borek
Borek is found in different guises all over Turkey. Various types of pastry are filled with meat, vegetables, cheese, or sweet fillings. Everyone loves it and has a favorite type. This recipe is a spin on the traditional sigara börēgi, or rolled borek. Lamb, onion, parsley, and spices are mixed with a soft cheese, rolled in pastry, and cooked. I favor a triangle shape rather than the cigar as you can pack in more filling this way. In Turkey, the borek would be stuffed with Erzurum tulum peyniri, a soft, creamy white cheese that has a very mild flavor. I have used ricotta cheese for this recipe as it has the same texture and flavor, and is easier to come by outside of Turkey.
1 tablespoon olive oil
8 ounces ground lamb
½ red onion, finely minced
2 garlic cloves, crushed
a handful of finely chopped flat-leaf parsley leaves
1 teaspoon freshly ground black pepper
½ teaspoon Turkish pepper flakes
9 ounces ricotta cheese
5 sheets of phyllo pastry
1 egg, beaten
1 teaspoon nigella seeds
sea salt
Serves 4 to 6 (makes 10)
1. Heat the oil in a pan over medium heat and cook the lamb and onion for 2 to 3 minutes until the lamb is just cooked through.
2. Add the garlic and fry for 10 seconds until fragrant. Remove from the heat and transfer to a mixing bowl. Let cool for a few minutes, then add the parsley, black pepper, Turkish pepper flakes, ricotta, and a good pinch of salt. Mix everything together well.
3. Preheat the oven to 350°F. Take a sheet of phyllo pastry and cut it in half so you have two rectangles. Lay out one of the rectangles lengthwise. Fold up the bottom right corner to form a triangle. Pull it back and place a walnut-sized piece of the filling where it will be covered by the pastry triangle. Now fold up the corner so the triangle covers the filling, then carefully fold this triangle to the left, then down, continuing with the triangle shape. Brush the remaining pastry with egg wash and fold the triangle over itself, closing the gap. Secure any excess pastry down with more egg wash so you have a neat triangle shape. Place on a baking sheet lined with parchment paper and repeat until all the filling is used up.
4. Brush the tops of the triangles with beaten egg, and top with the nigella seeds. Bake for 15 to 20 minutes until golden and crispy. Let cool for a few minutes before serving.
Recipe shared courtesy of Turkish Delights by John Gregory-Smith © 2016 Kyle books. Photograph © Martin Poole.