Super Tuscan by Gabriele Corcos and Debi Mazar
December 27, 2017 by Jenny
Gabriele Corcos and Debi Mazar's second cookbook, Super Tuscan: Heritage Recipes from Our Italian-American Kitchen, is as delightful as their best-selling debut book, Extra Virgin. Here, the dynamic duo return with dishes that are easily replicated, simple – yet elegant, and so very delicious.

I have made almost half the recipes from their first title and was on the edge of my seat waiting for their encore effort. Gabriele and Debi do not disappoint and are an example of an instance where the sequel is as great as the original. Since I received the galley months before the finished book, I have made the Oven-barbecued chicken wings, Old hen chicken soup and the Tuscan country toast – all wonderful. I have the Pancetta scones on the menu for New Year's Eve and can't wait to make the Chocolate "salame".

With Extra Virgin and Super Tuscan on your cookbook shelf, soulful Italian food can easily be whipped up so that family and friends gathered around your table can enjoy time spent with you present and not slaving away in the kitchen.
Special thanks to the publisher for sharing a recipe with our members today and for offering three copies of this beautiful book to our members in the US. Be sure to scroll to the bottom of this post to enter.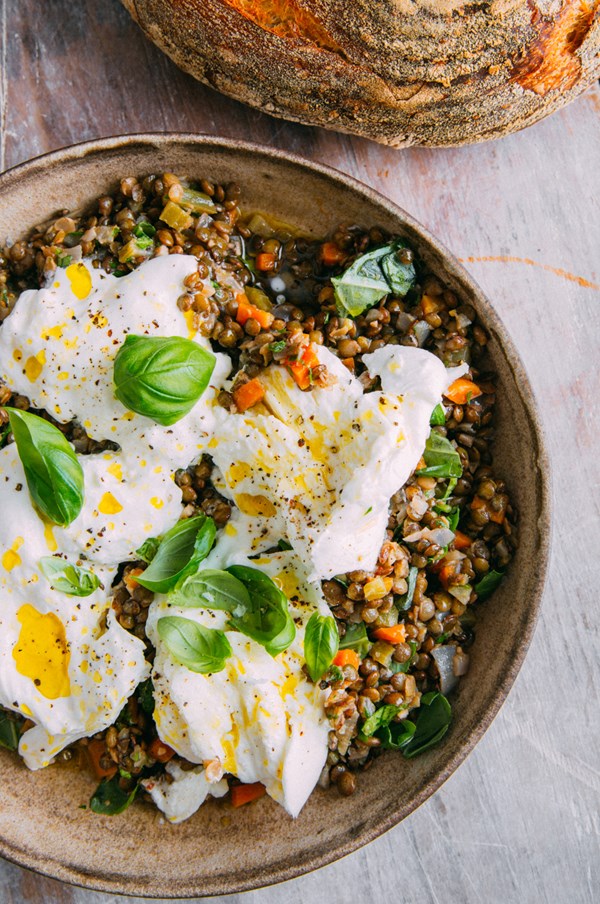 Marinated lentils and burrata
Insalata di lenticchie e burrata
Add this recipe to your Bookshelf (click the blue +Bookshelf button).
Wine Pairing: Prosecco or Pinot Grigio – Makes 4 servings
We have great memories of al fresco meals, both in the Tuscan countryside and in our Brooklyn backyard. But this particular combination of simple lentils and creamy burrata is the perfect example of how Tuscans can take humble foods and turn them into something extraordinary. There's nothing complicated about this marinated salad, and its "secret," if there is one, is to let the ingredients speak for themselves.
Lentils
1 tablespoon extra-virgin olive oil
1 small red onion, finely chopped
1 medium carrot, cut into 1∕4-inch dice
1 medium celery rib, cut into 1∕4-inch dice
2 garlic cloves, minced
1 cup green lentils (lentilles du Puy, see Note), rinsed and drained
1∕2 teaspoon sea salt
Lemon-parsley dressing
2 tablespoons fresh lemon juice
1∕8 teaspoon hot red pepper flakes
Sea salt and freshly ground black pepper
1∕4 cup extra-virgin olive oil
2 tablespoons minced fresh flat-leaf parsley
8 large basil leaves, torn into small pieces
2 burrata cheeses (about 14 ounces total)
1. To make the lentils: Heat the oil in a medium saucepan over medium heat. Add the onion, carrot, and celery and cook, stirring occasionally, until the vegetables soften, about 5 minutes. Stir in the garlic and cook until fragrant, about 1 minute. Stir in the lentils and add enough water to cover the lentils by 1 inch. Bring to a boil over high heat. Stir in the salt. Reduce the heat to medium and cook at a steady simmer until the lentils are barely tender (not mushy or falling apart), about 20 minutes. Drain well in a wire sieve. Transfer to a medium serving bowl and let cool.
2. To make the dressing: Whisk the lemon juice, red pepper flakes, a pinch of salt, and a few grinds of black pepper together in a small bowl. Gradually whisk in the oil. Whisk in the parsley. Pour over the lentils and mix gently. Season to taste with the salt and pepper. (The salad can be covered and refrigerated for up to 8 hours. Reseason the chilled salad before serving.)
3. Mix in most of the basil. Tear each burrata into quarters and place on the salad. Sprinkle with the remaining basil and serve.
NOTE While you can make this with standard brown lentils, it is worth searching out the small dark-green ones, often imported from France. (Between us, they are not Italian, but we like them anyway!) If using large brown lentils, increase the cooking time to about 30 minutes.
Reprinted with permission of Gabriele Corcos and Debi Mazar and Touchstone. Photo credit Eric Wolfinger.
The publisher is offering three copies of this book to EYB Members in the US. One of the entry options is to answer the following question in the comments section of this blog post.
Which recipe in the index would you try first?
Please note that you must be logged into the Rafflecopter contest before posting or your entry won't be counted. For more information on this process, please see our step-by-step help post. Be sure to check your spam filters to receive our email notifications. Prizes can take up to 6 weeks to arrive from the publishers. If you are not already a Member, you can join at no cost. The contest ends at midnight on February 6th, 2018.