Les Abats – Michel Roux Jr
December 19, 2017 by Jenny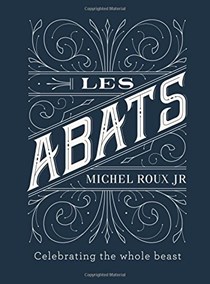 Celebrated chef, Michel Roux Jr, author of many cookbooks on the art of French cooking, feels like we are missing out by shying away from offal. "Don't be afraid of offal. Some of the greatest of all French classics involve organ meats such as brains and sweetbreads", he encourages. He doesn't understand Americans reluctance to utilise every part of the animal as offal is an integral part of French and world cuisine.
Les Abats: Celebrating the Whole Beast, his latest book, attempts to ease us into the advantages of cooking with every inch of the animal. The recipes range from the simple sweetbreads his mother fed him as a child, to the more complex dishes such as those served at his award-winning restaurants. The two-star Michelin chef, begins with the joy of offal from the sea before moving onto poultry, pigs, cattle, sheep and lamb later in the book. There is also a selection of side dish recipes such as chutneys, mayonnaise and salads.
As with Michel's other titles, these recipes reflect French cuisine at its best. There are no photographs in the book which might have been helpful for us who still fear the offal.
Special thanks to the publisher for sharing the Bone marrow croquettes and Beetroot ketchup with our members today as well as for providing three copies of this book in our worldwide contest below.
Bone Marrow Croquettes
Add this recipe to your Bookshelf (click the blue +Bookshelf button).
Bone marrow is extremely nutritious as well as being very good to eat. It had fallen out of favour but has seen a big surge in popularity in recent years so is much easier to get. I love these croquettes as a snack with a drink, or they make an excellent garnish to serve with roast beef.
Makes 16 croquettes
600g trimmed bone marrow, cut into long pieces
1 sprig thyme
2 bay leaves
120g butter
400g white mushrooms, very finely chopped
2 shallots, peeled and chopped
2 tbsp chopped flatleaf parsley
300ml milk
80g flour, plus extra for dusting
Dijon mustard
2 eggs, beaten
600g fine breadcrumbs
vegetable oil, for deep-frying
salt and freshly ground black pepper
Put the pieces of bone marrow in a bowl of cold water and leave them to soak for a couple of hours. Transfer them to a saucepan of fresh water and add the thyme and bay. Bring the water to a simmer and cook the marrow for 5 minutes. Refresh it in iced water, then drain. Cut the marrow into 16 x 1cm cubes, then roughly chop the rest.
Melt 40g of the butter in a frying pan. Add the mushrooms and shallots and cook until the pan is dry. Lightly season with salt and pepper and add the parsley, then set aside.
Bring the milk to the boil. Melt the remaining butter in a separate pan, then add the 80g of flour and stir to make a roux. Gradually whisk in the milk to make a béchamel and cook for 10 minutes. Set the sauce aside to cool, then fold in the mushrooms and shallots and the chopped bone marrow. Keep the cubes for later.
Check the seasoning, then spoon or pipe the mixture into silicone moulds approximately 3cm deep, the shape of your choice. This should fill about 16.
Push a marrow cube into each one, followed by a dab of Dijon mustard, then cover with more of the mix. Place the croquettes in the freezer until hard, then press them out of the moulds.
Roll the croquettes in flour, then beaten egg and finally breadcrumbs. Half-fill a large saucepan or a deep-fat fryer with oil and heat the oil to 180°C. Fry the croquettes a few at a time until crisp and hot inside. Serve with beetroot ketchup
Beetroot Ketchup
Add this recipe to your Bookshelf (click the blue +Bookshelf button).
I serve this with the bone marrow croquettes on page 132, but it is also great served with grilled meat.
Makes 1 large jar
1 tsp sunflower oil
1 red onion, peeled and chopped
60g button mushrooms, chopped
|50g demerara sugar
2 tsp sea salt
1 tsp chilli powder
2 tsp smoked paprika
1 tsp ground coriander
1 tsp ground cumin
160ml cider vinegar
400g cooked, peeled beetroots
Warm the oil in a saucepan and add the onion and mushrooms. Sweat them until they are tender and any liquid has evaporated.
Add the sugar, salt and spices, continue to cook for 2-3 minutes, then add the vinegar and beetroots. Simmer for 10 minutes, then tip everything into a food processor and blitz until smooth.
Pour the ketchup into a sterilised jar and leave it cool. You can then store it in the fridge for up to a couple of weeks.
The publisher is offering three copies of this book to EYB Members worldwide. One of the entry options is to answer the following question in the comments section of this blog post.
Which recipe in the index would you try first?
Please note that you must be logged into the Rafflecopter contest before posting or your entry won't be counted. For more information on this process, please see our step-by-step help post. Be sure to check your spam filters to receive our email notifications. Prizes can take up to 6 weeks to arrive from the publishers. If you are not already a Member, you can join at no cost. The contest ends at midnight on January 27th, 2018.